Freezing and can't get warm? Try my Homemade Fresh Roasted Tomato Jalapeño Soup! It's a great healthy way to warm up your insides on a cold day. Made with fresh and canned tomatoes. Add a dollop of my Jalapeño Cream on top and pair with my Jalapeño Cheddar Bacon Scones. The perfect warm up trio!
[jump-to-recipe]
How did this Tomato Jalapeño Soup idea come about?
The idea for this soup hit me one fall afternoon as I was trying to harvest the last of my tomatoes, jalapenos, cayenne peppers from my garden. Not wanting any of them to go to waste, I picked as much as possible. But what to do with them? My freezer was already well stocked with my Instant Pot Homemade Tomato Sauce and my Quick and Easy Roasted Cherry Tomato Sauce.
My Version
How about tomato soup? That sounded yummy. Then I saw all of the peppers strewn across my counter. What about Roasted Tomato Jalapeño Soup? Was that a thing? Of course it already was! After I googled it, there are a ton of recipes for tomato soup with jalapeños. There's nothing new under the sun it seems. However, this is my version and I'm very pleased with the way it turned out.
Do you need an Instant Pot to make this soup?
No, you actually don't need an Instant Pot for this recipe. You can definitely do the soup part on the stove in a large pot. I just like using the Instant Pot because it infuses all of the flavors and keeps the soup warm until you're ready to eat it.
Can I freeze this soup?
Yes. Most definitely you can freeze this soup! I vacuum seal it into 1 cup packages. When you need a quick lunch or dinner, you can pull it out, heat it up and have it in minutes.
What if I like my tomato soup thinner?
I like my soups chunkier so I don't chop it up as fine and I leave some bigger pieces of tomatoes. If you like it thinner, just use the immersion blender (paid link) and blend everything until it has a thin consistency. If you want it thinner than that, just add a bit more bone broth.
What is an Immersion Blender?
An immersion blender is a hand held blender that you can use directly in the pot. It's much easier than transferring the soup to a food processor (paid link) or regular blender especially when the soup is hot. I highly recommend one for this recipe. It's also great for making my Hoisin Sauce as well as salad dressings. You'll love it!
What if I want it more of a "Cream of Tomato," soup?
Feel free to add 1 tablespoon of half and half or heavy cream to each portion. If you are planning on freezing it, then do not add cream until you serve it. Adding cream or half and half does add lots of calories and points. However, since it is a low point/calorie soup, if you add 1 T. half and half, it will make it a 2 point soup, which is still pretty good. For a creamy soup without the extra points, add 2 t. of my Jalapeño Cream.
Do I need to roast the tomatoes and jalapeños?
I would definitely roast the tomatoes, garlic and jalapeños. It takes so little time and really intensifies the flavor the tomato soup. Your family and friends will absolutely love this soup! Please let me know in the comments how you liked it! By the way, if you don't like it spicy, feel free to leave out the jalapeños. It will still be delicious without the heat. Enjoy!
This post does contain affiliate links which means that if you click on them and/or buy something I may earn a small commission -at no extra cost to you. I only recommend the things I actually use in my kitchen. By clicking and buying these items, you help keep my recipe blog running. Thank you!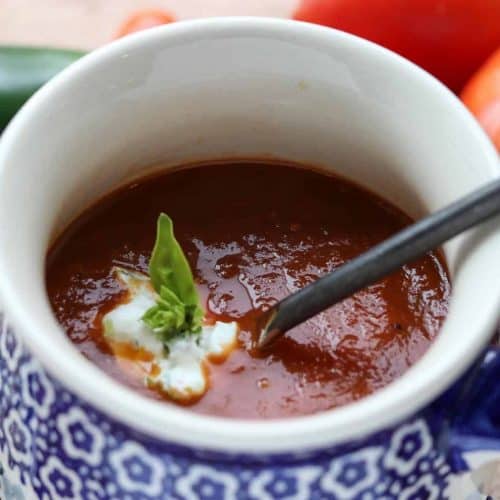 Homemade Fresh Roasted Tomato Jalapeño Soup-Instant Pot and Stove Versions
Freezing and can't get warm? Try my Homemade Roasted Tomato Jalapeño Soup! It's a great way to warm your insides on a cold day. Add a dollop of my Jalapeño Cream on top and pair with my Jalapeño Cheddar Bacon Scone. The perfect warm up trio!
Weight Watchers Points:
1 Smart Point per 1 cup of soup for all plans
Ingredients
6

lbs

fresh tomatoes

cut in quarters, use a mixture of cherry tomatoes, romas or other plum tomatoes

3-5

jalapeños

cut in half, seeds removed, if you like things spicy, feel free to add a few hotter peppers as well

10

garlic cloves minced

I do mine in the food processor

1

t.

kosher salt

1/2

t.

black pepper

olive oil spray from olive oil mister-I use a basil infused oil, but regular is fine too

2

yellow onions

finely chopped (I use food processor for this as well)

1

T.

olive oil

1

T.

butter

1 28

oz

can plum tomatoes

2

c.

beef bone broth or beef stock

I regularly make up my beef bone broth recipe and store it in the freezer

1/2

c.

fresh basil

finely chopped

2

T.

fresh oregano

finely chopped
Instructions
Preheat oven to 425°.

Line 2 baking sheets with foil.

Arrange tomato chunks on foil.

Add jalapeño halves, minced garlic and 1 t. kosher salt.

Spray lightly with olive oil using

Olive Oil Mister

or lightly drizzle 1 T. over all.

Bake for about 25 minutes or until jalapeños are blackened and tomatoes are starting to blacken.

Meanwhile, in the Instant Pot, press the sauté button and adjust to high heat. Or if doing the stove top method, heat a large pot (don't use non-stick or the onions won't caramelize well) on medium high heat.

Add 1 T. oil and 1 T. butter.

Add onions to Instant Pot (or pot) and sauté until caramelized, stirring occasionally. This will take about 20-30 minutes. If onions become dry and look like they will burn, add a few tablespoons of water. Keep stirring toward the end as you don't want to let them burn. They will become soft, start to brown.  You can tell when they're done by tasting them. If they taste sweet, they they are probably done. Turn off heat.

Gather foil up carefully and pour tomatoes, jalapeños and garlic into your Instant Pot (or big pot for stove version) on top of the caramelized onions.

Stir in canned tomatoes, basil, oregano and bone broth.

For the Instant Pot - Add lid, set venting knob to sealing. Press, "Soup," and set to 30 minutes. When done, allow to natural release for about 10 minutes.

For Stove Top- Bring to a boil, then turn heat to simmer and simmer for at least 30 minutes uncovered, stirring often.

Taste and adjust seasonings if needed.

For a richer soup, you can add a bit of cream to each

individual

bowl. I would start with 1 T. of cream or half-half to start. (This will add points for those of you counting). You can also add 2 t. of my 

Jalapeño Cream

, that will add creaminess and flavor without adding any points.
Nutrition
Serving:
1
cup
Calories:
119
kcal
Carbohydrates:
21
g
Protein:
4.8
g
Fat:
3.4
g
Saturated Fat:
1.1
g
Cholesterol:
3.1
mg
Sodium:
308
mg
Fiber:
4.9
g
Sugar:
12.2
g
Vitamin A:
139
IU
Vitamin C:
56
mg