Some of you may not know that I owned a tea room and tea company (Afternoon to Remember) for 14 years. During that time I made a million scones, all different varieties. You can find the recipes in my various tea room cookbooks and I even have an e Book- The Scone Recipe Collection (digital, pdf).
Not long ago I came across a bakery with Jalapeño Scones. Why in the world didn't I ever think of that combination before? I have lots of fruit scone recipes, cheddar scones and savory ham and rosemary scones, but I never thought about doing Jalapeño Scones. What a great idea!
Of course as with anything I do, I have to add my own touches so with these Jalapeño Scones I added bacon, garlic and even a teaspoon of my Chipotle Seasoning.
So here's the recipe! I'm not including them in my "Not so skinny," category because when you make them mini size they come out to be 3 Freestyle Smart Points each -and that's not bad. I'm learning that I don't need to eat huge portions anymore, one small scone is perfect. You can freeze the rest if you need to avoid the temptation of eating them all. Having them in the freezer, ready to go is great too as it's a nice little treat with a salad, chili or soup. I love Weight Watchers! I'm able to eat a little goodness without sacrificing taste. You don't have to say no to butter! You just can't eat a lot of it, but it's not totally forbidden either. Moderation is the key!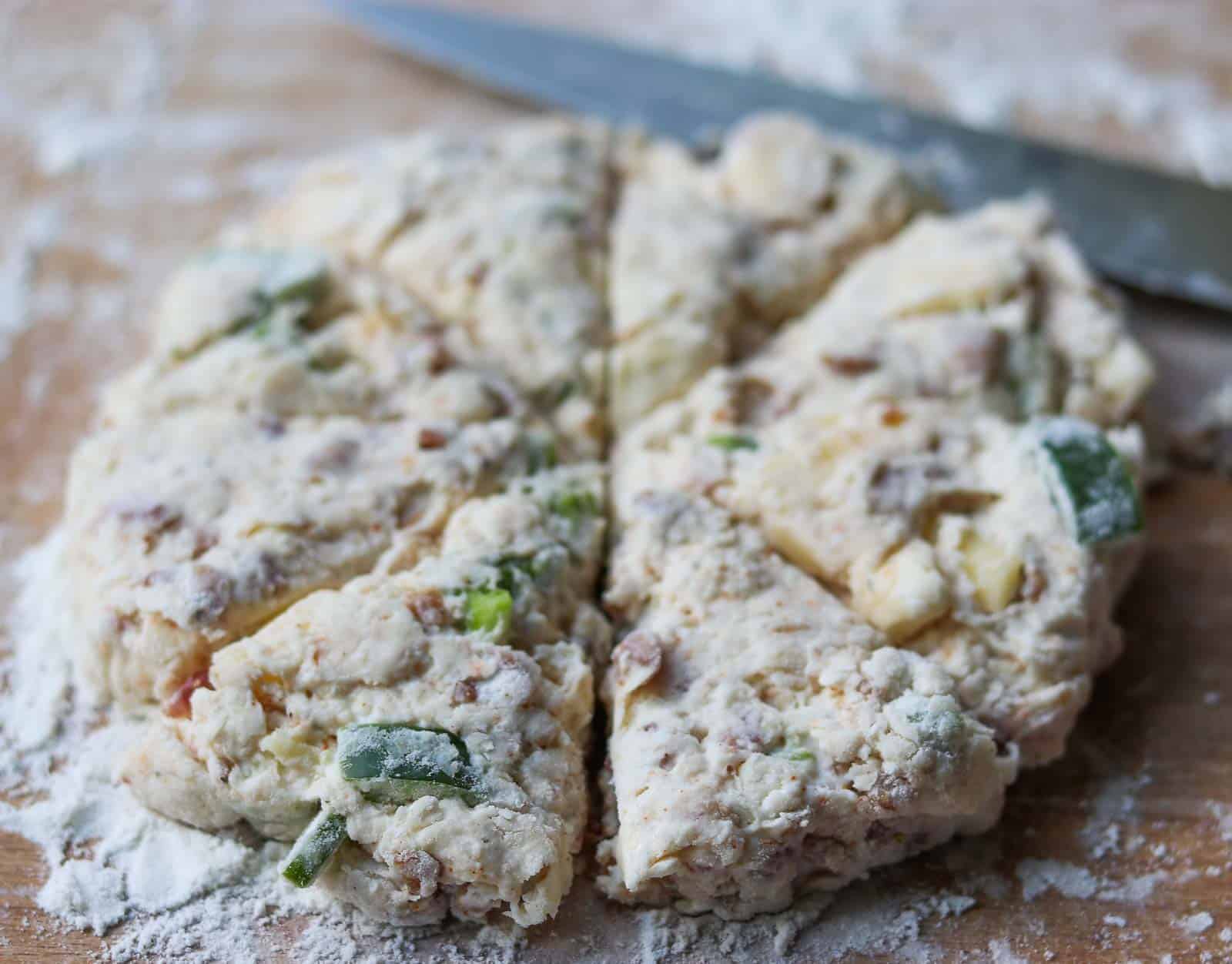 Be sure and read my note in the recipe about adding the buttermilk. You don't want to add it all at once.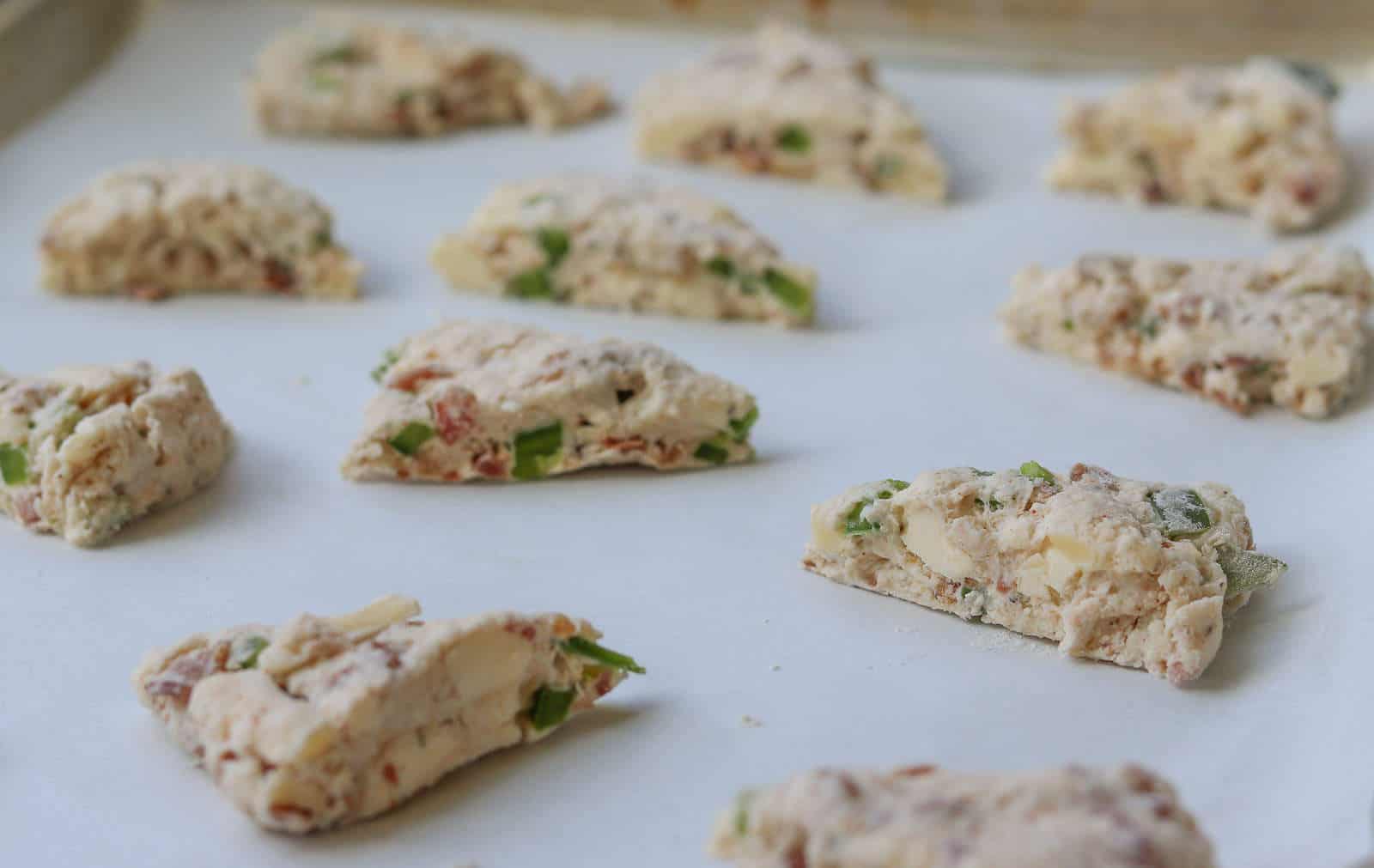 Lining your baking sheets with parchment paper (paid link) makes baking scones easy!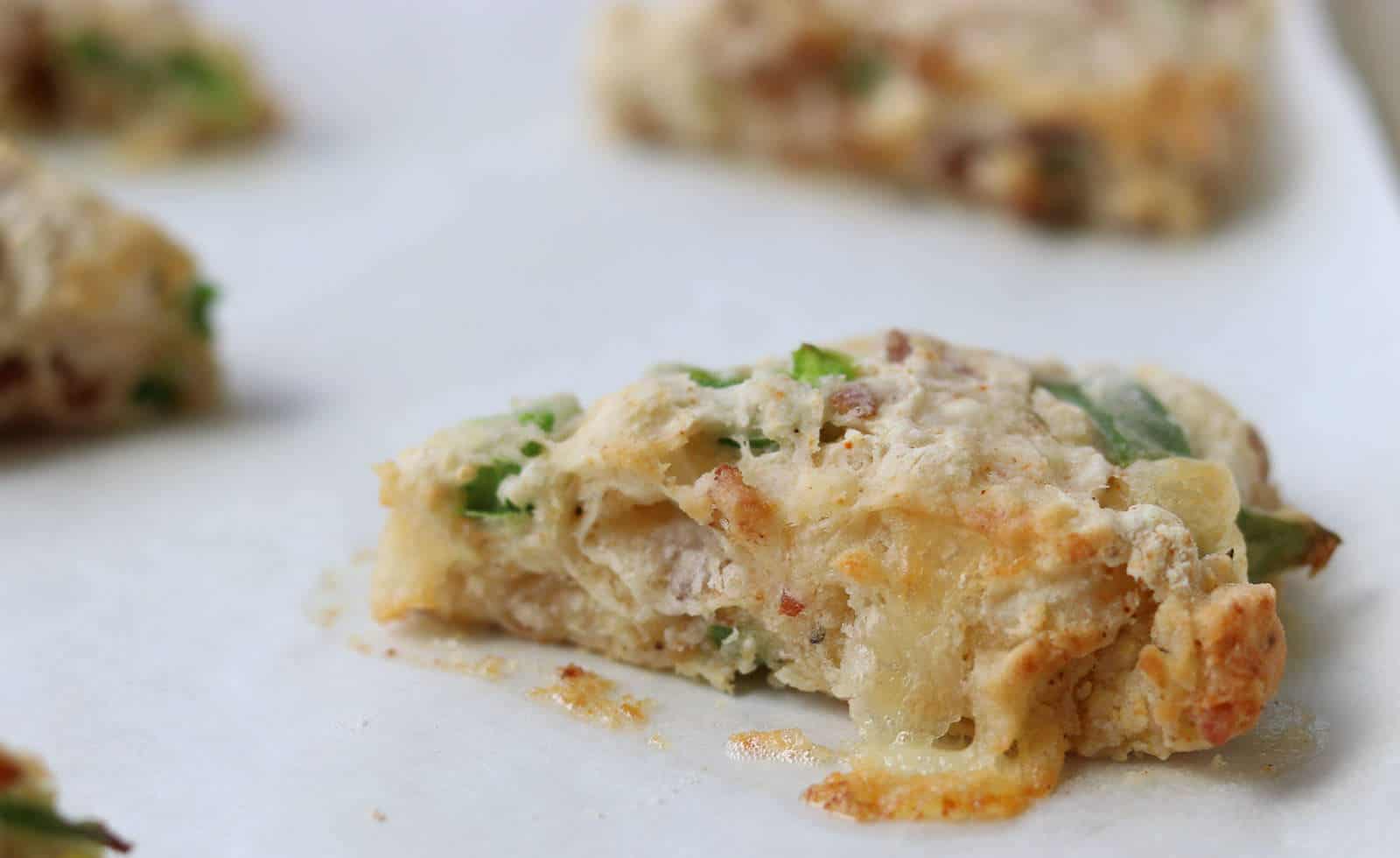 Delicious! And you can freeze them and reheat to serve with salad, chili and soup.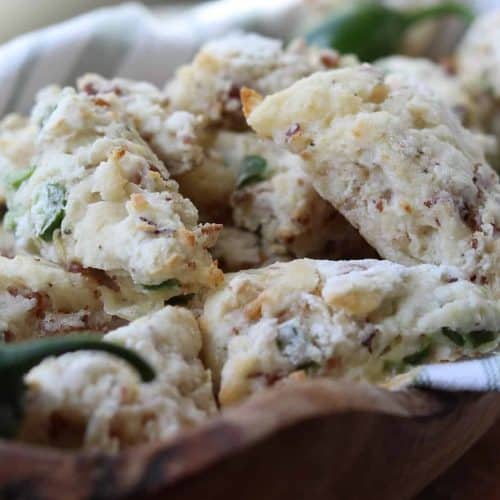 Homemade Jalapeño Bacon Cheddar Mini Scones
Delicious homemade Jalapeño Bacon Cheddar Mini Scones go great with salad, chili or soup. Make them now, eat a few and freeze the rest for later.
Weight Watchers Points:
3 Smart Points per scone for all plans
Ingredients
3

c.

all purpose flour

or if you have self-rising flour use that and skip the baking powder and salt plus an extra 1/4 c. for hands and cutting board

1 1/2

T.

baking powder

1

t.

Chipotle Seasoning

3/4

t.

salt

1/2

t.

black pepper

8

T.

unsalted butter

cold

1/2

c.

sharp cheddar

shredded

1/2

c.

jalapeños

chopped (about 3 jalapeños)

12

T.

crumbled bacon

I like to use the Costco Kirkland bacon crumbles

2

garlic cloves

minced

1 1/2

c.

low fat buttermilk

divided
Instructions
Preheat oven to 400°.

Line baking sheets with parchment paper.

In a large bowl combine: 3 c. flour (lightly spoon flour into dry measuring cup, do not pack), baking powder, Chipotle seasoning, salt, and pepper.

Cut butter into small cubes.  Add to flour mixture. Cut in with a fork or pastry blender.

Add cheese, jalapeños, bacon and garlic.  Mix well.

Add 1 c. buttermilk, lightly fold until most of buttermilk is absorbed. You don't want to stir hard, just lightly keep folding over, otherwise the scones will be tough.

Scoop off about 1 c. dough-the part that is well moistened. I actually place the moistened dough in a dry measuring cup.  Lightly flour your hands and board. Dump the 1 c. of dough into your hands and make a ball. You will probably have to push the dough together to keep it from falling apart. Lightly press ball down on a floured board until you have a round disc about 5 inches in diameter.  Round the edges with your hands. Cut the disc into 8 pie shaped pieces.

Carefully transfer each scone onto a parchment lined baking sheet. Allow a few inches in between scones. Do this for rest of dough adding the remaining 1/2 c. buttermilk to  moisten the flour mixture at the bottom of bowl. See note at bottom.

Bake at preheated 400° for about 8 minutes. These do not get very brown.

Allow to cool on baking sheet. Eat some and freeze rest for another time.
Notes
I have found it better to add the buttermilk in parts as you go. I first add 1 c. of buttermilk then scoop out the moistened part and make a few scones. Then I go back, add a little more buttermilk and scoop out the rest. If you add all of the buttermilk at once, the top will be sticky and the bottom part of the mixture will be dry. If you try and mix it all together it will be a big mess and your scones will be tough. Use the 1 c. dry measuring cup to measure your dough, that way your scones will all be an even size. You will probably have to "free form," the last bits of dough into scones. If you need to add a just a bit more buttermilk, go ahead, just don't make the scone mixture sticky.
Make sure your butter is cold and your oven is preheated and hot. This will make the scones rise better.
To freeze, let scones completely cool, then seal up in vacuumed seal bags. I usually put 4 in a pint size bag.
To reheat frozen scones, place in foil and reheat at 350° until hot.
Nutrition
Serving:
1
mini scone
Calories:
92
kcal
Carbohydrates:
10.5
g
Protein:
2.9
g
Fat:
4.4
g
Saturated Fat:
2.4
g
Cholesterol:
12
mg
Sodium:
114.2
mg
Fiber:
0.4
g
Sugar:
0.7
g
Vitamin A:
31.1
IU
Vitamin C:
1.7
mg