[jump-to-recipe]
About this recipe
These cranberry orange scones are definitely not your average English tea scone. They are made with fresh cranberries and are light, fluffy, moist and delicious-more like biscuits. I do believe they are best the first day. Of course you can eat them the next day and even freeze them, (we'll talk about that later) but in my opinion, they are best right out of the oven!
I modified my original recipe slightly to make them a bit more healthier. Decreasing the sugar, adding more orange zest, adding in the oats and leaving off the glaze were the main changes to my recipe. I did make them into "mini" scones so I could leave all of the butter in. I would rather have a little of "piece of heaven," versus a lot of "yuck." I'm very picky when it comes to breads and desserts. Moderation is my motto versus cutting back on quality ingredients. Despite all of these changes, I actually love them more than my original recipe. The oats give them a chewy, crispy almost nutty flavor and the addition of more zest gives them a nice orange punch.
Are they easy to make?
Yes!
I can safely say, that I'm an expert on making scones, so of course I think they are easy to make but really they are! Just to clarify, most of the time I don't put myself in the expert category, however, cranberry orange scones were the first scones I ever made. I've been making them for over 15 years. And believe me, I have made a few! Since owning a tearoom back in the day, I made over 240 scones every morning at 5 am and these scones were the big boys, not the mini ones.
But yes, they are super easy to make as long as you follow a few certain rules.
Use quality ingredients.
Use cold butter, don't let it soften-cold butter makes the scones rise higher.
Make sure oven is hot and preheated to 400°.
Drain fruit very well.
Add fruit last, barely mix it in to flour mixture.
Add only enough buttermilk to make dough stick together.
Other helpful tips:
If dough is too sticky when you pat it on the floured board, add a bit more flour.
If dough is too dry and crumbles when you try and pat it on the floured board, add more buttermilk.
If you are using frozen fruit, make sure it does not thaw out. Mix it in quickly and cut scones fast. If it thaws out, the dough becomes very sticky and it's a mess!
Use parchment paper

(paid link)

to line your baking sheets.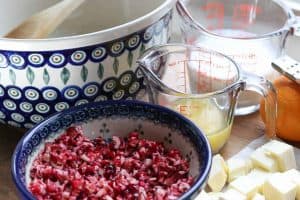 Always use fresh quality ingredients for the best scones!
Can you use all flour instead of oatmeal?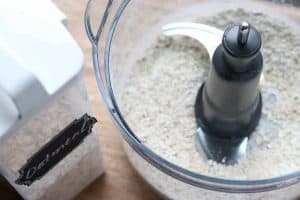 Grind the oatmeal in a
food processor
(paid link)
.
Definitely! For this recipe, I have added the oatmeal to make them a bit more healthy but you can certainly use all flour. All of my original scone recipes used all purpose flour.
How do you make cranberry orange scones?
In a nutshell, here's how to do it but follow my more detailed tips in the recipe directions for best results!
Preheat oven to 400°. This is very important! Hot oven, cold butter, great scones!
Mix the dry ingredients.
Cut in the butter.
Add the fruit.
Add part of the buttermilk (you'll see why you only add part in the directions), barely mix until is comes together.
Plop the dough on a cutting board

(paid link)

, round it into a circle.
Cut and bake. That's it!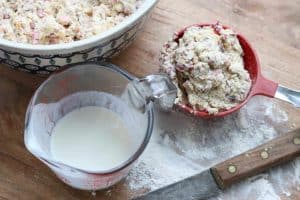 Use a 1 cup dry
measuring cup
(paid link)
to portion out the dough. The mini scones may look tiny but will rise and get bigger.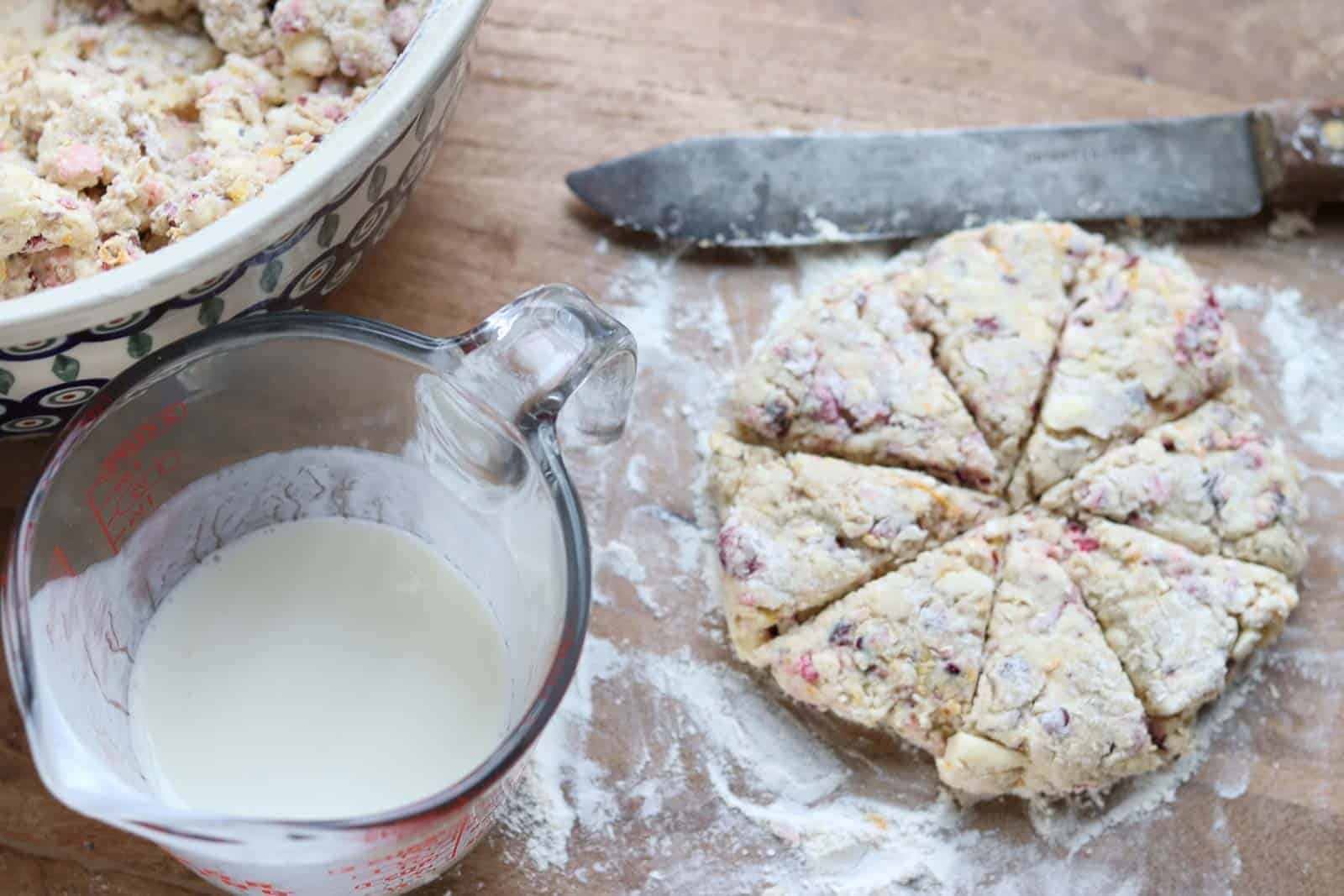 Cut each disc into 8 pie shaped pieces.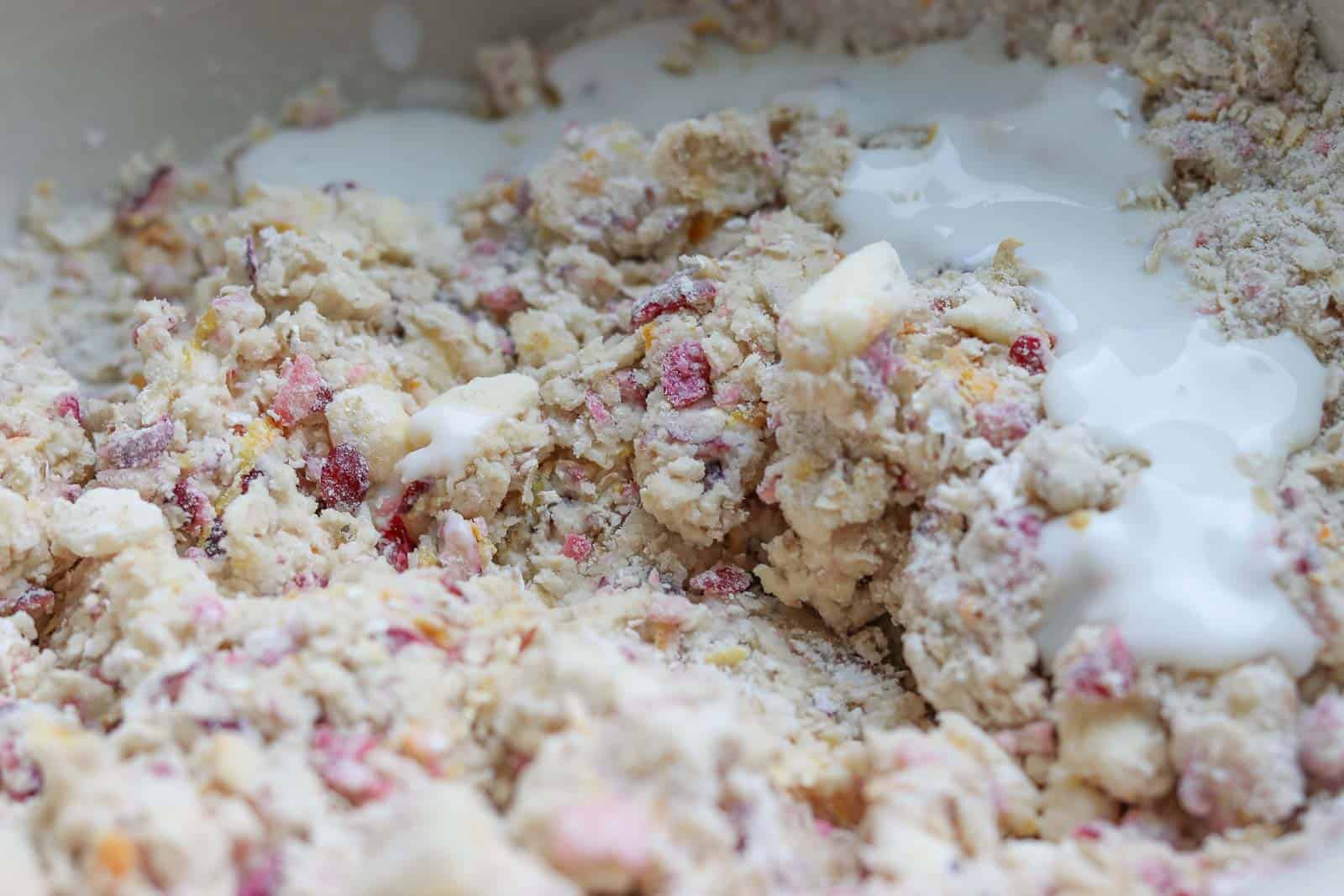 For best results, do not add all of the buttermilk in at once. Save a little for the end of the batch. This will help absorb any of the "dregs." If you try to mix it in all at once, you will have a big mess and the scones will be tough.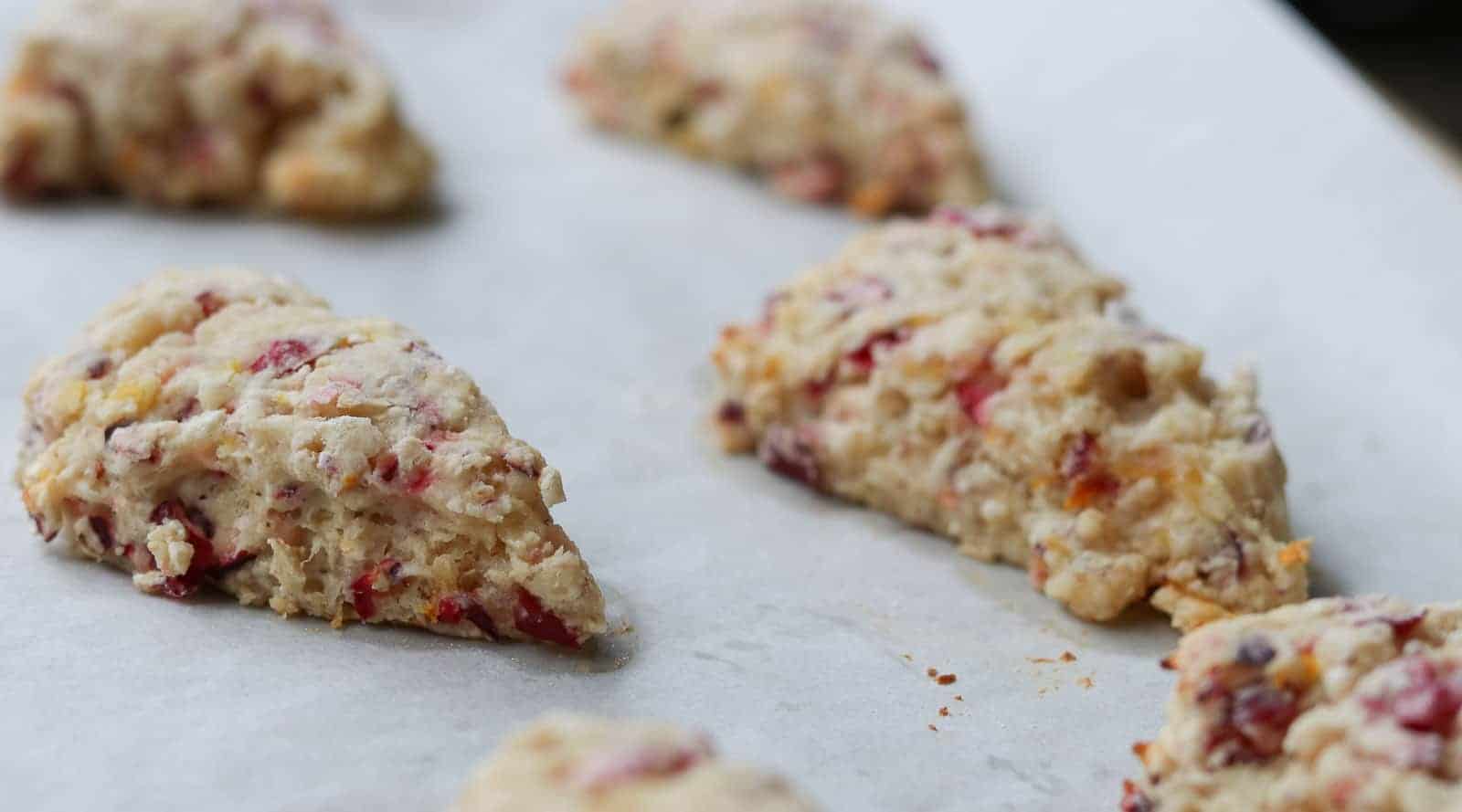 Bake them in a preheated hot 400° oven for about 8-10 minutes. They are done when the tops are set and slightly brown.
Can you freeze scones?
Yes, you can freeze them. Although I prefer fresh scones anyday over frozen scones, you can certainly freeze them. The best way to freeze scones is to bake them until they are almost done. Let them cool on the baking sheet (paid link), then flash freeze them (on the baking sheet (paid link)) and transfer to vacuum sealed bags (paid link).
What is the best way to reheat scones?
When you're ready to reheat the scones:
Oven Method– best for reheating multiple scones
Preheat the oven to 350°.
Take them out of the freezer, let them thaw for about 15 minutes, place them on a baking sheet

(paid link)

. Cover with foil.
Bake about 5-10 minutes or until hot.
Microwave/Oven Method – quick, I'm not a big microwave fan when it comes to bread but this method works pretty well. Don't skip the oven part, it helps to crisp up the outside.
Wrap up a scone in a paper towel.
Microwave for about 20 seconds.
Place on a baking sheet

(paid link)

and broil for about 2 minutes.
That's it! Be careful not to microwave the scone too long, it will get hard. Just enough to "thaw" and warm the scone a bit, the broiler finishes it off.
Want more scone recipes?
If you love scones, check out my other scone recipe on this site: Jalapeño Bacon Cheddar Mini Scones
Even More Scones!
Because I owned a tea room for many years, I have quite a collection of my own afternoon tea room cookbooks. For more scone variations please check out my afternoon tea cookbooks and scone recipe ebook on my other website.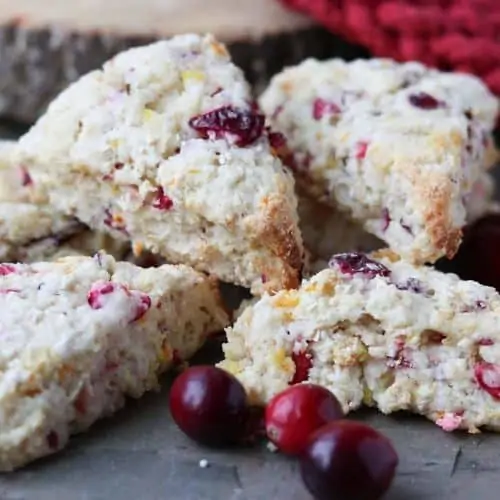 Cranberry Orange Mini Scones
What's better on a cold morning than hot, slightly crispy on the outside, moist and delicious on the inside cranberry orange scones? These mini scones are made with fresh cranberries, orange zest and have a secret ingredient to make them slightly crispy and chewy.
Ingredients
2

c.

all purpose flour

or if you have self-rising flour use that and skip the baking powder and salt plus an extra 1/4 c. for hands and cutting board

1

c.

old fashioned oats or quick oats

coarsely grind them in the food processor

1 1/2

T.

baking powder

3/4

t.

salt

7

T.

sugar

1

c.

chopped cranberries

1/2

c.

unsalted butter

cold

1/4

c.

orange juice

1

c.

low fat buttermilk

divided

zest of 2 oranges
Instructions
Preheat oven to 400°.

Line baking sheets with parchment paper.

In a large bowl combine: 2 c. flour (lightly spoon flour into dry measuring cup, do not pack), ground oatmeal, baking powder, salt, zest and sugar.

Cut butter into small cubes.  Add to flour mixture. Cut in with a fork or pastry blender.

Add cranberries.  Mix well.

Place 1/4 c. orange juice in a large liquid measuring cup. Add 3/4 c. buttermilk to the orange juice.  Stir.  Lightly fold into the flour mixture until most of liquid is absorbed. You don't want to stir hard, just lightly keep folding over, otherwise the scones will be tough.

Scoop off about 1 c. dough-the part that is well moistened. I actually place the moistened dough in a dry measuring cup for measurement so all the scones are the same size.  Lightly flour your hands and board. Dump the 1 c. of dough into your hands and make a ball. You will probably have to push the dough together to keep it from falling apart. Lightly press ball down on a floured board until you have a round disc about 5 inches in diameter.  Round the edges with your hands. Cut the disc into 8 pie shaped pieces.

Carefully transfer each scone onto a parchment lined baking sheet. Allow a few inches in between scones. Do this for rest of dough adding the remaining 1/4 c. buttermilk to  moisten the flour mixture at the bottom of bowl. See note at bottom.

Bake at preheated 400° for about 8-10 minutes. These do not get very brown. The tops look crunchy but they are still soft inside.

Allow to cool on baking sheet. Eat some and freeze rest for another time.
Notes
I have found it better to add the buttermilk in parts as you go. I first add 1 c. of buttermilk then scoop out the moistened part and make a few scones. Then I go back, add a little more buttermilk and scoop out the rest. If you add all of the buttermilk at once, the top will be sticky and the bottom part of the mixture will be dry. If you try and mix it all together it will be a big mess and your scones will be tough. Use the 1 c. dry measuring cup to measure your dough, that way your scones will all be an even size. You will probably have to "free form," the last bits of dough into scones. If you need to add a just a bit more buttermilk, go ahead, just don't make the scone mixture sticky.
Make sure your butter is cold and your oven is preheated and hot. This will make the scones rise better.
To freeze, let scones completely cool, flash freeze, then seal up in vacuum sealed bags. I usually put 4 in a pint size bag.
To reheat frozen scones, place on a baking sheet, cover with foil and reheat at 350° until hot.
Nutrition
Serving:
32
g
Calories:
81
kcal
Carbohydrates:
11.8
g
Protein:
1.4
g
Fat:
1.9
g
Saturated Fat:
1.9
g
Cholesterol:
7.9
mg
Sodium:
70.3
mg
Fiber:
0.7
g
Sugar:
3.4
g
Vitamin A:
25.7
IU
Vitamin C:
2.3
mg