This Instant Pot Turkey recipe is super easy to make and you won't believe how moist and juicy it is! Because this turkey recipe is no fuss, cooks fast and tastes delicious, it's one of the best Thanksgiving recipes in my opinion. Thanksgiving dinner is a snap when you use your Instant Pot!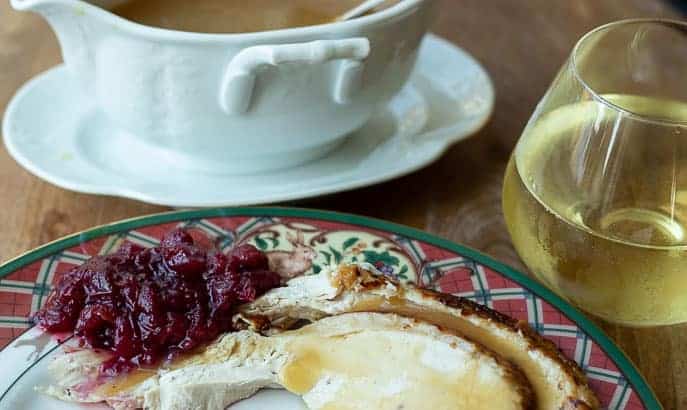 Normally I have to admit, I'm not big on turkey. Thanksgiving is my least favorite foodie holiday. I don't like dry turkey (which people always seem to make) and also I get bored easily with gravy and cranberries. They just don't do it for me but I absolutely love this Instant Pot Turkey and I love the Instant Pot Turkey Stock it makes for my noodles. For sides, I like to jazz things up a bit (See my Instant Pot Cranberry Sauce with Rosemary and Port and my Mandarin Wild Rice Salad with Cranberries, Mint and Pecan.
Thanksgiving memories and a dry turkey
Growing up the turkey always seem to be the major source of stress every year even though my grandmother was a fabulous cook. She got up super early to get it in the oven. She was stressed if it was too dry or not done, etc. And even when it was perfect which was more often than not, I just wasn't wild about it. I always ended up smothering it in gravy or using lots of mayonnaise (those were the pre WW days, obviously) if it were leftovers on a sandwich. However, with this Instant Pot turkey recipe, the turkey comes out perfect! Super moist and delicious! My grandmother would have loved it!
The one thing I will always remember about Thanksgiving are my grandmother's homemade noodles. (The recipe is for chicken noodle soup with her homemade noodles toward the bottom of the post, just make the noodles and cook them in the Instant Pot Turkey stock). Her noodles were the reason I looked forward to Thanksgiving dinner.
Cooking your turkey in the Instant Pot?
So why cook your turkey in the Instant Pot? It comes out super moist and delicious every time! If you have a lot of people coming to Thanksgiving dinner, just make two of them. (Make one earlier in the day or the day before and then reheat it).
Brining- Is it important? How long should you brine a turkey? Do I have to brine?
I'm a huge fan of brining. All it takes is time. Really it's hardly any effort, just throw some salt and water in a large container (spices optional), add your turkey and put it in the fridge for at least 5 hours up to 24 hours. That's it! I do it with my Delicious and Moist Instant Pot Chicken as well as my Healthy Instant Pot Pork Chops with Onion Gravy. Brining makes the meat so tender and juicy. So yes! You should brine! This is just about the only thing you need to do to the turkey, the Instant Pot does the rest!
Using a whole turkey or turkey breasts
With this recipe you can use a whole turkey (6-8 pounds depending on the size of your Instant Pot) or you can use turkey breasts. Using turkey breasts makes the recipe even easier and the breasts are definitely healthier for you!
How long does it take to cook a whole turkey in the Instant Pot?
Not long at all! Especially if you brine it. About 6 minutes per pound or 5 minutes per pound if brined is the general rule. However, I do find that it's better to error on the side of less time, you can always go back and cook it a bit more if needed. So for 6 pounds, I would start at 25 minutes, then check it. Of course you should always use a thermometer (paid link) to test the temperature, it should be at least 161° or 162°. After you let it rest for about 10-15 minutes, temperature will go up to 165°.
Can I cook the turkey or turkey breast ahead of time?
Yes of course! Cook the turkey ahead of time, refrigerate up to 3 days and then just reheat the day you want to serve it. The best way to reheat it, is to slice it, place it in a baking dish, add about 1/4 c. gravy. Cover with foil and reheat at 325° until hot. To keep it moist, add a shallow pan of water to the bottom rack.
How to cook a turkey in the Instant Pot in pictures:
Choose a turkey that will fit in your Instant Pot.
A 6 lb turkey or turkey breast should fit into a 6 qt Instant Pot. For 7 lb turkey or breasts, use an 8 qt. Instant Pot (paid link).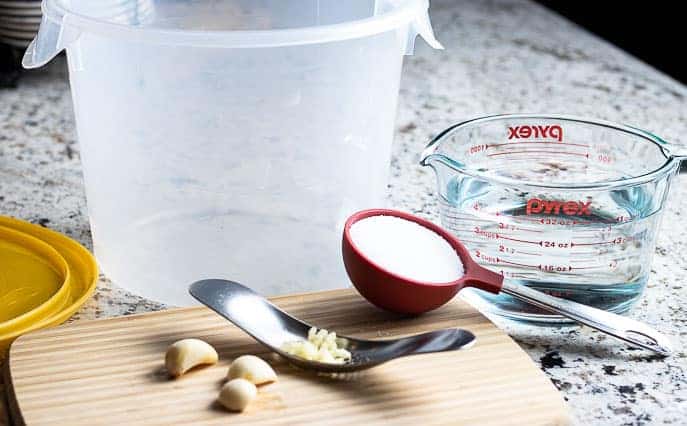 You don't have to brine but it makes the turkey taste so much better. Brining is easy! Just add garlic, kosher salt (paid link) and water to a large container.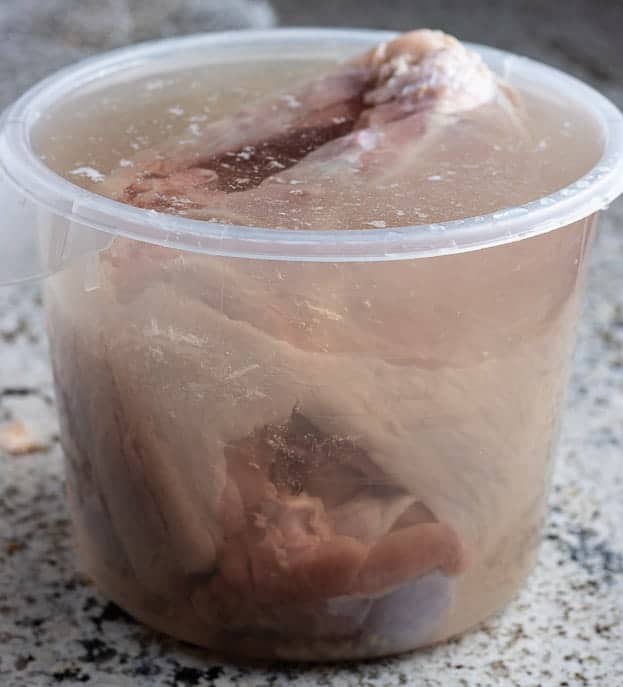 Add your turkey and brine overnight in the refrigerator or for at least 5 hours. That's all there is to it!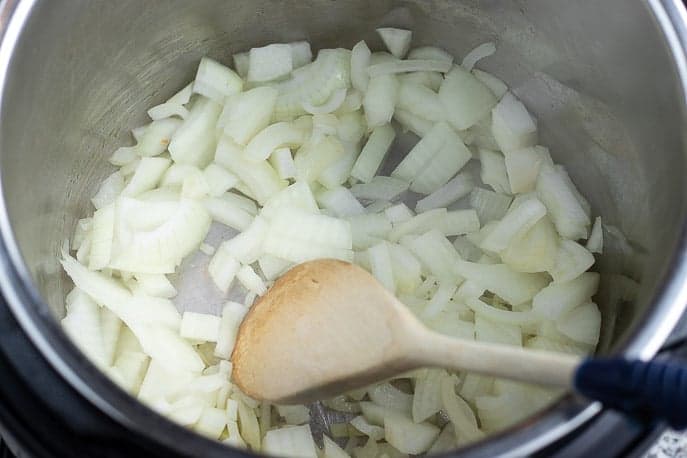 Cook the onions in the Instant Pot on Saute for 3 minutes.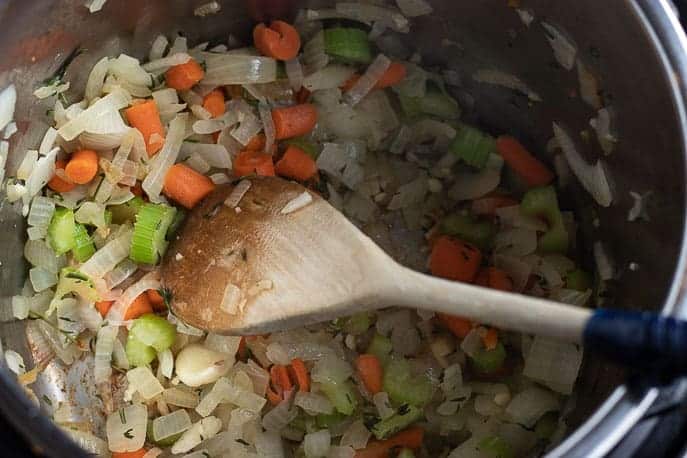 Add carrots, celery and herbs, cook another few minutes.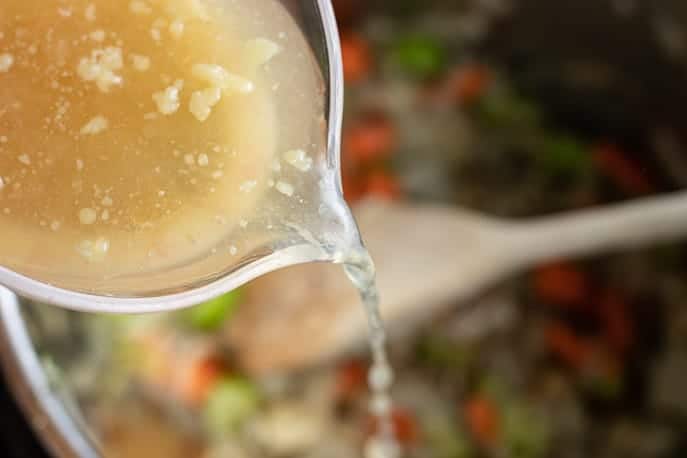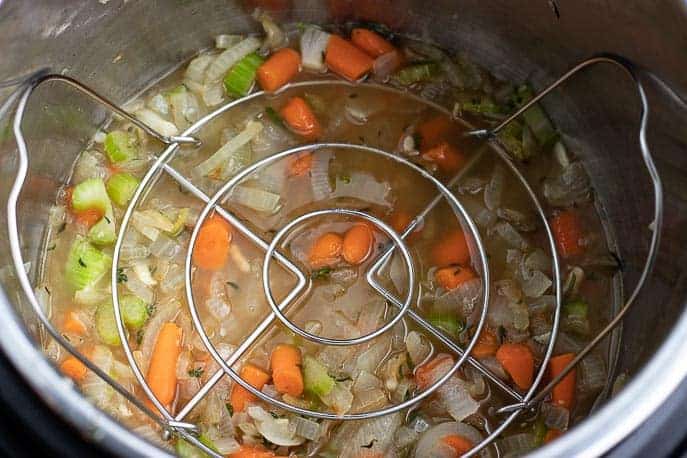 Add the rack that came with the Instant Pot on top of vegetables.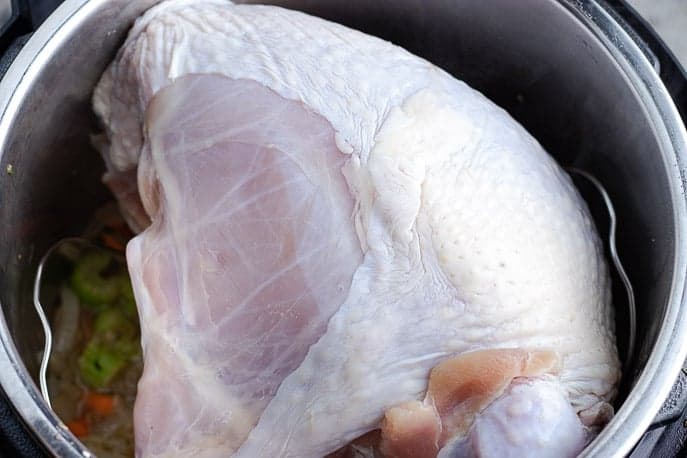 Add the turkey. Make sure to push it down so that it fits in the pot. Press Manual or Pressure cook and cook with sealed vent for about 25-30 minutes (for a 7 pound turkey or breast, 25 for a 6 pound turkey). Allow to natural release for 10 minutes, then release pressure.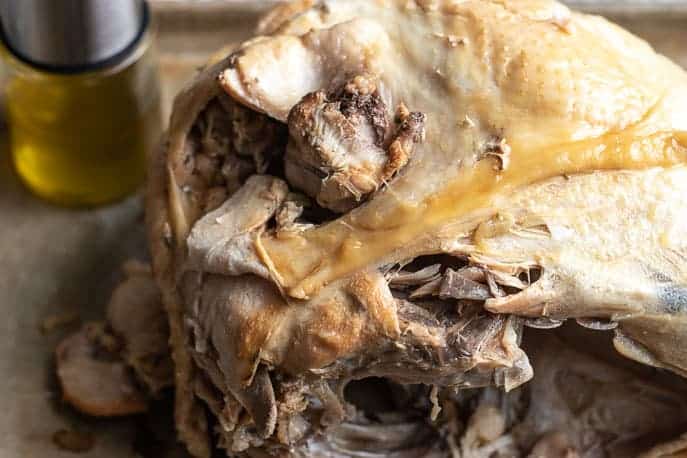 When turkey is done, cover it with foil and let it rest for about 10 minutes. (If you want it brown and crispy on outside, spray the outside with olive oil ( I use my olive oil sprayer (paid link)) and broil in the oven until brown).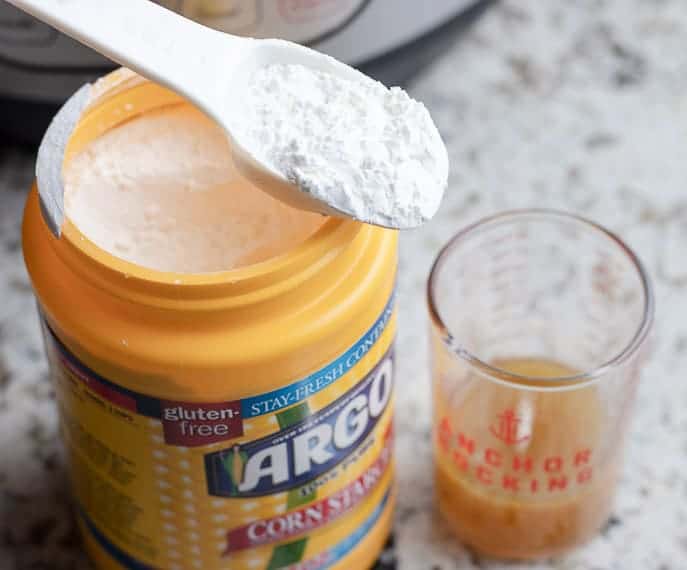 To make the gravy, strain off the vegetables, from the Instant Pot turkey stock. Save out at least 2 cups of the broth and put back into Instant Pot. Add 1 T. butter. Season to taste.
In a small cup, add 2 tablespoons of cornstarch to about 3 tablespoons of broth. Stir, then add to broth in the Instant Pot.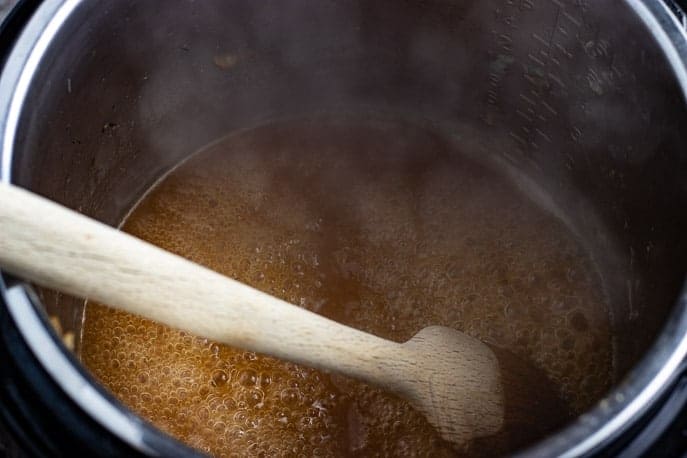 Cook for a few minutes until thickened. Serve with the Instant Pot Turkey.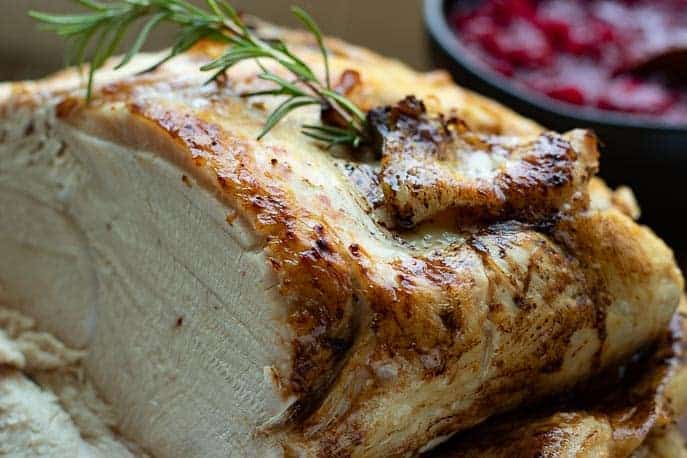 Easy Instant Pot Turkey (Whole or Breasts)
This Instant Pot turkey recipe is super easy to make and you won't believe how moist and juicy it is! The Instant Pot does the majority of the work!
Weight Watchers Points:
1 Smart Point ; Green: 6 Smart Points; Purple: 1 Smart Point (for 1/8 of the turkey breast-without skin and 4 T. of gravy)
Ingredients
6-7

pound

turkey or turkey breast

bone in If you have a 6 qt Instant Pot, use 6 pounds, if you have an 8 qt. Instant Pot 7 pounds is fine (thawed)

1/2

c.

kosher salt

water-enough to cover turkey in container

1

t.

oil

olive oil from oil sprayer

1

large onion

4

garlic cloves

1

c.

baby carrots

chopped

1

stalk celery

chopped

1

c.

Parmesan chicken broth or use regular chicken broth

1

tablespoon

Pecking Order Spice from Casa M Spice Co® (optional)

See note at bottom

1-2

bay leaves

2

T.

fresh rosemary

1/2

T.

fresh thyme

1

T.

fresh sage

1/2

c.

white wine such as Sauvignon Blanc

2

T.

cornstarch

1

T.

butter

kosher salt to taste

freshly ground pepper to taste
Instructions
To brine the turkey, place water, kosher salt in large container. Stir well, add turkey, cover with water and allow to brine at least 5 hours or overnight.

Press Saute on Instant Pot. Add oil.

When hot, add chopped onions cook for about 3 minutes.

Add garlic, celery, carrots and herbs, cook for another 3 minutes. If things are getting too dry use the olive oil sprayer and add some more oil.

Add wine, Pecking Order Spice and Parmesan chicken broth and cook for about 2 minutes. 

Add rack to Instant Pot over broth and place turkey on rack.

Set to manual pressure on high for 25-30 minutes. (For 6 lbs, do 25, 7 lbs do 30). Set knob to sealing. Allow to natural release for 10-15 minutes. Then release pressure. Check the temperature with a cooking thermometer -  it should be at least 162 or 163°. (After resting it will go up to 165°).If it's not, set the pressure cook again for another few minutes.

If you like your turkey brown and crispy, place turkey on a baking sheet. Pat the turkey down with paper towels. Use an olive oil sprayer, spray the top, then put in the broiler for a few minutes.

To make gravy: Place a sieve over a bowl and strain off vegetables and any turkey parts.  Place 2 c. broth back into Instant Pot liner. Add 1 T. butter. 

Press, "Sauté".  

In a small cup, add about 3 T. broth.  Add cornstarch. Stir well.

Pour cornstarch mixture into broth.  Cook until thickened. (If you want more gravy, then use all of the broth and add another tablespoon of cornstarch to the cup if needed). Season with salt and pepper to taste.
Notes
If you want to make turkey for more people but still want to do it in the Instant Pot, do 2 turkeys or turkey breasts. Make the batches separately and store them in the refrigerator until ready to reheat.
Try the Casa M Spice Co® Pecking Order. It's delicious! Here's a coupon code: 10CMPS53 if you order it on Amazon for 10% off. Code expires: 11/18/21
Nutrition
Serving:
1
portion
Calories:
513
kcal
Carbohydrates:
6.3
g
Protein:
96.1
g
Fat:
9
g
Saturated Fat:
2.9
g
Polyunsaturated Fat:
1.2
g
Monounsaturated Fat:
1.9
g
Trans Fat:
0.1
g
Cholesterol:
234.4
mg
Sodium:
810.1
mg
Potassium:
1049.1
mg
Fiber:
0.8
g
Sugar:
1.6
g
Vitamin A:
68.9
IU
Vitamin C:
3.9
mg
Calcium:
61.9
mg
Iron:
3.3
mg
Great recipes that go along with the Instant Pot Turkey