Having trouble peeling your butternut squash? Tired of cutting your fingers? Not sure what spiralizer to buy? Making butternut squash noodles is super easy when you have the right tools and the right know how.
What kind of tools or equipment do I need to spiralize?
I recommend two spiralizing products: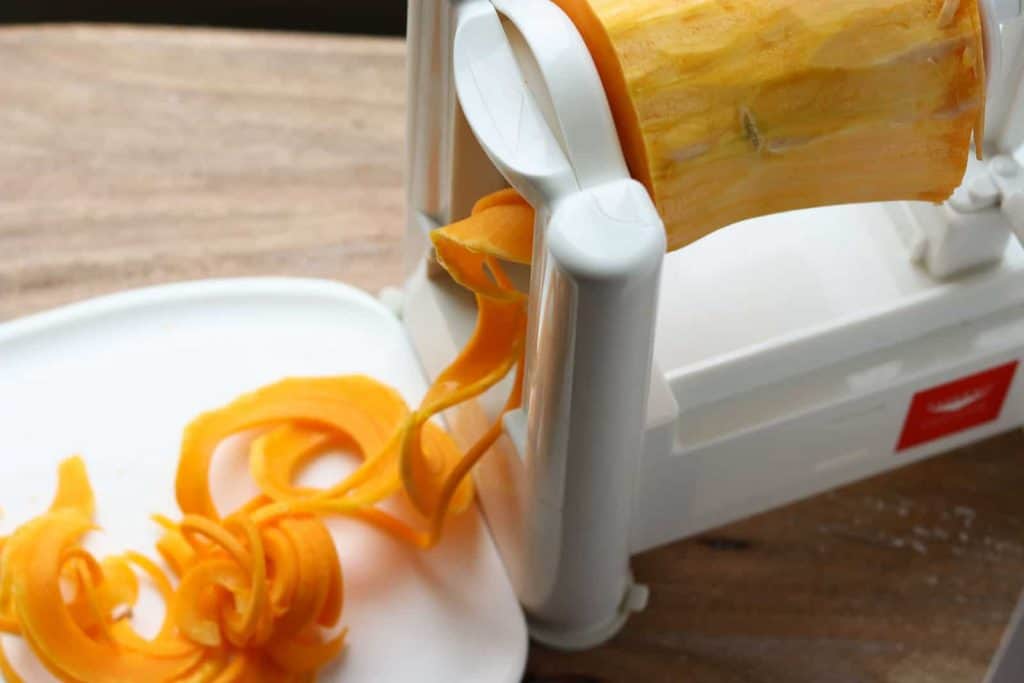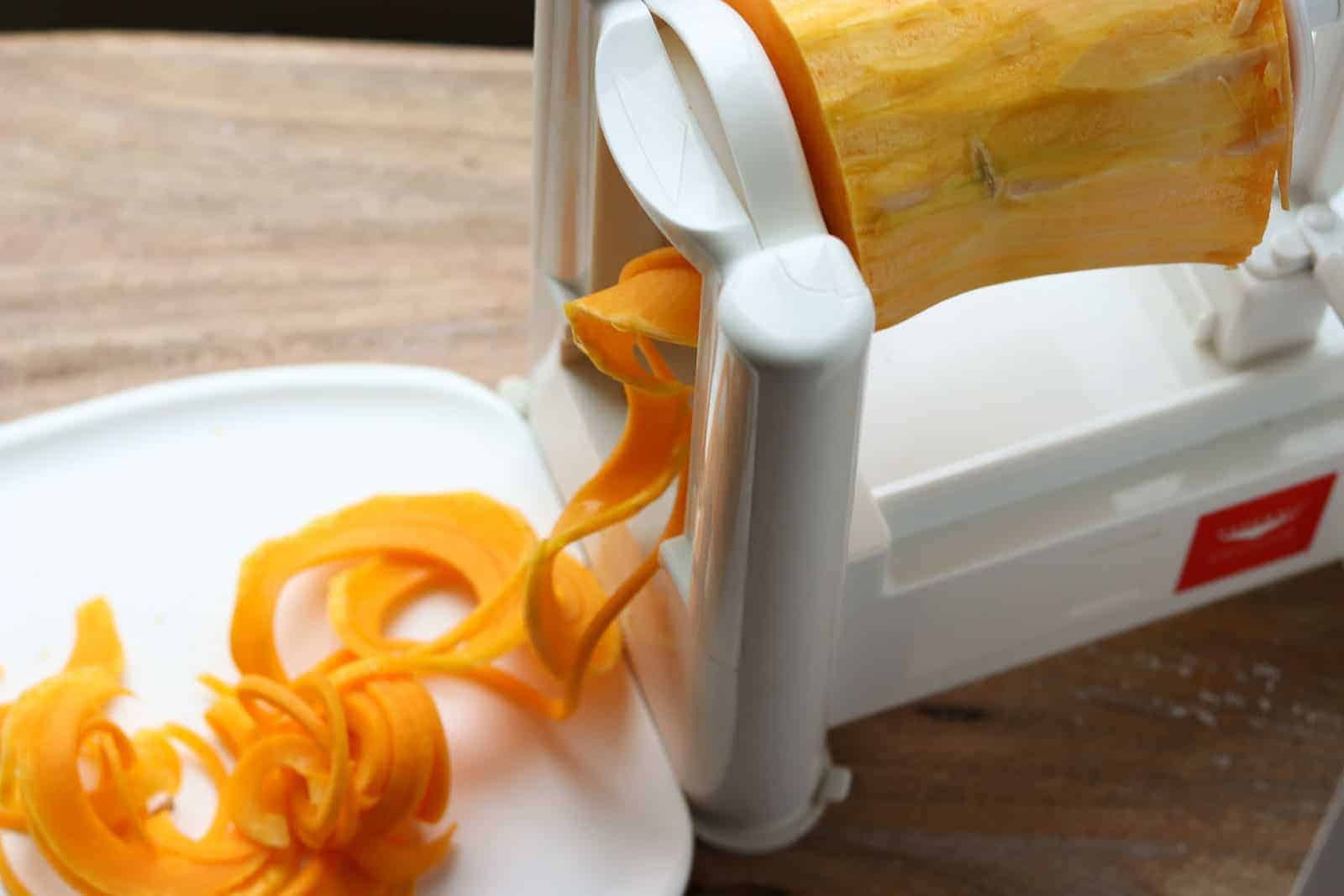 This Paderno Spiralizer (paid link) was my very first spiralizer. It has a great price point. I've used mine for years.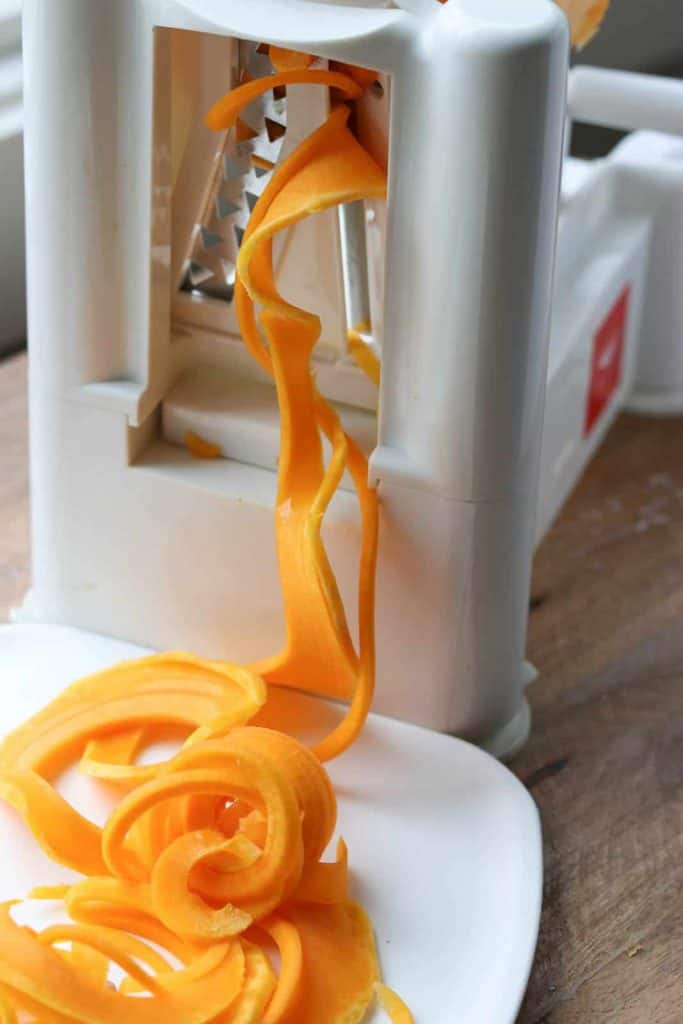 It has different attachments you can swap out. It's a great spiralizer especially for the price. My only complaint is that it sometimes slips and moves around on the counter and occasionally the squash gets stripped and then won't spiralize.
Yes it's expensive, but if you are in the market for a new food processor anyway, this is the one to get and make sure you get the spiralizer attachment. Here's why: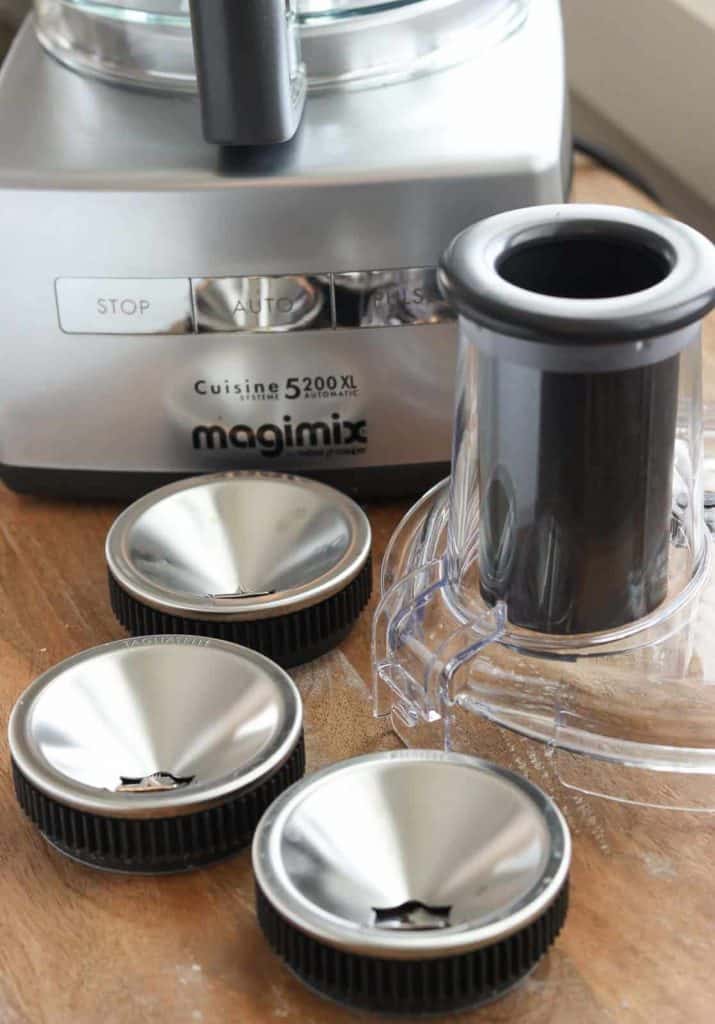 It also cuts squash, zucchini, etc. into different shapes. But it's way easier than trying to hand crank the traditional spiralizer.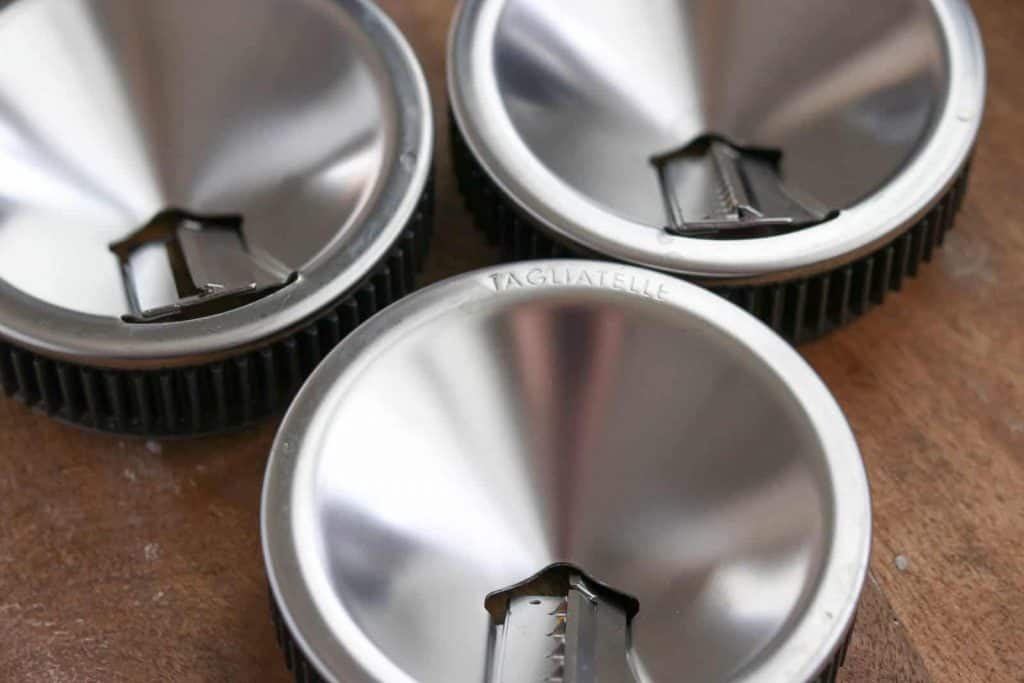 There's a spaghetti blade, fusilli blade and my favorite -tagliatelle blade!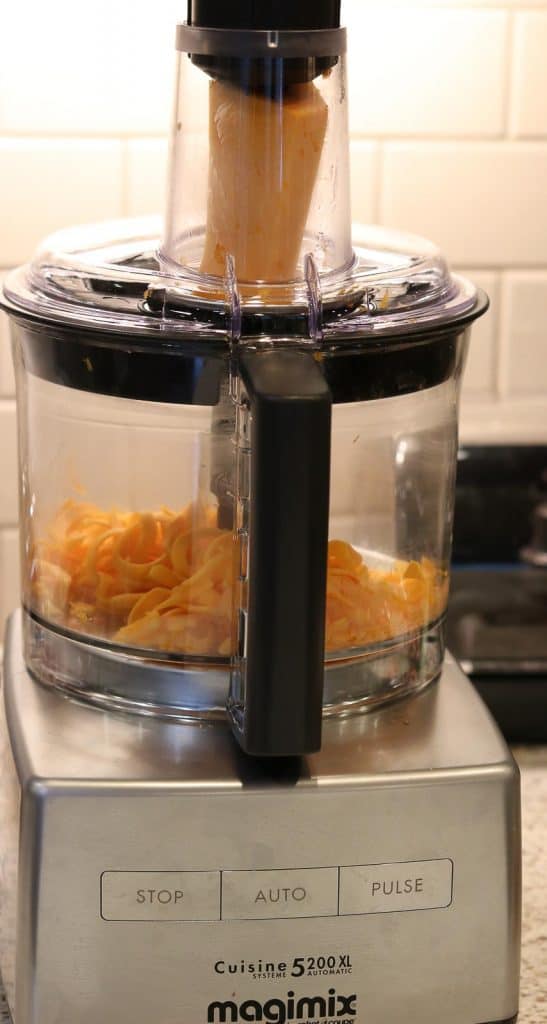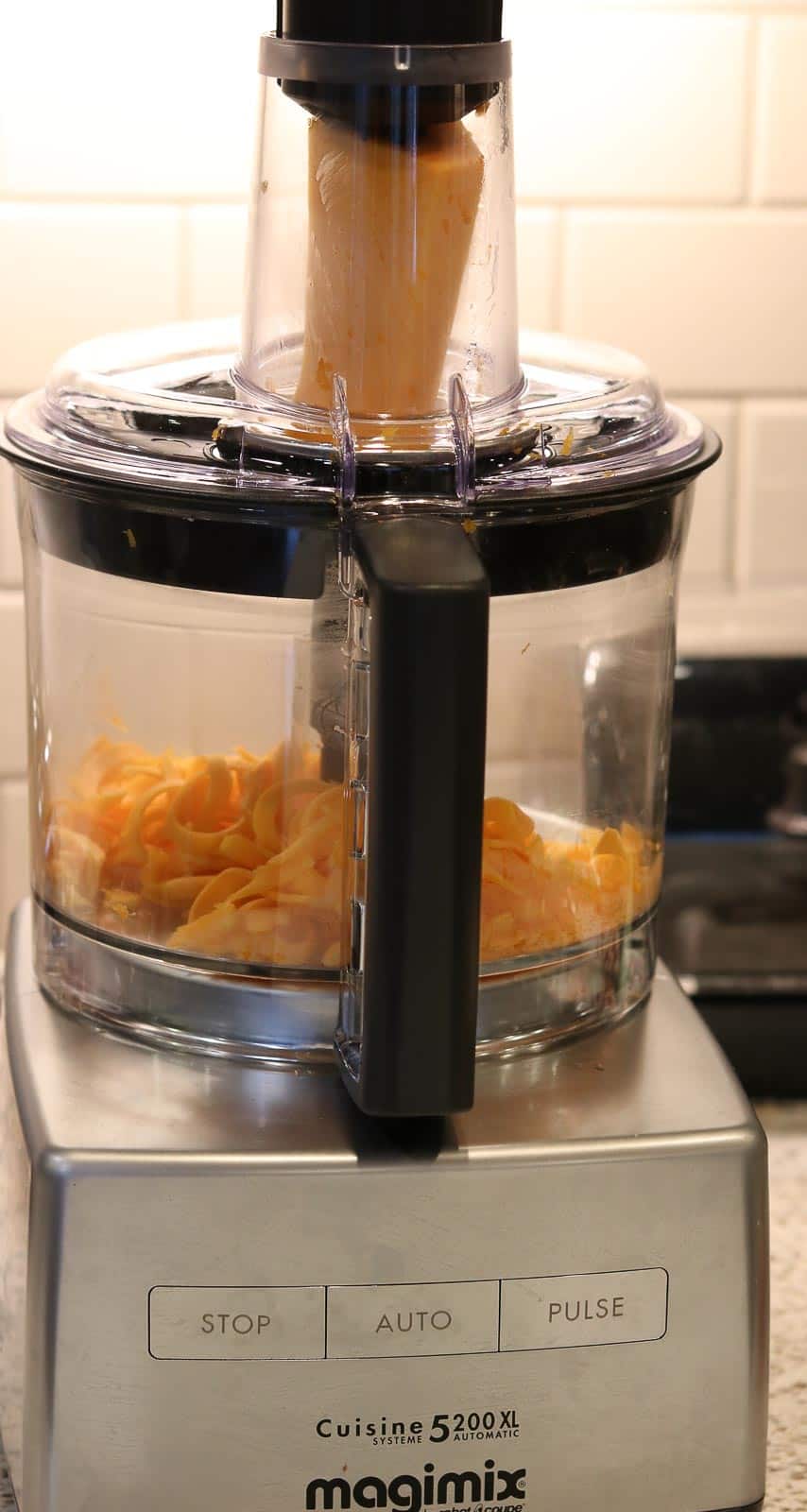 After you peel the butternut squash (see directions below), you slice the squash into long segments, then push them through the Magimix Food Processor (paid link). There's no waste, it all gets spiralized.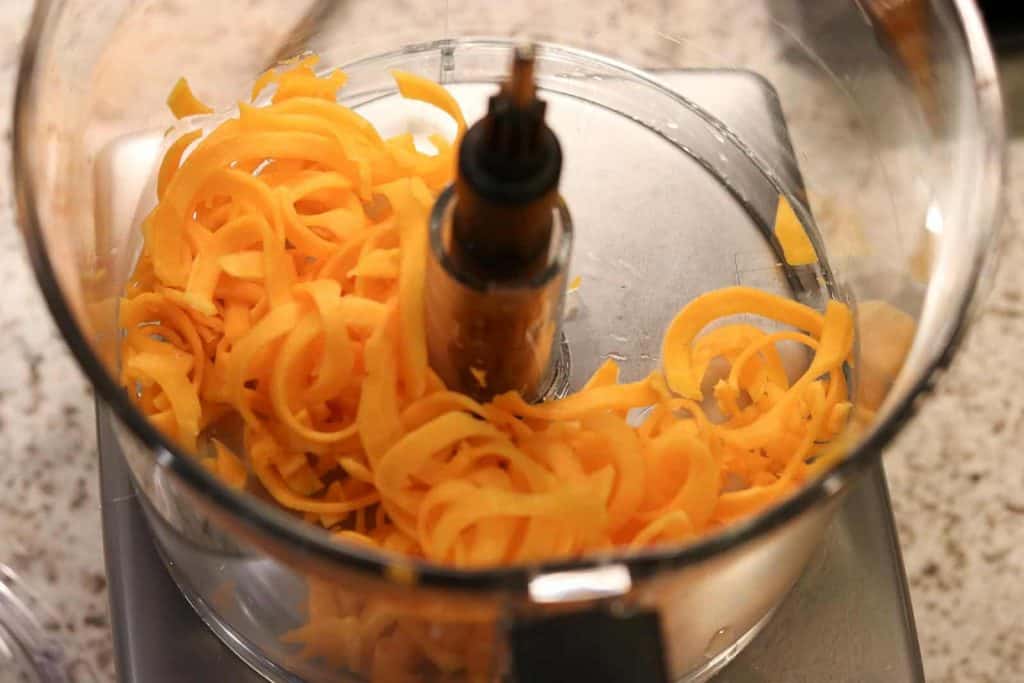 Look how easy that was! And it's quick! You don't have to worry about the squash getting "stripped!"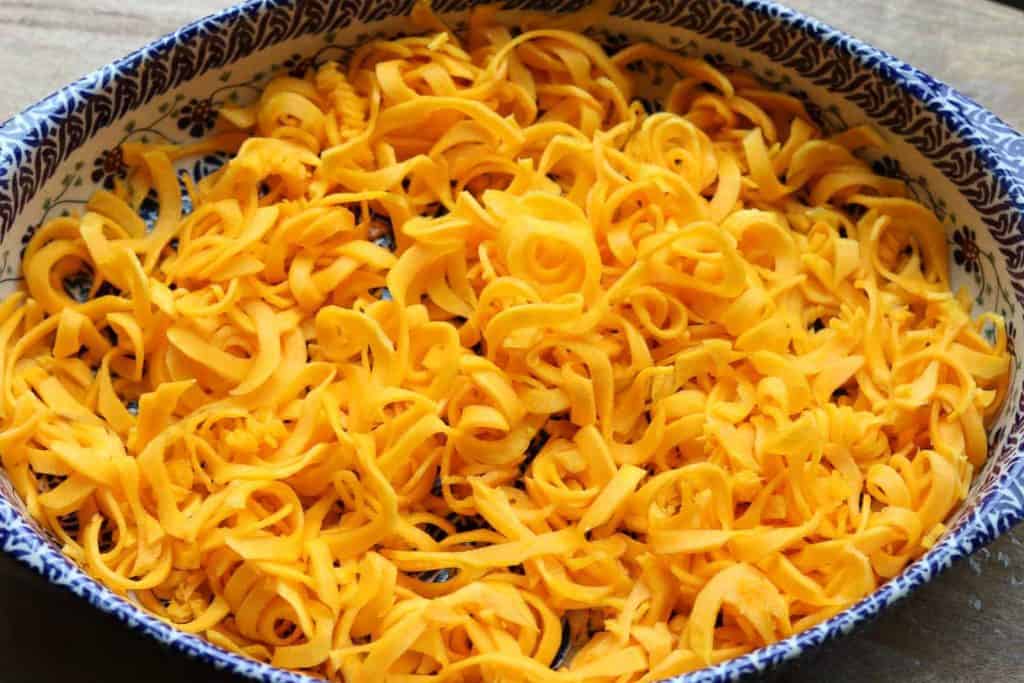 Perfect butternut squash noodles in no time!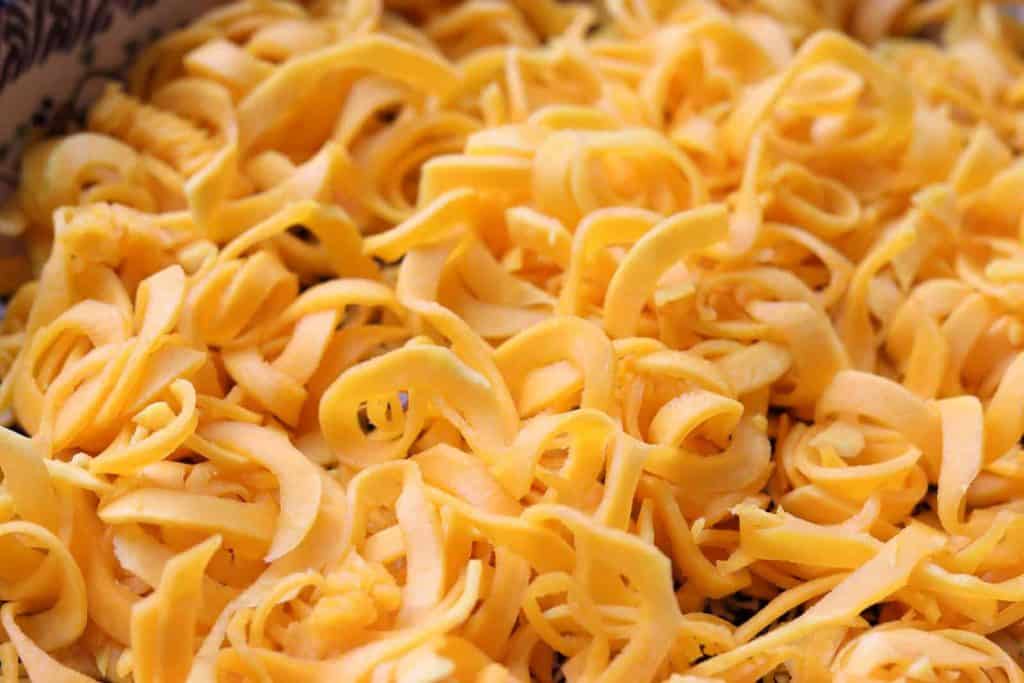 Last but not least – the close up!
So now that I have the right tools, how do I peel and spiralize butternut squash?
Here's a quick and super easy way to peel the butternut squash.
Time needed: 10 minutes.
Trim the squash.

First start by trimming off the top of the squash with a knife. Next cut off the bulb part of the squash. The bottom part of the butternut squash doesn't spiralize easy so save that part for another recipe. You also don't want the seeds and pulp.

Place the butternut squash in a microwavable dish and microwave for about 2 minutes. Let cool for a few minutes.

Then peel with a Y peeler (paid link). So easy, now that it's been microwaved.

Cut if needed to fit spiralizer. With the Paderno it's good to cut it in half.

With the Magimix, cut into sections that fit into the food processor

(paid link)

.
That's it! You can spiralize pretty much everything! From butternut squash, carrots, sweet potatoes, zucchini, even broccoli stalks (those turn out as short pieces not the long curly ones). So if you don't have a spiralizer yet, get the Paderno Spiralizer (paid link) or the Magimix Spiralizer Attachment (paid link).
One last note: I didn't really mention the Kitchenaid Spiralizer attachment. While I love many Kitchenaid products, the spiralizer attachment to the stand mixer is not one of them. I find the vegetables get stripped too much and I end up with just a mess. Just thought I should mention it.
What Gourmet Done Skinny recipes use spiralized noodles?