How did this Easy Instant Pot Gourmet Chicken Cordon Bleu come about?
Last week I was in the mood for Chicken Cordon Bleu. I was thinking I might try and make a comfort type dish in my Instant Pot. I had my own Chicken Cordon Bleu recipe in mind to make over but I decided to check out the internet for inspiration and found one that sounded pretty good. In fact the recipe I found was rated high and one person said her family loved it so much – she made it twice in one week! Score!
Well not really. Just keep reading….
Just for kicks I decided to put in the ingredients for the dish into Weight Watcher's Recipe Builder, knowing full well it was probably high in calories and points. I have to say I was totally shocked. While I was prepared for a high point dish, it came back as 21 points! Yuck! Definitely not for me! I only get 23 points a day, so that's about all I could eat for the day. No thank you! No wonder so many people are overweight! And the lady that recommended it made it twice in one week!
Making this recipe skinny
Immediately I went to work on my own version. I decided to add broccoli as it needed more "bulk," in it so it would be more filling and make at least 6 servings. My version is a combination of my Chicken Cordon Bleu, Chicken Diane and Chicken Divan. Tada! I'm happy to present this one, Easy Instant Pot Gourmet Chicken Cordon Bleu only 7 Freestyle Smart Points (or 356 calories per serving). Much better. And the points in the cheese are so worth it!!
How to Serve it
Serve it over butternut squash noodles or zucchini noodles for a perfect comfort dish! (I serve it over pasta for my kids though – neither one of them like butternut or zucchini and they need the calories-one is training to become a fire fighter and lifts weights so he eats a ton! The other one is super skinny.) With the pasta, however, they love this dish!
This post does contain affiliate links which means that if you click on them and/or buy something I may earn a small commission -at no extra cost to you. I only recommend the things I actually use in my kitchen. By clicking and buying these items, you help keep my recipe blog running. Thank you!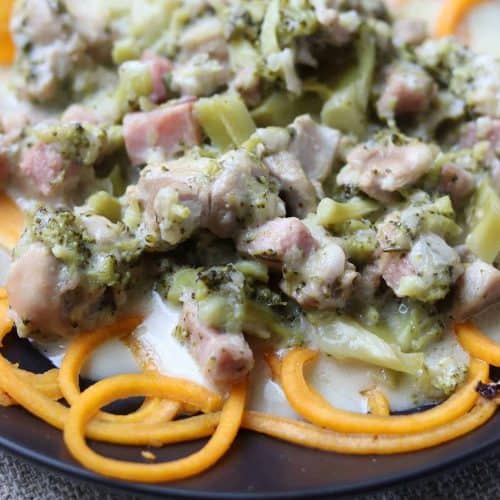 Easy Instant Pot Gourmet Chicken Cordon Bleu
Creamy, cheesy, chicken, ham and broccoli all brought together in this delicious and quick Instant Pot recipe. Serve over butternut squash spirals, zucchini noodles or pasta. Definitely a family pleaser! Only 7 Freestyle Smart Points per serving.
Weight Watchers Points:
Blue: 7 Smart Points ; Green: 9 Smart Points; Purple: 7 Smart Points per 1 cup serving
Ingredients
1 1/2

lb.

boneless

skinless chicken breast, cut in bite-sized pieces

1 1/2

c.

ham

ham steak-already cooked cut in cubes

1

c.

red onion

finely chopped (I chop the onions and garlic together in my food processor)

2

cloves

of garlic

minced

2

t.

oil

oil spray -

I like to use my Olive Oil Mister

4

c.

broccoli

chopped

1

T.

fresh rosemary

finely chopped

2

T.

sherry

1

T.

Worcestershire sauce

1

t.

salt

1/2

t.

pepper

1/2

c.

chicken broth or water

4

oz

of 1/3 reduced fat cream cheese -cut into chunks

4

oz

of swiss cheese

grated

1/4

c.

parmesan cheese

grated

1

T.

corn starch

if needed

butternut squash noodles

zucchini noodles or cauliflower rice
Instructions
Press, "Sauté," on your Instant Pot.

Add 2 t. oil and then also spray a non-stick skillet with a bit of oil from your Misto sprayer.

Add onions and garlic and cook for about 2 minutes, stirring occasionally and spraying a bit more oil if needed.

Add chicken and cook for about 1 minute. Turn off Instant Pot.

Add ham, broccoli, rosemary, sherry, Worcestershire sauce, salt, pepper, chicken broth, and cream cheese on top. Do not stir in cream cheese, just set it on the top.

Cover Instant Pot with lid, set to seal, push, "Manual," or on some models, "Pressure Cook," and set for 3 minutes. Yes, really 3 minutes! It takes a while for the Instant Pot to heat up so by the time the 3 minutes is up, the chicken is cooked perfectly.

When time is up, do the "quick" release and open pot.

Stir in Swiss cheese and Parmesan. If it doesn't melt all the way, push the, "Sauté," button and stir until mostly melted. If you want it a bit thicker, place about 1/4 c. sauce mixture in a cup, add 1 T. cornstarch, stir well and put back into Instant pot.  Cook until thicker. (Note: This sauce does thicken up after cooling.)

Serve immediately over butternut squash noodles, zucchini noodles or pasta (add more points for pasta). (See note at bottom for noodle directions.)
Notes
Use a spiralizer to cut the butternut squash or zucchini noodles. To cook the butternut squash noodles: spray a non-stick skillet with oil, toss in noodles and sauté until tender. If using zucchini noodles, only sauté until barely tender, otherwise they become too mushy.
On the older Instant Pot models you can just use 1/4 c. water/broth but the newer models will give you a "burn" notice, so use 1/2 c.
Nutrition
Serving:
1
cup
Calories:
356
kcal
Carbohydrates:
9.9
g
Protein:
43.7
g
Fat:
15
g
Saturated Fat:
6.9
g
Cholesterol:
123.2
mg
Sodium:
1366.6
mg
Fiber:
2.1
g
Sugar:
3.8
g
Vitamin A:
110.7
IU
Vitamin C:
66.9
mg