Updated October 17, 2019; originally published on October 26, 2017
This healthy Homemade Spicy Chicken Sausage is a big hit at my house. My kids will even fry it up on their own because they love it so much. It's great over nachos, delicata squash, rice, and zucchini noodles. It also makes a fast appetizer in my Lasagna Appetizers. This recipe is pretty spicy, so if you don't like spice, then dial it down a bit by using less of the spicy seasonings.
Cheaper than buying it in the store!
I began making my own homemade chicken sausage after I had a hard time finding it. And when I did find it, it was so expensive! I discovered a recipe from Emeril and only adapted it slightly because it is good the way it is. It's more moist if you use chicken thighs but you can also use chicken breasts for 0 points.
You don't even need a meat grinder!
While I do have a meat grinder, I actually find it's easier to just use my food processor (paid link) and do it in small batches. It's a lot less hassle than dragging out the grinder and definitely much easier to clean the food processor (paid link).
Make a big batch of this chicken sausage and freeze it for quick meals later!
It really doesn't take that much prep time especially if you make a big batch and freeze for later. I freeze them into 1 lb vacuum sealed bags (paid link). When I want a quick meal, I thaw it out, fry it up and dinner is done!
How to make homemade Spicy Chicken Sausage in pictures: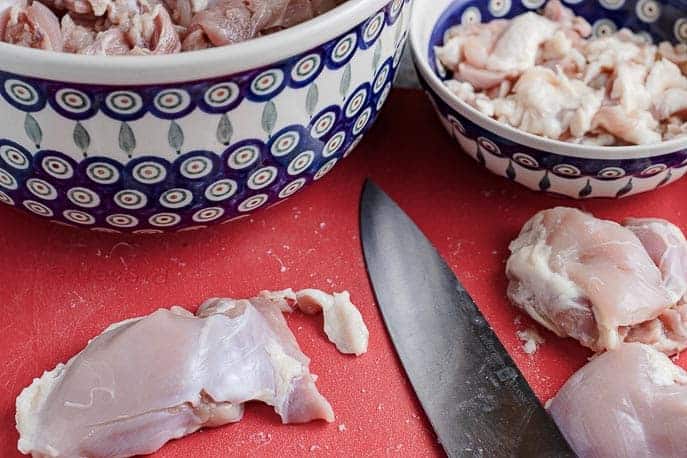 You can use chicken breasts or thighs. If you use chicken thighs, trim the fat off the chicken before cutting the chicken into small pieces.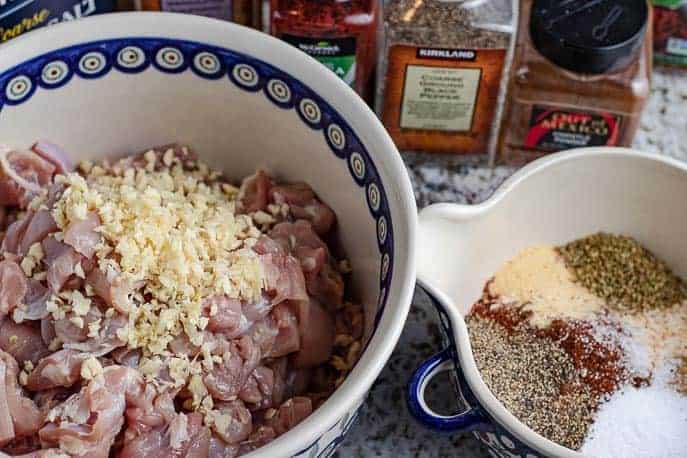 Add the chicken, garlic and spices together in a big bowl.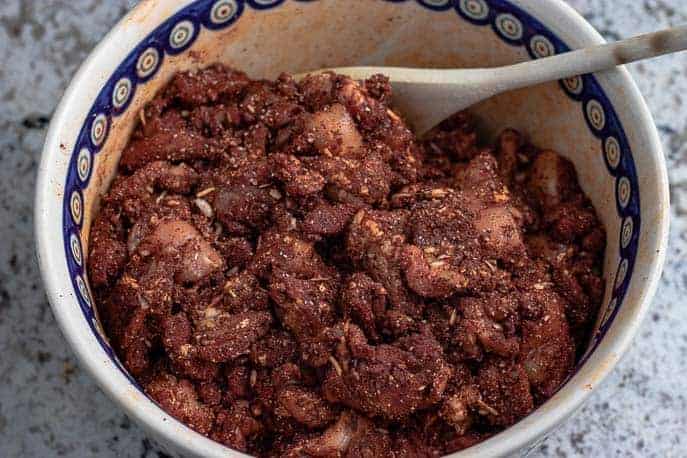 Mix in the spices well. Use your hands if needed. Cover and let the chicken mixture sit in the refrigerator for at least 24 hours.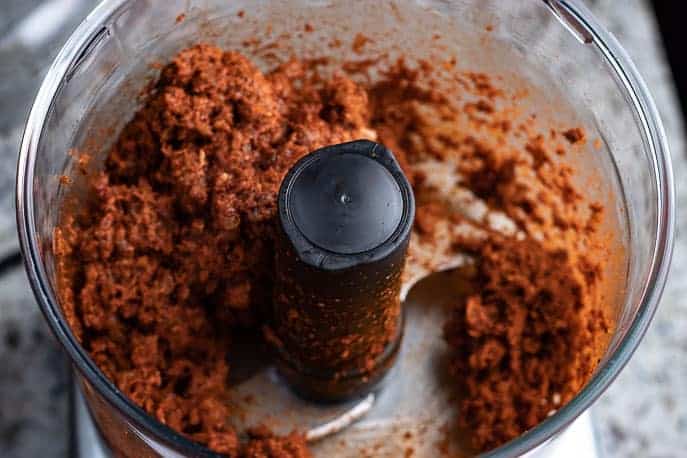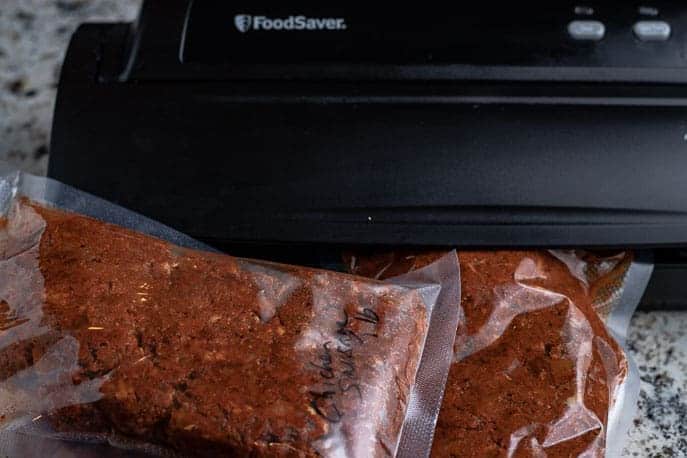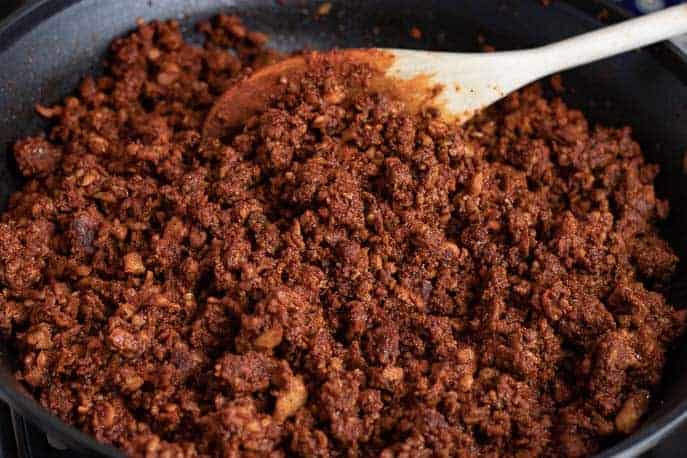 When ready to cook, place in a non stick skillet and cook until temperature reaches at least 165°. It can be hard to tell if the chicken is done because of the color of the spices, so use a thermometer (paid link) for best results.
Use this sausage in these Healthy Chicken Sausage Recipes: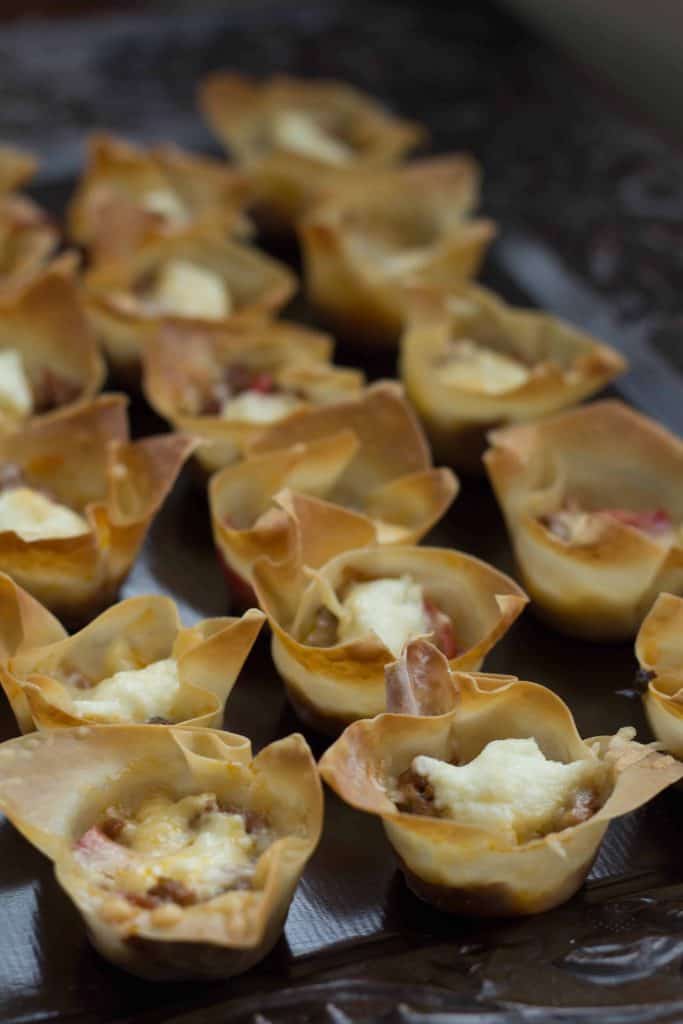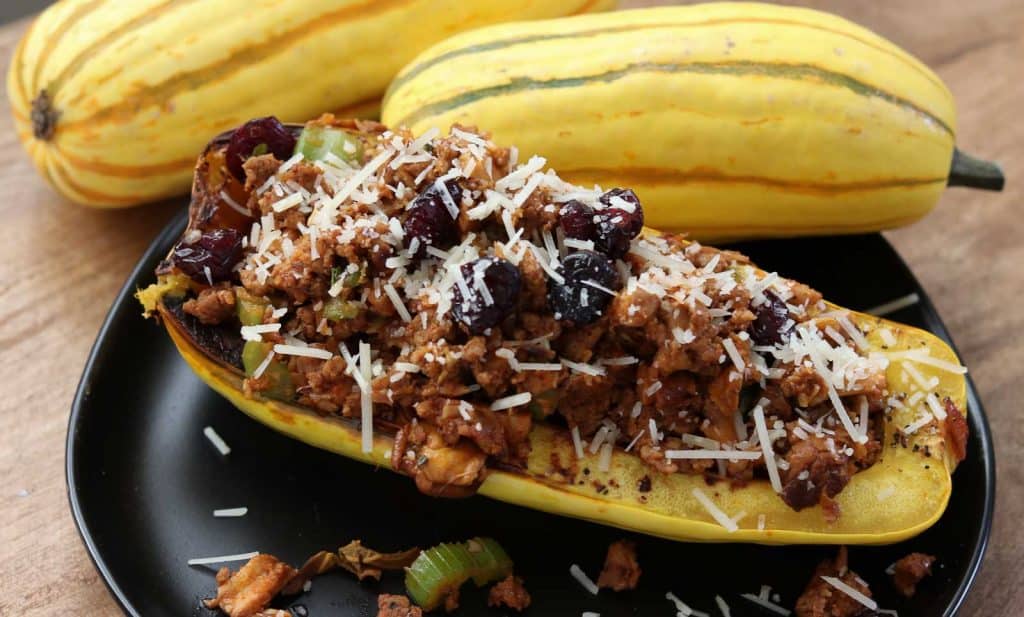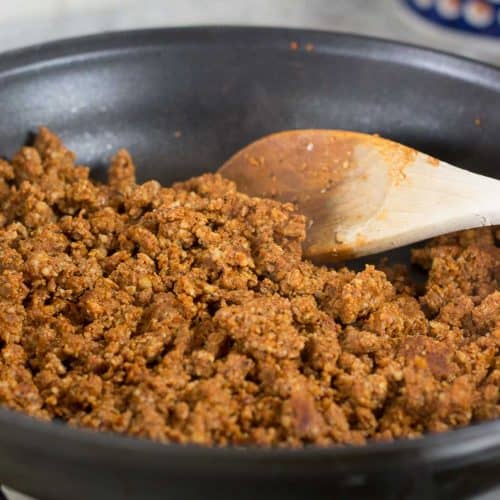 Healthy Homemade Spicy Chicken Sausage
This is a great healthy homemade spicy chicken sausage to have on hand in the freezer. It makes a big batch. Whenever you need a quick meal, pull this out. You may think 6 lbs is a lot but believe me when you see how much you can do with it, 6 lbs goes fast. See my notes at the bottom for great quick ideas! The original recipe came from Emeril. This is my adaptive version of it.
Weight Watchers Points:
Blue: 0 Smart Points (if using breasts); Green: 1 Smart Points per oz(breasts or thigh); Purple: 1 Smart Points(breasts or thigh) per oz
Ingredients
6

lbs

boneless skinless chicken thighs or use chicken breasts for 0 points

2 1/2

T.

of garlic cloves

minced (I use 18 cloves and put in my food processor)

5

T.

chili powder

10

T.

smoked paprika

4

t.

cayenne pepper

omit or use less if you don't like spicy sausage

1

T.

chipotle powder

2

t.

garlic granules

5

t.

dried chopped onion

4

t.

ground cumin

2 1/2

T.

kosher salt

1

T.

dried oregano

2 1/2

T.

black pepper
Instructions
Chop the chicken thighs into cubes and place in a large bowl.

Add remaining ingredients and mix well. Sometimes your hands are the best mixers.

Refrigerate for about 24 hours or freeze in freezer seal bags in 1 lb portions.

When ready to use, place chicken in a food processor (thaw slightly if frozen first) and pulse until finely chopped. You can also process the chicken before you freeze it so it's ready to go when you're ready to cook it.

Cook in a non-stick skillet until done, no need to drain!
Nutrition
Serving:
1
oz
Calories:
295
kcal
Carbohydrates:
4.6
g
Protein:
52
g
Fat:
6.7
g
Saturated Fat:
1.4
g
Cholesterol:
165.5
mg
Sodium:
629.4
mg
Fiber:
1.8
g
Sugar:
0.5
g
Vitamin A:
100.8
IU
Vitamin C:
1.4
mg