Need a taste of summer? Try my Summer Watermelon Tomato Salad! It's a delightful combination of fresh tomatoes, watermelon, burrata, mint and basil with a hint of balsamic. The perfect watermelon tomato salad in my opinion! Fresh tasting and surprisingly filling. The burrata adds a slight richness without being too heavy.
(original post July 9th, 2019)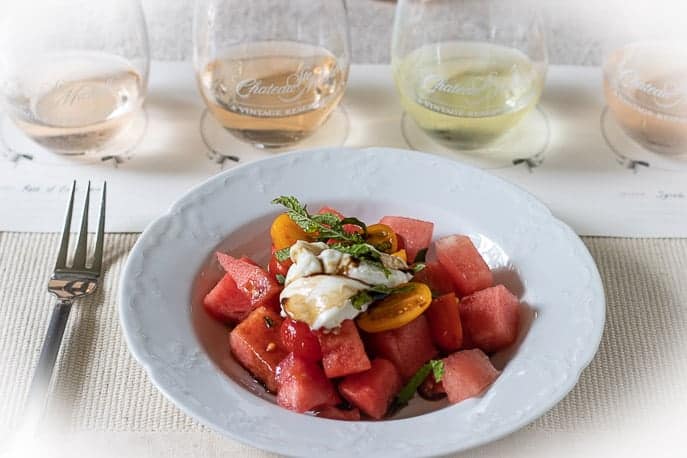 This Watermelon Tomato Salad recipe was inspired by my recent trip to Juneau, Alaska. I had dinner by myself at a great restaurant called, Salt. On their menu was this wonderful summer salad served with a piquillo pepper puree. While it was absolutely delicious with the puree, I wanted my recipe to be a quick and easy salad. I adapted it a bit by leaving out the puree and adding a splash of a rich and decadent aged balsamic vinegar.
How to make this Watermelon Tomato Salad: It's easy as 1, 2, 3!
Slice and cube tomatoes and watermelon.
Roll and thinly slice mint and basil.
Arrange everything on individual plates or bowls. Drizzle with oil and vinegar.
Questions about watermelons
How do you pick a good watermelon?
Choose a watermelon that is heavy for its size. Look for a yellow spot – that is the spot where it was on the ground. Be sure your watermelon has a yellow spot, when the spot is creamy yellow, it's ripe. Give your watermelon a thump on the underside. If it has a deep hollow sound, it's ripe.
How long can you keep uncut watermelon?
-Keep uncut/whole watermelon in the refrigerator for 2-3 weeks.
-Do not store it on the counter, heat dries it out.

How long can you keep cut watermelon?
-Cut the melon and wrap in plastic wrap or seal in vacuum sealer to prevent it from taking on refrigerator odor. Store cut watermelon up to 3 days.
Can you freeze watermelon?
You can freeze watermelon but cut it into cubes first. It won't retain the crisp texture but will be fine for smoothies. (Not for this recipe unfortunately).
How do you choose a wine to pair with a watermelon tomato salad?
Pairing this wine can be very tricky – between the fresh tomatoes, the watermelon, the fresh burrata cheese, basil and the mint. Because the tomatoes are acidic, you want a crisp summer wine. Tart wines will taste fruiter when paired with fresh tomatoes.
For this salad, I tried a Sauvignon Blanc, Pinot Blanc, Rosé and a Rosé of Pinot Noir. I'm lucky because I own a Coravin so I can just try a little of each wine without opening the entire bottle. My favorites were the Pinot Blanc from Chateau St. Michelle and the Rosé of Pinot Noir from Caraccioli Cellars. I thought I would like the Sauvignon Blanc but it was too strong and overpowered the salad. I'm curious to know what wine you like with this salad. Let me know in the comments!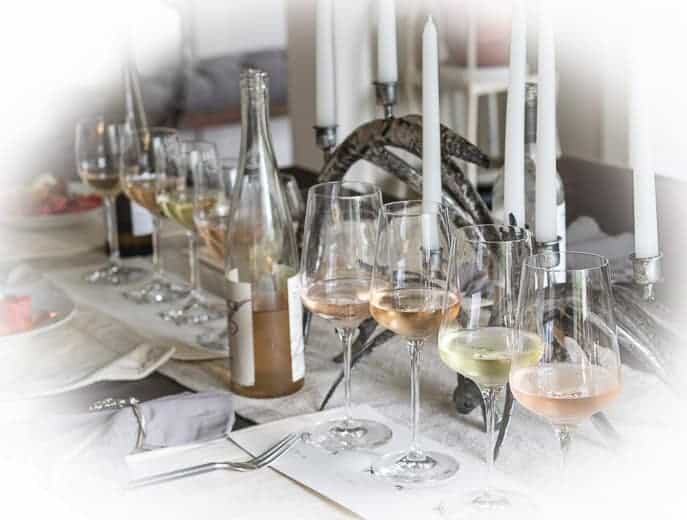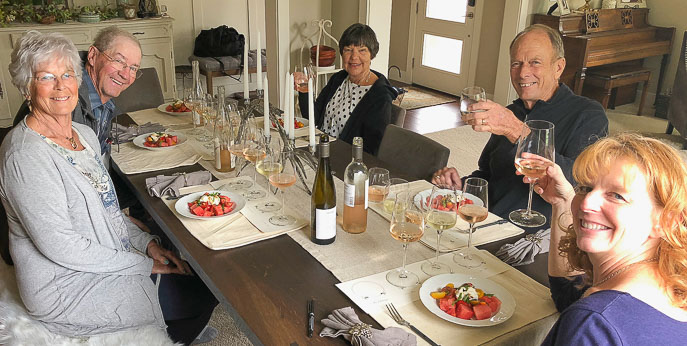 What is Burrata? Can I use mozzarella?
Burrata is a fresh Italian cheese made from mozzarella but it's not mozzarella. It has a mozzarella, "shell," and it's very creamy when you slice it open. You can read more about Burrata on my Parmesan Crusted Chicken Bruschetta post.
While you can also use mozzarella pearls or balls sliced into small cubes, the burrata really is best as the mozzarella doesn't really tie all the ingredients together. It lacks that creaminess and richness which makes the salad come together.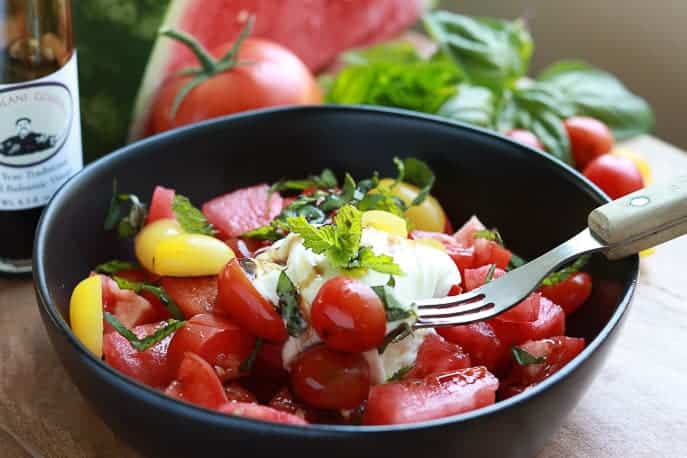 Summer Watermelon Tomato Salad with Burrata, Mint and Basil
Need a taste of summer? Try my Summer Watermelon Tomato Salad! It's a delightful combination of fresh tomatoes, watermelon, burrata, mint and basil with a hint of balsamic. Fresh tasting, yet surprisingly filling. Make these salads individually for a unique and beautiful presentation. 
Weight Watchers Points:
5 Smart Points per serving for all plans
Ingredients
8

cups

ripe watermelon cut in cubes

2

fresh ripened large tomatoes

heirloom, or combination of different colored tomatoes, cut into chunks or sliced in half if using cherry tomatoes.

4

fresh large basil leaves

rolled and sliced very thin

4

fresh large mint leaves

rolled and sliced very thin

4

T.

good quality balsamic vinegar

1 T. per salad

4

t.

good quality extra virgin olive oil

1 t. per salad

4

oz.

burrata cheese

brought to room temperature before serving (about 30 minutes)(1 oz. per salad)
Instructions
Slice and cube the watermelon and tomatoes.

Arrange watermelon and tomatoes in individual bowls or plates.

Sprinkle basil and mint pieces over top.

Place 1 oz of burrata in the center of each salad.

Drizzle oil over top. Drizzle balsamic over top.

Enjoy!
Notes
Burrata can be messy because it's so creamy but that's what makes it great! Add the burrata right before you serve it. 
If you want to serve it in a larger format, you can place all ingredients in a large bowl but use mozzarella balls instead of the burrata. It won't be as rich and creamy but it will look nicer and dish out easier in a larger serving bowl.
Nutrition
Serving:
1
salad
Calories:
243
kcal
Carbohydrates:
29.2
g
Protein:
8.9
g
Fat:
11.5
g
Saturated Fat:
4.4
g
Polyunsaturated Fat:
0.9
g
Monounsaturated Fat:
5.2
g
Cholesterol:
22.4
mg
Sodium:
188.3
mg
Potassium:
558.7
mg
Fiber:
2.1
g
Sugar:
23.5
g
Vitamin A:
168.8
IU
Vitamin C:
34.9
mg
Calcium:
177.4
mg
Iron:
1.2
mg