This homemade healthy pesto paste is super easy to make and very quick. Use it for soups, pastas, stews, chicken, bread, dips and more! If you freeze them into cubes, you'll have a burst of flavor whenever you want. Be sure and read below about how to prevent bitter pesto.
It's easy to make pesto: 1, 2, 3!
Start by using freshly picked basil leaves. Use only the leaves, not the stems. Wash and pat them dry.
Combine ingredients together in a food processor

(paid link)

– except for the extra virgin olive oil.
Transfer basil mix to a small bowl. Stir in olive oil. That's it!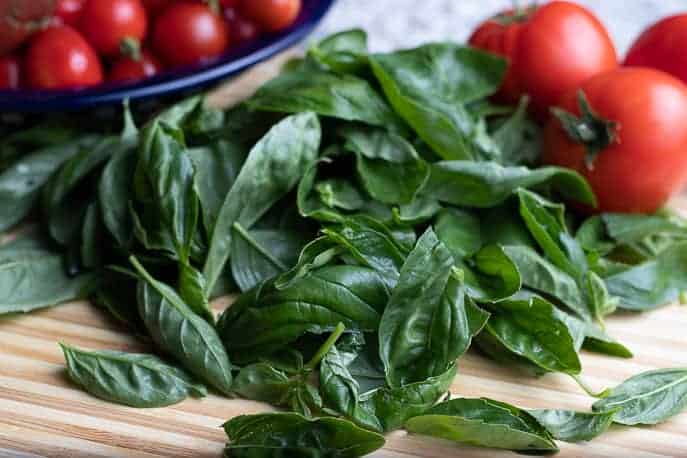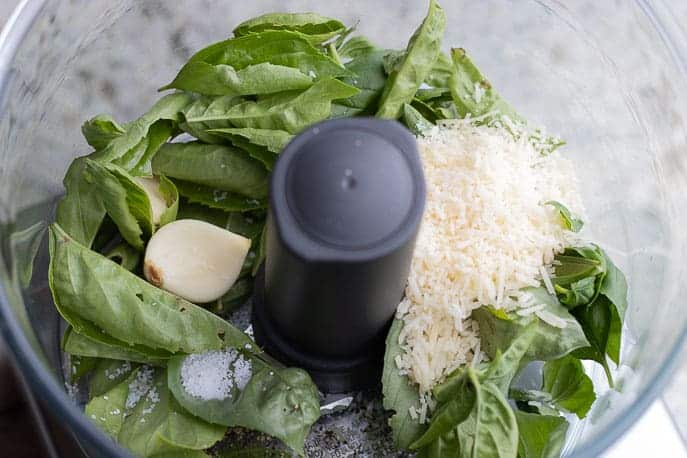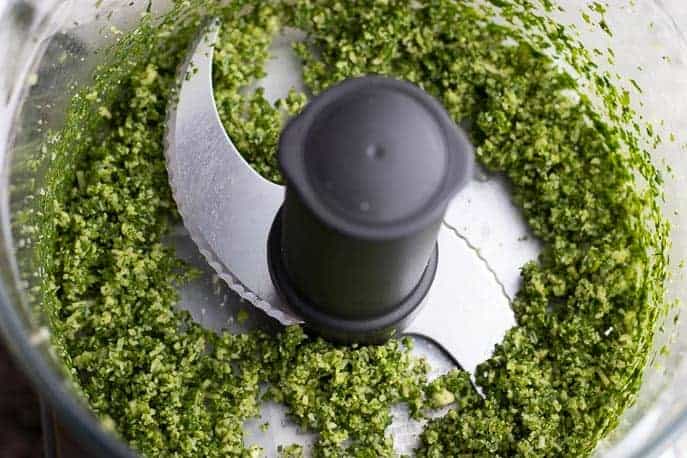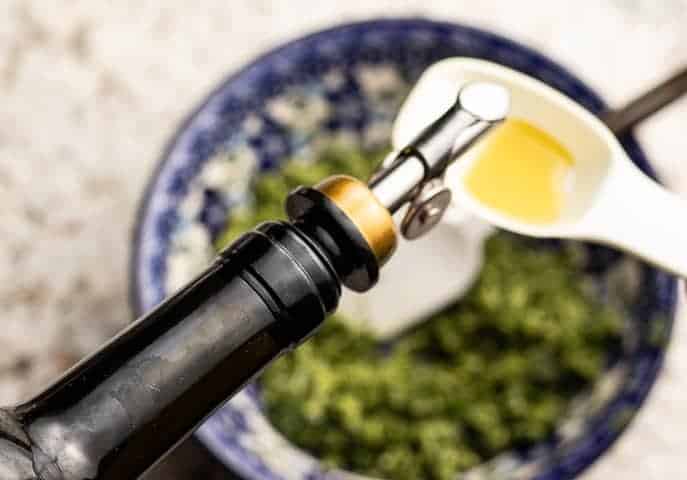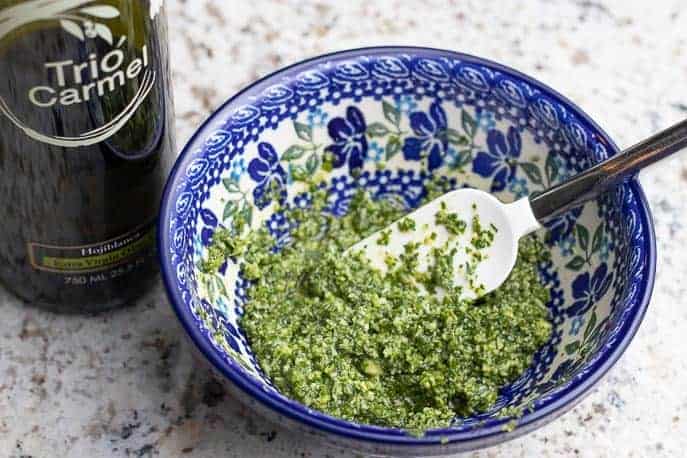 Why do I add olive oil in by hand?
Have you ever made or had bitter pesto? This is the result from the oil being emulsified in the food processor (paid link). Overprocessing squeezes out the bitter tasting polyphenols and makes your pesto bitter. The first time I made pesto I was so disappointed. I barely had enough basil leaves to make the pesto and then I ruined it by pulsing the oil too much in the food processor (paid link). I was so sad! They say you can fix it with salt or more parmesan but this batch was completely ruined, there was no fixing it. I learned my lesson, always stir it in!
How long does homemade pesto last?
Homemade pesto lasts a few days in the refrigerator. In the freezer, it will last for months.
Can you freeze pesto?
Yes, most definitely! Place it into ice cube trays (or whatever you have handy, I happen to use mini bundt pans) or freeze 1 tablespoon plops on parchment paper (paid link). Transfer to a plastic bag when frozen. Use as needed.
What can I do with homemade pesto?
Add it to soups, pastas, stews, chicken and beef dishes and more! 1 tablespoon of flavor goes a long way!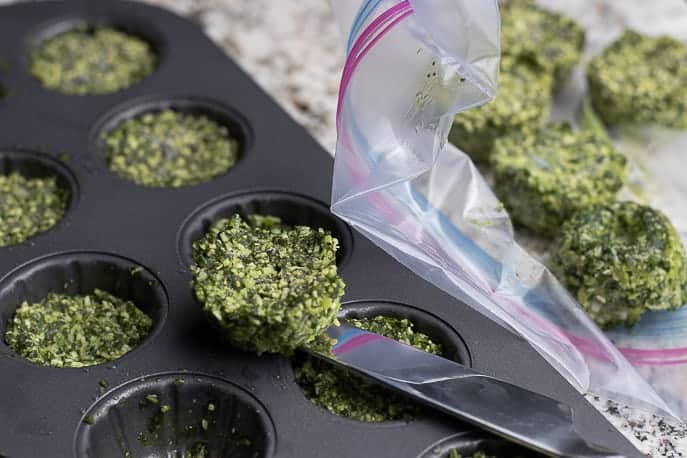 How did I make this homemade pesto recipe healthy?
While this homemade pesto recipe still has 83 calories per tablespoon, it is healthier than other recipes. Traditionally homemade pesto recipes use more oil and also include pine nuts (paid link). Although I love pine nuts (paid link), I don't think they are necessary for a healthy pesto. More oil makes the pesto thinner and richer, this version is more of a paste, has more flavor and less calories.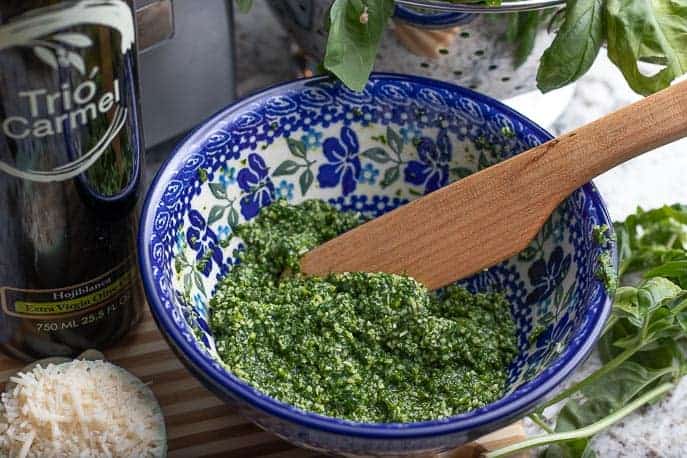 Easy Healthy Homemade Pesto
This healthy homemade basil pesto paste is super easy to make! It's a great flavor enhancer for pasta, soups, stews, chicken, beef and more! Freeze it into cubes so you can add it anytime you need flavor!
Weight Watchers Points:
2 Smart Points per tablespoon for all plans
Ingredients
Instructions
Wash basil and pat dry. Place in food processor.

Add garlic, parmesan, salt and pepper.

Process until finely chopped.

Transfer to a small bowl, add olive oil and combine well. (Note: if you add oil to food processor and over process, your pesto will be bitter, so just stir it in.)

Place in ice cube trays or use Souper Cubes 2 Tablespoons and freeze.  Or store in refrigerator for a few days.  Makes about 6 tablespoons.
Nutrition
Serving:
1
Tablespoon
Calories:
83
kcal
Carbohydrates:
1.5
g
Protein:
1.6
g
Fat:
8.3
g
Saturated Fat:
1.7
g
Polyunsaturated Fat:
0.8
g
Monounsaturated Fat:
5.3
g
Cholesterol:
3.6
mg
Sodium:
121.7
mg
Potassium:
43.7
mg
Fiber:
0.3
g
Sugar:
0.4
g
Vitamin A:
34.9
IU
Vitamin C:
2
mg
Calcium:
51.8
mg
Iron:
0.3
mg