This recipe created especially for Casa M Spice Co®
These Healthy Spicy Turkey Sausage Squash Boats are quick to make with Casa M. Spice Co® Chain Reaction spice. Delicious homemade turkey sausage crumbles mixed with sweet potato, onion, chanterelles, red pepper and garlic all served in a "squash" boat. Use delicata squash, acorn squash, or butternut squash as your "boat."
As many of you know I'm a brand ambassador for Casa M Spice Co® Spices. I just love their spices. Their Chain Reaction spice (paid link) is my absolute favorite. It's a spicy "Season-All" spice. You can use it in everything. This dish is simple to make because there are just two spices – Chain Reaction and a little kosher salt. When creating this recipe, I thought I might add some additional spices but you don't need it! They've done all the hard work for you!
Usually I'm not a big fan of ground turkey but I knew this spice would make it taste fantastic and it certainly did! Feel free to use whatever fresh veggies you have on hand.
Is turkey sausage healthy for you?
Absolutely! This homemade turkey sausage contains less calories and less fat than pork sausage. And because you're using the Chain Reaction Spice from Casa M Spice Co®, it's lower in sodium too!
What kind of squash should I use?
My favorite squash to use for this dish is Delicata. The skin is super thin, so it's easy to cut and you can even eat it! But you can use other kinds of squash as well. You may need to adjust the baking time.
Do you have to let the turkey and spices sit overnight?
With my Homemade Spicy Chicken Sausage recipe, I let the flavors marinate and sit overnight but for this recipe I wanted something quick and easy so chose not to do that. The results are still fantastic! You could certainly allow the flavors to sit overnight but it's not necessary.
Could I freeze this spicy turkey sausage and use it in other dishes?
Certainly! If you're going to use it in other dishes, make a triple batch, mix the turkey and the Chain Reaction Spice and salt together. Then freeze in vacuum sealed bags (paid link) in 1 lb. increments. When you're looking for a quick meal, just thaw and cook. These turkey sausage crumbles would be great browned and sprinkled over pizza, in tacos, in rice bowls and even over a salad.
How can I turn this recipe into a Turkey Breakfast Sausage Recipe?
Instead of the turkey sausage crumbles mixed with veggies, you can easily turn this recipe into a fabulous turkey breakfast sausage recipe! Just mix together the ground turkey, onions, garlic, salt and Chain Reaction spice (paid link) in a large bowl. Form into patties and fry in a nonstick skillet (paid link) with a little olive oil spray (paid link) until done.
Spicy Turkey Sausage Boats in Pictures:
Scoop out the squash insides. Remove all of the seeds and pulp.
Spray squash boat shells with olive oil spray (paid link) sprinkle with salt.
Place squash boat shells on a baking sheet (paid link) lined with parchment paper (paid link). Bake for about 25 minutes until tender. I like to use the Delicata squash because the skin is thin. It's much easier to cut them and you can actually eat the skin.
Cut sweet potatoes into small pieces. Place in a bowl. Cover with a wet paper towel and microwave for 2 minutes.
Chop remaining vegetables.
Brown turkey and onions together. I like to use this ground meat tool (paid link) – it works great! It has a chopper on the other side to break up the larger clumps of ground meat.
Add Chain Reaction Spice and stir well. Cook until turkey is done and vegetables are tender. Don't skip the spice! Otherwise there won't be any flavor! The flavor is in the spice!
Scoop spicy turkey sausage filling into the roasted squash boats. Top with a little Parmesan cheese.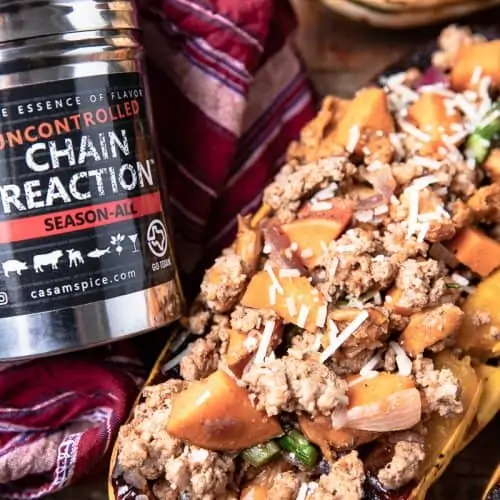 Healthy Spicy Turkey Sausage Squash Boats
Weight Watchers Points:
1 Smart Point per squash boat for Purple Plan, 2 points for Blue Plan, 3 points for Green Plan
Ingredients
3

Delicata squash, cut in half

acorn, butternut squash will all work, you may have to adjust baking time

1

lb

ground turkey

1

teaspoon

kosher salt

1-2

tablespoons

Chain Reaction Spice

See note at bottom for special coupon code

5

stalks

asparagus

chopped

1

sweet potato

cut in cubes

1

onion

finely chopped

1

red pepper

chopped

1/2

lb

mushrooms

coarsely chopped

3

garlic cloves minced

6

tablespoons

parmesan cheese, shredded
Instructions
Cut squash in half, spray with olive oil spray, sprinkle with kosher salt. Place cut side down on a baking sheet lined with parchment paper. Bake for about 25 minutes until tender with fork.

While squash is baking, cut a sweet potato into small cubes. Place in a bowl with a wet paper towel on top. Microwave for 2 minutes.

In a large skillet, add onions and ground turkey and brown for a few minutes. Add in chopped vegetables, Chain Reaction Spice and garlic. Cook until turkey is done and vegetables are tender.

Divide turkey mixture between 6 squash halves, sprinkle with a little parmesan cheese and serve immediately.
Notes
Don't skip the Chain Reaction spice! It's the star of the show and adds all of the flavor.
Casa M Spice Co® gave me a great discount for you!
This spice is 10% off on Amazon from from 11/1 to 11/15. Be sure and put in the promo code 10ZK8IAB  for Chain Reaction on Amazon . Thanks Casa M!
Check Out These Other Great Recipes!
Try this Delicata Squash with Spicy Chicken Sausage! Delicious healthy stuffed Delicata squash with spicy chicken sausage and cranberries is the perfect main dish to serve on a fall or winter's day. Makes a great Thanksgiving side dish as well.
These Chicken and Mushroom Stuffed Acorn Squash are filled with a savory combination of chicken, chanterelles, herbs and parmesan cheese. Perfect for the fall season! Leave out the chicken if you wish. Also makes a great Thanksgiving side dish!