There are so many benefits to making your own homemade kitchen staples. I bet you never thought about making some of them yourself either! From homemade tomato sauce, chipotle seasoning, pizza crusts, and even tortillas! Imagine how handy it would be to just go to your pantry, freezer or refrigerator and just pull them out? If you want to know what my kitchen staples are with recipes, check out my latest ebook.
So what are the benefits?
Homemade tastes better! Delicious homemade salad dressings take minutes to make and taste so much better and better for you!
You know what's in your food – You know exactly what goes into each food, you can control the amount of sugar, salt, etc. This is great especially for those with dietary restrictions and allergies.
Saves calories! Because you aren't eating out and you know what goes into your recipe, you save calories.
Saves money and time – Having already prepared foods such as tomato sauce, frozen tortillas, pizza crust dough, etc in your freezer that you can pull out at a moment's notice is so handy! It saves you from running to the store. Plus they are pennies to make. Make it once, use it in many recipes!
Preservative free – Good wholesome food, no processed junk!
What tools and equipment do I need?
There are only a few things I recommend when creating your own homemade kitchen stapes – a big freezer or two, vacuum sealer (paid link) and Souper Cubes (paid link) (if you're doing broths or soups).
Freezer – This is essential, there's a reason why grocery store foods have preservatives, homemade food doesn't last long. The best way to preserve many of your foods is to freeze them.
Vacuum Sealer (paid link) – This is also essential. This keeps food fresh for a very long time – years even!
Souper Cubes (paid link) – My new favorite thing! Great for soups, broths and other foods you can portion out!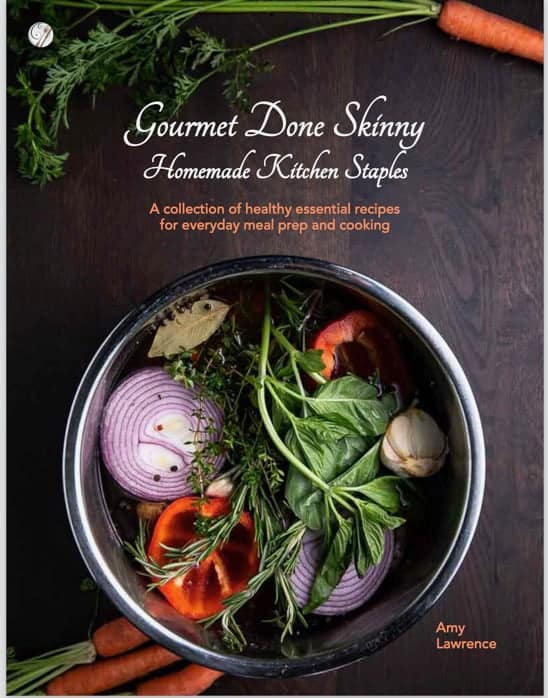 To learn more about homemade staples, what are my staples and get my homemade staple recipes, check out my latest ebook! Only $9.95!