Have you ever seen olives on the tree right before harvest? The trees are loaded with bright green olives, just waiting to be picked. So beautiful! The color of the olive tree leaves themselves is such a unique silvery greyish green. The buds on the trees start sprouting in May and harvest occurs typically in September up until November.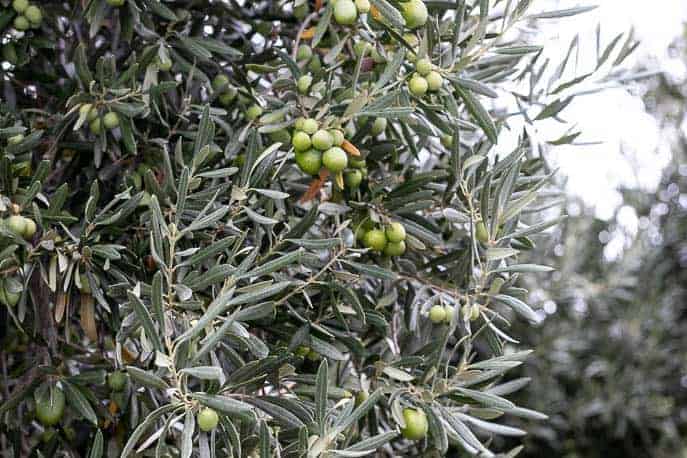 Last May in Utah at the Everything Food Conference, I was fortunate enough to meet olive farmer Ed Curiel and his family. We met at a dinner hosted by the California Ripe Olives Association. Ed invited me to olive harvest this year in September.
My son and I drove down a few weeks ago from Seattle. We spent an amazing morning touring various family and neighbor orchards.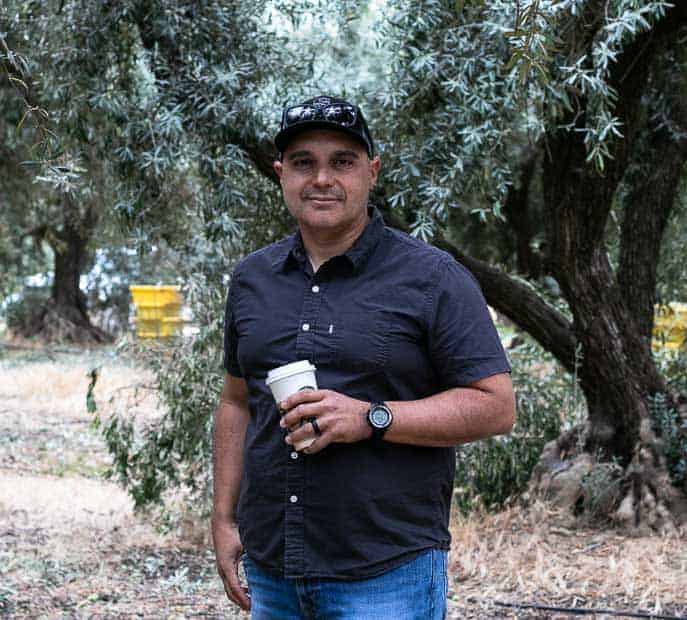 From olive picker to orchard owner
Ed grew up picking olives with his family – his dad, uncles, and cousins and later even his wife! Originally they were migrant workers from Mexico. They picked cherries, olives, peaches, and grapes up and down the state and even into Washington State. Ed and his family would return to Mexico after the harvesting was finished.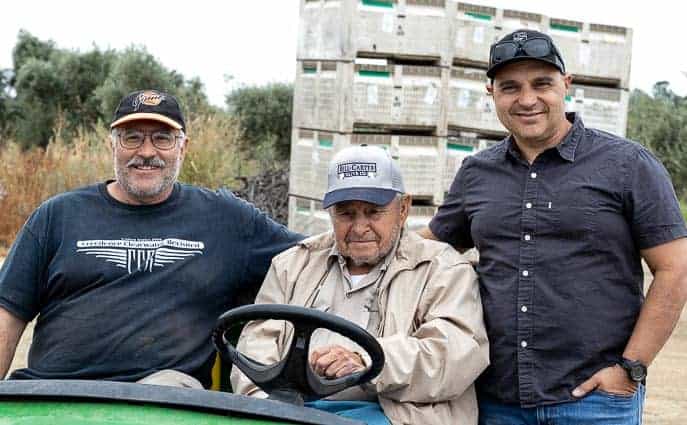 Eventually his Uncle Marciano (Ed jokingly called him the, "Godfather'" and patriarch of the family) purchased his own orchard in California in the 70's and started the family trend of buying their own land. Ed bought his own orchard in 2001. Today much of his family members own land nearby and harvest their own olives.
Different types of olives
Ed and his son Luis grow Manzanillo and Sevillano olives. These are considered table olives. You can produce olive oil from them but it would take a lot of olives to do that. Mission olives are better for oil production.
The Sevillano olives are great for stuffing – like the blue cheese stuffed olives- yum! My favorite! Manzanillo olives are smaller and more round.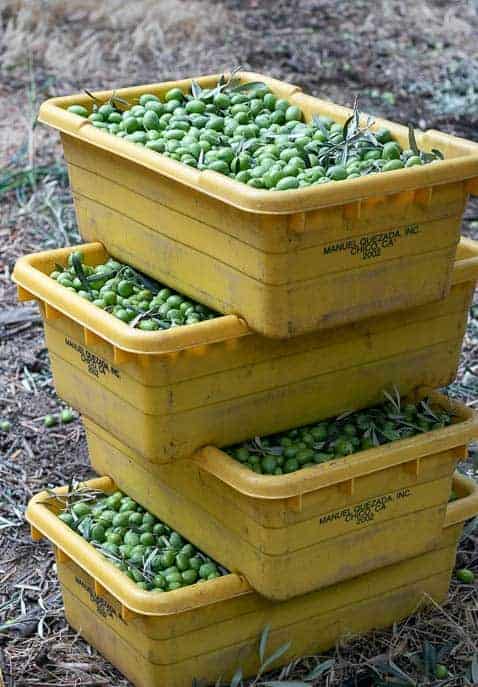 Traditional olive harvesting is a changing industry
Traditional olive harvesting is changing in several ways:
Because harvesting olives is so labor intensive (all the olives need to be picked by hand), it's now harder to find help. There are mechanical harvesters for olives but the trees need to be pruned in a certain way and many of the olive trees are old.
The California drought really hurt the harvest a few years ago. They could only water enough to save the trees, no harvesting that year.
Major canning companies began supplementing olives with olives grown in Spain but now continue to get some olives from Spain and have cancelled many California contracts. This has really hurt the California olive community.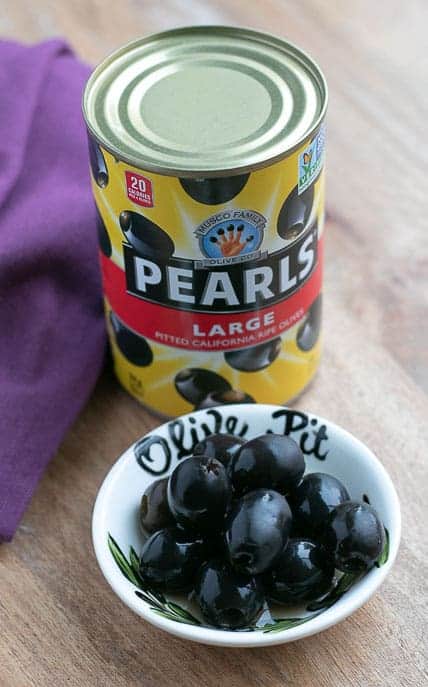 What can you do to help?
Support the olive industry by buying California Ripe Olives!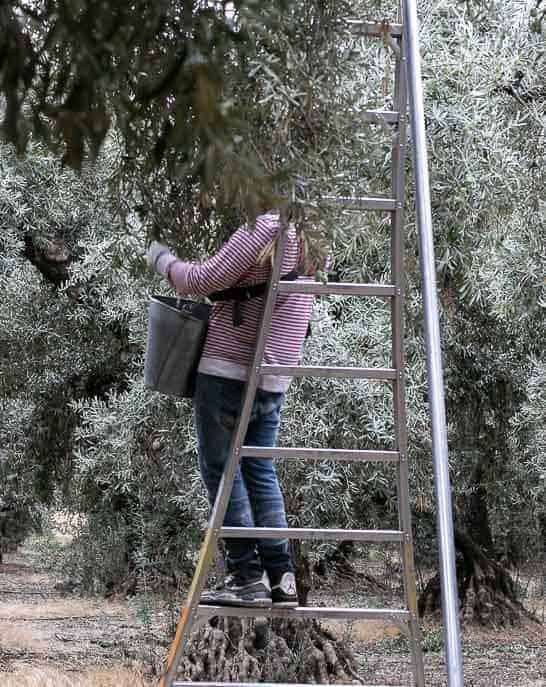 What are Ed and his family doing now?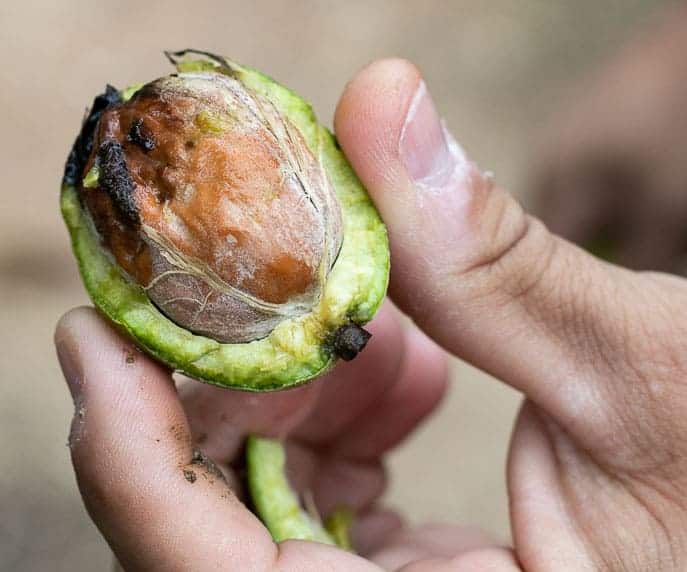 In addition to olives, they are diversifying and growing walnuts. It's an easier crop to harvest as you can use machines to "shake" the trees. Less labor intensive. They planted their walnut trees about 4 years ago. The first year of harvesting brought in about 1000 pounds, last year 5000 pounds. At some point they will be able to harvest 65,000 pounds of walnuts.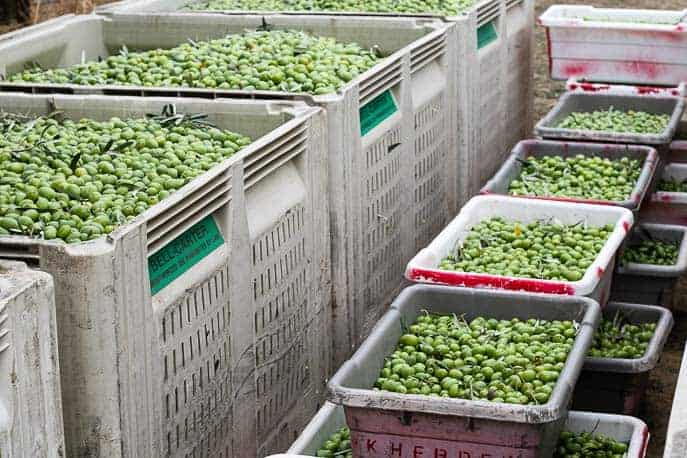 Keeping agriculture in the family
Ed's son, Luis has taken over most of the olive orchard duties as Ed is now a full time police officer. (My son, Jacob who wants to become a police officer was fortunate enough to do a ride along on this trip! Very exciting for him!) Ed still helps out but much of the responsibility falls on his son now. His daughter, Nicole, is also keeping agriculture in the family. She is attending UC Davis and is majoring in Sustainable Agriculture and Food Systems with an emphasis in Food and Society and also Communications.
Can you eat an olive just picked from the tree?
No! Many people do not realize you can't just pick an olive off the tree and eat it. If you do, it's very bitter! Olives must go through a process of leaching out the bitterness by soaking them first in a lye curing solution. Then the olives go through a process of several rinses where pure air is bubbled through the olives. This "oxidation," creates their dark black color. The olives that don't have exposure to air, will remain green.
What's the difference between green olives and black olives? Are they the same olive?
Yes they are the same olive! Green olives and black olives are very similar to tea. Like tea, green and black tea come from the same leaf, it's how it's processed that determines the type. Green and black olives are the same olive but whether they are exposed to air or not determines the color. The green ones have not been oxidized and the black ones have. California ripe black olives are then canned in a mild brine solution. For more information on this process check out: From the Farm to the Table.
If you get a chance, check out Corning, California!
It's a great small town and the olive orchards grow right up next to the houses in town. Besides the orchards themselves, my favorite spot in Corning is The Olive Pit. Family owned and operated for 50 years! Here you can buy many different kinds of olives from spicy ones to ones stuffed with Blue Cheese as well as various olive gifts. Their cafe menu is large and they do breakfast too! Of course I had to order the Muffaletta Sandwich! It was delicious!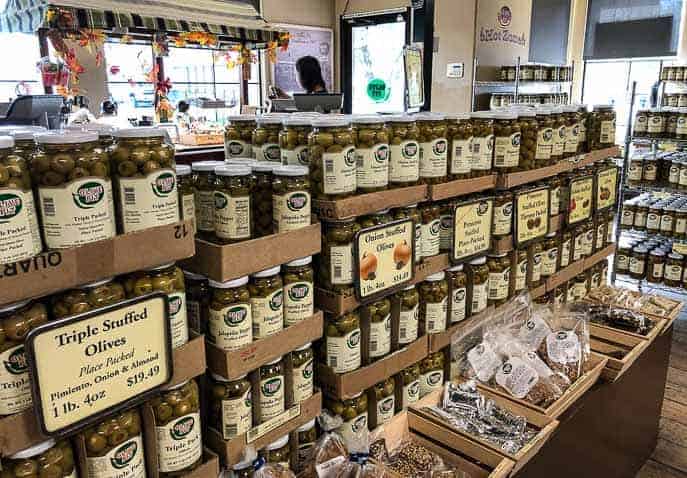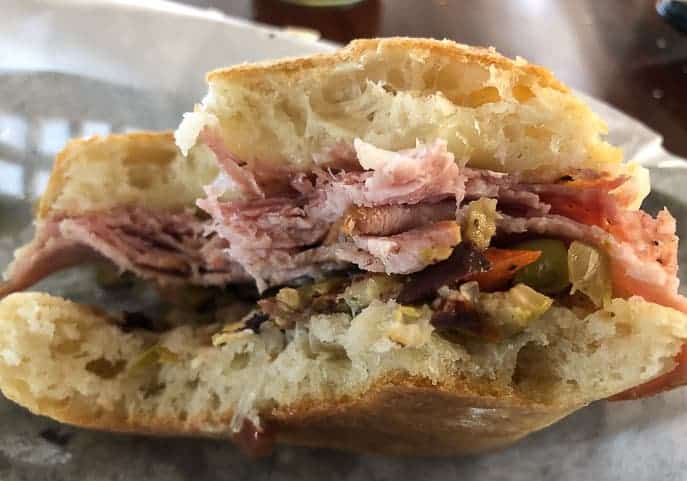 The Muffaletta Sandwich – Sorry I forgot to take a picture before I dove into it! Absolutely delicious!
Olive Recipes
I'll be creating more soon but check out this one!