One of the perks of being a food blogger is getting to test out new products. I received this Nutrimill Artiste mixer. I had actually seen it last March at the Everything Food Conference and loved it. So imagine how excited I was when they sent me one to try! There was no pressure for a positive review but just my honest opinion. I'm still testing it out, but so far I absolutely love it! And that's saying something, since I really loved my Kitchen Aid.
To see more pictures of this mixer in action, check out my Best Ever Chocolate Chip Cookie Recipe and my Cinnamon Oodle Recipe.
This post does contain affiliate links which means that if you click on them and/or buy something I may earn a small commission -at no extra cost to you. I only recommend the things I actually use in my kitchen. By clicking and buying these items, you help keep my recipe blog running. Thank you!
Who is Nutrimill?
Before my food conference last spring, I had never heard of them. But I'm sure you know this name – Bosch. Nutrimill is the sister company to Bosch in the U.S. -the distribution arm. So it's a great quality company.
What I love about my Nutrimill Artiste Mixer in comparison to my 6 qt. Kitchen Aid Mixer:
I absolutely love the open bowl style.  I have a 6 qt. Kitchen Aid mixer and it's hard to add ingredients because the head of the mixer is always in the way, but not with the Nutrimill Artiste Mixer

(paid link)

.
You don't need to scrape much even if you don't use the scraper attachment. I am constantly scraping the bottom of my Kitchen Aid bowl, oatmeal and flour constantly live at the bottom of it unless I really scrape it. Not with this mixer!
I love the totally covered splash ring. I have one for my Kitchen Aid but it's not completely covered so when I make a double batch of my Sea Salt Chocolate Caramel Bars, dough still flies out unless I put my hand over the opening. This splash ring totally covers the bowl.
Nutrimill Artiste Mixer

(paid link)

is more powerful!

It has a

bigger motor

than my Kitchen Aid.

It's much quieter especially when using the dough hooks in comparison to the Kitchen Aid. My Kitchen Aid drives my cats nuts when I use it for kneading pizza dough. With the Artiste, they hardly notice.
The mixing bowl is bigger with the Artiste Mixer

(paid link)

, 6.5 vs 6 qt.
The Nutrimill Artiste Mixer

(paid link)

is not as heavy as the Kitchen Aid mixer. I'm often moving my mixer in front of my dining room window so I can take better food pictures for you in natural light. This mixer is so much easier to move, plus it has suction cups so it actually sticks to the counter and doesn't rock as my Kitchen Aid sometimes does (when doing heavy work).
It has lots of great attachments and interchangeable with Bosch universal mixer. I haven't even begun to play with them all yet, ice cream maker, pasta attachment, so many!
I'm looking forward to really putting this mixer to the test over the next year. I am hard on mixers and food processors and have probably purchased at least 6 Kitchen Aid mixers during my cooking career. So we'll see how this one holds up, but it looks very promising and the motor is definitely more powerful.
What I love better about my Kitchen Aid Mixer:
I do love a stainless steel bowl, there is one from Bosch that you can purchase separately but it's very expensive, you can however buy extra plastic bowls from Nutrimill.
I love the color of my cobalt blue Kitchen Aid Mixer (picky I know) but it matches my Polish Pottery. However that being said, I have moved it to the garage, another testimony of how much I love this new Artiste Mixer

(paid link)

. The Artiste Mixer

(paid link)

comes in 3 colors – red, silver or black.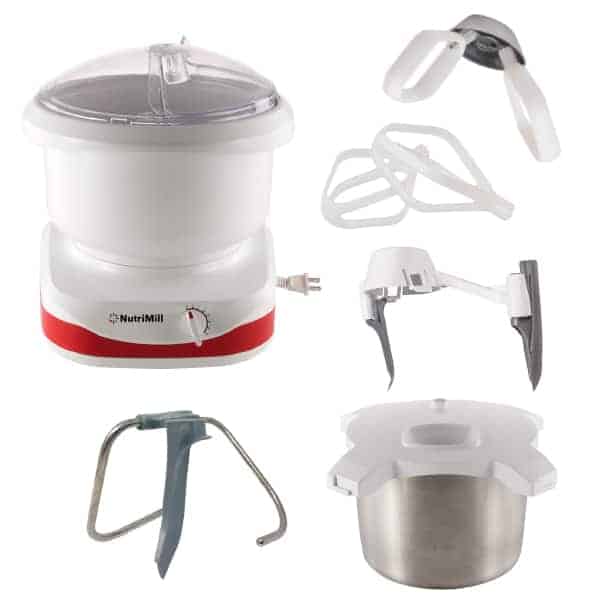 If you are looking for a new mixer, this is a great one! I really love how the bowl is open. There are lots of great attachment options too!
If you buy one, let me know! I'd really like to know what you think! I'm so in love with mine! It makes mixing and kneading so easy!
This Nutrimill Artiste Mixer is now on sale!
This Nutrimill Artiste Mixer (paid link) is fabulous! It's now on sale with lots of attachments until they run out. Be sure and put in the code Jolly at checkout to get your special price of $175! Click on the Nutrimill Artiste Mixer (paid link) to see what's included in this special price!