A healthy meal that everyone loves!
[jump-to-recipe]
This is one of my favorite and go-to recipes when I need an easy and quick meal. Years ago when I published my 9th cookbook, Entertaining with Amy, I created this Quick and Easy Cilantro Pork Pot recipe for times when you needed an easy meal for your family that everyone likes. Basically you dumped all the ingredients in the crock pot and cooked it for 6-8 hours. However times have changed a bit, so I updated the recipe using my Instant Pot and now I love this recipe even more! The pork is more tender and not mealy as it sometimes can be in the crock pot.
What is the best way to serve the Cilantro Pork Pot?
Serve it over rice, in tacos, and even alone. Your family and guests will love it! Allow them customize their own bowl and add their own toppings such as: tomatoes, green onions, black olives, and salsa. Serve it with a dollop of my low point/calorie Jalapeño Cream.
How to roast pork in the Instant Pot using high pressure:
It's super simple to roast pork in the Instant Pot. By following these two simple easy steps: browning the meat and cooking the pork only about 10 minutes and allowing it to natural release, you'll have delicious pork every time!
Why is browning meat important?
First, you want to brown the pork. Browning the pork locks in the moisture in the pork. Have you ever noticed how when you put meat in a pan without browning it first, the meat tends to get "watery?" All those juices are running out of the meat. You want those juices in the meat, not in the pan.
Browning the meat also helps the pork to develop more complex flavors.
To brown the meat in the Instant Pot: Press the "Sauté," button. If you are able to adjust your Instant Pot to high, do this (On some models you can, others you can't.) Spray the liner pot with olive oil spray (paid link) from your Olive Oil Mister.
Cut the pork into a few pieces. I like to cut the pork into about 4 pieces, then salt each side.
When the Instant Pot is hot, add the pork. Cook for a few minutes on each side until all sides are browned. That's it! It takes literally just a few minutes and since you're using the Instant Pot, you can do it all in one pan!
How long do you cook the pork roast in the Instant Pot? Does it really only cook for 10 minutes?
Yes! My biggest complaint about using my crock pot version is that the meat tasted a bit "crock pot stewed," and "mealy". The texture bothered me. With this version, you pressure cook it only 10 minutes on high pressure and allow it to "natural release." The pork continues to cook after the 10 minutes until it reaches the desired temperature and therefore turns out perfectly! For more information about cooking it for 10 minutes, check out my note section at the bottom of the recipe.
Don't forget to allow the Instant Pot to "naturally release." This is important. After the timer goes off, don't move the sealing knob and release the pressure. Allow the pressure button to go down on it's own. This also helps to keep all the juices in the pot. After it's finished, remove the pork, cut into small bite-sized pieces and place them back into the Instant Pot to soak up all of the delicious juices.
If you don't have an Instant Pot or pressure cooker can you still make the recipe in a slow cooker/crock pot?
Yes, of course! Even though I prefer the Instant Pot/pressure cooker version much better, you can still do it in the slow cooker/crock pot. I would brown the pork in a skillet on the stove first, then throw all the ingredients into the slow cooker/crock pot. If cooking on high, set for about 4 hours, if doing it on low, set for 6-8 hours until pork is done.
Can you freeze it?
Yes, you can definitely freeze the Cilantro Pork Pot. I often freeze left-overs in individual portions for great lunches or fast dinners for later -that is if my boys don't eat it all first!
This post does contain affiliate links which means that if you click on them and/or buy something I may earn a small commission -at no extra cost to you. I only recommend the things I actually use in my kitchen. By clicking and buying these items, you help keep my recipe blog running. Thank you!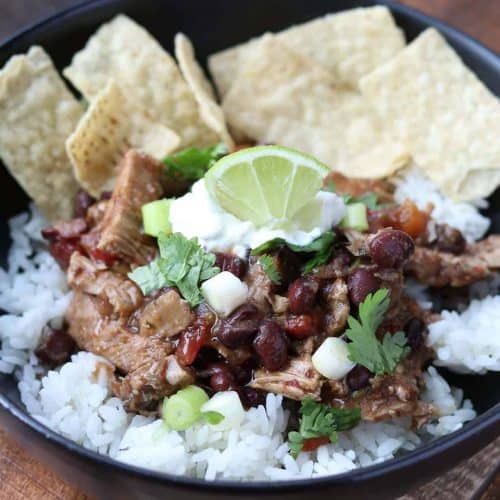 Quick and Easy Healthy Cilantro Pork Pot-Instant Pot
This Quick and Easy Healthy Cilantro Pork Pot is a great Instant Pot meal especially if you're in a hurry and need something delicious and filling for the whole family.  Serve it over rice, in tacos, over salad or even alone! Let your family and guests customize their own bowls by adding various toppings such as hot sauce, green onions, black olives, and sour cream (light in my case, or my
Jalapeño Cream
).
Weight Watchers Points:
Blue: 4 Smart Points ; Green: 5 Smart Points; Purple: 4 Smart Points per 1 c. serving
Ingredients
2 1/2

lb

boneless center cut pork roast

cut into 4 pieces, trim some of the fat if necessary

olive oil spray I like my Olive Oil Sprayer

kosher salt

1

onion

finely chopped (I do mine in the food processor with the garlic)

3

garlic cloves

minced

1/2

c.

of your favorite salsa

or use 1/2 c. of my Tomatillo Green Salsa if you have it handy in the freezer

1

T.

Chipotle Seasoning

use mine or your own

2

cans black beans

drained and rinsed

1

can Rotel

mild or spicy or roasted tomatoes if you can't find Rotel.

1

lime

1

c.

fresh cilantro
Optional Toppings (Points or calories not included):
light sour cream

avocado

black olives

reduced fat cheese or I do a little bit of real cheese!

jalapeno cream

green onions

hot salsa

lime wedges for guests to do their own squeezing

anything that sounds good!
Instructions
Press the "Sauté," button on your Instant Pot. If you are able to adjust your Instant Pot to high, do this (On some models you can, others you can't.)  Spray the liner pot with olive oil spray from your

Olive Oil Mister

.

Sprinkle kosher salt over pork pieces.

When oil is hot, add pork pieces and brown on all sides.

Transfer pork to plate. Add onions and garlic to pot and sauté until softened. You may need to spray a bit of oil in pot to keep onions and garlic from burning.

Turn off pot.

Add pork, salsa, chipotle seasoning, beans and Rotel.

Turn Instant Pot to manual setting (or pressure cook on some models) and set for 10 minutes. Be sure the seal is closed.

When done, allow to naturally release.

Cut up cooked pork into bite-sized pieces and put back into pot.

Add chopped cilantro, squeeze of lime and serve. Great alone or over rice. Allow family and guests to add their own optional ingredients.
Notes
8-10 minutes in the Instant Pot may not seem like a long time (be sure and let it naturally release) but it's plenty of time and the pork remains tender and not overcooked and mealy as can happen in the crock pot.  Use a thermometer, it should read 145 degrees.  I read about this idea of cooking pork for a shorter amount of time from Ayngelina's food blog:  https://www.baconismagic.ca/canada/balsamic-pork-tenderloin/ She was tired of overdone pork tenderloin tasting like cardboard which was my issue as well as being "mealy." I learned a lot from her blog and incorporated her technique into this recipe. Check her out!
Nutrition
Serving:
1
cup
Calories:
340
kcal
Carbohydrates:
33.3
g
Protein:
41.1
g
Fat:
4
g
Saturated Fat:
1.2
g
Cholesterol:
98.3
mg
Sodium:
1127.8
mg
Fiber:
12.5
g
Sugar:
4.4
g
Vitamin A:
61.9
IU
Vitamin C:
15.2
mg