Creating the perfect healthy Ranch Dressing
I've been working on this Garlic Ranch dressing for a while now even before I was into healthy eating but never could quite perfect it until now. My son and I are such suckers for the Cheesecake Factory Ranch dressing. We love to dip our fries into it. (Well that was before Weight Watcher days, and you wonder why I ended up on Weight Watchers!)
Over the years, I've searched high and low for a similar recipe but could never find one that even came close. After a ton of research, adding and subtracting ingredients and making a million batches, this dressing is pretty close.
My healthy version has only 11 calories vs. 80 calories!
It's not exact by any means but very delicious. Maybe if I used real mayonnaise and sour cream it would be – but the great thing is, my Garlic Ranch Dressing is healthy for you! With only 11 calories per tablespoons vs. the Cheesecake Factory's dressing of 80 calories per tablespoon, it doesn't have tons of mayonnaise, sugar and calories, just great taste! This dressing is about fresh herbs, Greek yogurt and a few extras.
The secret ingredient
I do think the secret is the truffle zest (paid link), it adds a bit of depth. While doing research for this recipe, a few people mentioned adding ground dehydrated mushrooms. I didn't find the dehydrated mushrooms to be that good actually, but when I added truffle zest (paid link), that seemed to do the trick. Don't worry, if you hate mushrooms, you won't realize they are in there. I did a sneak test on my husband who can detect any and all mushrooms and he likes it. (But I'm still not telling him they are in there!) It does work out to be 0 Freestyle Smart Points but I wouldn't go overboard with it. If you like a thinner dressing add a bit more buttermilk, or if you want to use it as a dip, just add enough buttermilk to desired consistency.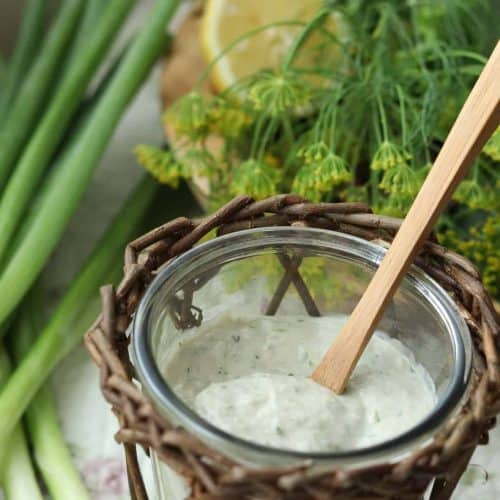 Gourmet Done Skinny Healthy Garlic Ranch Dressing
This Healthy Garlic Ranch Dressing is a close second to the Cheesecake Factory Ranch dressing but it's so much better for you! It's only 11 calories per tablespoon vs. the Cheesecake Factory's dressing of 80 calories per tablespoon. This dressing is perfect over salads, makes a great dip for artichokes, carrots and other vegetables and can also be used on a sandwich instead of mayonnaise. Feel free to make 1/2 batch if 2 cups is too much but once you taste it, you'll want it on everything!
Weight Watchers Points:
1 Smart Point per tablespoon for all plans
Ingredients
3/4

c.

green onions

about 6 good sized green onions, green and white parts or chives, finely chopped

1/3

c.

fresh parsley

finely chopped

3-6

cloves

garlic

finely minced-depends on how much you like garlic

1

T.

fresh dill

finely chopped

1

T.

truffle zest

I like to use Sabatino Tartufi Truffle Zest Seasoning from Amazon you can leave it out, but it has more depth with it.

1/2

t.

black pepper

1

t.

kosher salt

1/4

t.

sugar

1/2

T.

fresh lemon juice

1

t.

Worcestershire sauce

1

c.

non fat Greek Yogurt - I like to use Fage

8

T.

light mayo

1/2

c.

low fat buttermilk
Instructions
In a food processor, combine green onions, parsley, garlic and dill. Process until finely chopped.

Add in remaining ingredients except buttermilk.

Add enough buttermilk until desired consistency.

You can serve immediately but for best results, allow to sit a few hours before using. Dressing will keep in the refrigerator up to 7 days.
Notes
You can also use chives instead of green onions. I can't always find chives so I decided to try green onions. The green onions are a little stronger, but they both taste delicious!
Nutrition
Serving:
1
Tablespoon
Calories:
11
kcal
Carbohydrates:
0.7
g
Protein:
0.2
g
Fat:
0.9
g
Saturated Fat:
0.2
g
Cholesterol:
0.8
mg
Sodium:
111.4
mg
Sugar:
0.4
g
Vitamin A:
3.7
IU
Vitamin C:
1
mg