Great Skinny Pumpkin Pie Alternative!
updated on October 25, 2021
Looking for a great healthy alternative to heavy calorie-laden pumpkin pie? Try these Easy Healthy Mini Pumpkin Pies with Cinnamon Cardamom Streusel. My kids actually love these lighter pumpkin pies better than the traditional pumpkin pie. It's one of their favorite fall desserts! Plus I love them because they are easier to make and healthier for you than the traditional pumpkin pie. They make a great fall dessert, Halloween party dessert as well as the obvious- Thanksgiving dessert. My party guests also love these mini pumpkin pies as they can easily control their portions.
You can find the Phyllo or sometimes spelled, "Fillo," shells in the freezer section of the grocery store near the frozen pastry sheets. If you can't find them, ask your grocery store to order them for you. I have done that a few times for a big holiday party. Also you can buy them on Amazon, I have done that too! Here's the link: Mini Fillo Dough Shells (paid link).
Do You Need the Shell?
No! Of course you can always serve this as a skinny pumpkin pie pudding in dessert cups without the phyllo shells.
Can You Make the Mini Pumpkin Pies Ahead of Time?
Yes! You can make the filling ahead of time. A few hours before serving or right before serving, scoop out the pumpkin filling and place it in the shell. Leave uncovered in the refrigerator until ready to serve. I like to use the plastic tray that the shells come in to store the pies until it's time to plate them.
How to Make Healthy Mini Pumpkin Pies in Pictures:
Gather the ingredients for the filling and topping.
Mix together the filling ingredients.
Pour filling into an ungreased square baking dish. Preheat oven to 350°.
Mix together topping ingredients.
Bake for about 35 minutes or until done. Cool. Then cover with plastic wrap and put in the refrigerator. You can actually serve it now, but I think it's much better when served cold.
Fill mini fillo shells with pumpkin filling. Top with a pecan. Serve immediately.
If you want to make them up ahead of time, do everything but fill the shells. Fill the shells up to a few hours before you want to serve them.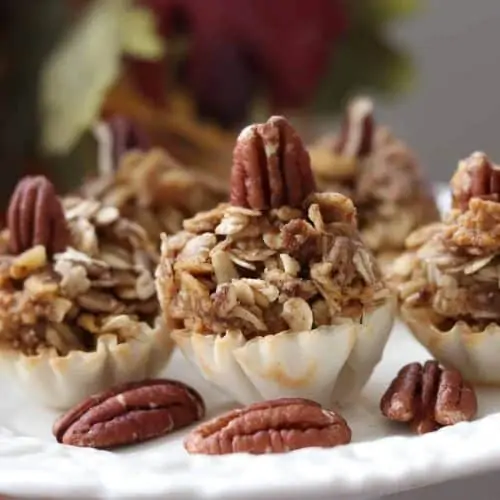 Easy Healthy Mini Pumpkin Pies with Cinnamon Cardamom Streusel
Delicious skinny pumpkin pie in a phyllo shell with cinnamon cardamom streusel. Makes an elegant and relatively quick dessert for a party, Thanksgiving or Christmas. Make the filling the day before, then fill the shells when you're ready to serve or a few hours before. This is a great alternative to the decadent calorie laden traditional pumpkin pie and guests can control their portions. The filling will keep 4-5 days in refrigerator.
Ingredients
Filling:
1

egg

15

oz

can of pumpkin

3/4

c.

6 oz low fat evaporated milk

2

T.

sugar

3

T.

brown sugar

1

t.

cinnamon

1/8

t.

ginger or use about 1 t. fresh

1/4

t.

allspice

1/4

t.

nutmeg

1/4

t.

cloves

1/4

t.

kosher salt

1 1/2

t.

vanilla
Topping Ingredients:
1

cup

oats

quick or regular

3

T.

brown sugar

2

t.

cinnamon

1/8

t.

cardamom

optional

2 1/2

T.

butter

melted
Instructions
Preheat oven to 350°.

Mix together first 12 ingredients (through vanilla).

Pour into a 8x8 ungreased baking dish.

In a small bowl combine topping ingredients.

Sprinkle over pumpkin mixture.

Bake for about 35 minutes.

Cool. Then put in refrigerator until ready to serve.  These Mini Pumpkin Pies taste better the next day or when the filling is completely chilled.

When ready to serve, scoop about 1 heaping tablespoon per shell into mini phyllo shells. Sometimes it's easier to scoop, then mold the filling into the shell with your fingers. Garnish with a pecan half cut in half. Refrigerate until ready to serve.
Notes
I like to make the filling the day before I want to serve it. Then on the day I'm serving it, I place the filling in the shells, decorate with a pecan and store in refrigerator until dessert time. Don't leave the filled shells overnight in the refrigerator or the shells won't be crunchy.
You can also scoop the filling into dessert bowls. The Freestyle Smart Point count is 1 point per 1 tablespoon.
Nutrition
Serving:
1
tartlet
Calories:
44
kcal
Carbohydrates:
7.1
g
Protein:
1
g
Fat:
1.2
g
Saturated Fat:
0.7
g
Cholesterol:
7.7
mg
Sodium:
26
mg
Fiber:
0.7
g
Sugar:
3.6
g
Vitamin A:
109.7
IU
Vitamin C:
0.6
mg