I love good chewy and crispy chocolate chip cookies so if this is how you like them, then this recipe is for you! I've had this chocolate chip cookie recipe for over 26 years. It originally came from a fellow teacher when I taught for USD #501 (yes that famous one – Brown vs the Topeka Board of Education-Supreme Court Case,) in Topeka, Kansas – my first year of teaching. I have made a few changes over the years but essentially it's pretty much the same. The original version did have nuts, but not everyone liked them so add them if you want. And yes, I do believe they are the, "Best Ever Chocolate Chip Cookies." I hope you agree!
This post does contain affiliate links which means that if you click on them and/or buy something I may earn a small commission -at no extra cost to you. I only recommend the things I actually use in my kitchen. By clicking and buying these items, you help keep my recipe blog running. Thank you!
Healthy chocolate chip cookies?
Well, probably not – thus the reason they are in my, "Not so skinny," category. But hey, everyone needs a small treat now and then. They make great Christmas cookies! Although I have pretty much cut artificial ingredients out of my cooking these days, I do still love the combination of the Crisco butter shortening along with real butter in this recipe. If you use all butter, the cookies just do not stand up as well, nor are they crispy, thus the reason I've left the shortening in. Plus they have rice crispy cereal, so yeah, not so natural. I admit it, but one taste and you'll be in love!
This of course is not a "healthy" recipe but if you eat desserts in moderation, it won't be too bad on your waistline every now and then. I use a small ice cream scoop (paid link) about 1 1/4 inches in diameter to scoop out the dough. When made with this scoop, the cookies work out to be about 3 Freestyle Smart Points each.
What makes the cookies soft and chewy? What makes them crispy?
The perfect combination of ingredients!
There are two ingredients that make these cookies soft and chewy – oatmeal and coconut. The crispiness on the outside comes from the butter, shortening and the rice crispy cereal. That's the secret! The perfect combination – crispy, yet soft and chewy!
Tips for Making the Best Ever Chocolate Chip Cookies
Make sure the butter is softened before you start.
Chill the dough for a bit before baking them if it's too soft.
Because these cookies are loaded with ingredients, I often like to roll the balls a bit before I bake them so they look more uniform and round.
After baking the cookies, let them sit on the cookie sheet for at least 5 minutes before taking them off.
Store in an airtight container.
My trick to eating cookies and staying trim
Here's my trick to eating fresh cookies in moderation. Make a big batch, flash freeze them on a baking sheet (paid link), then after completely frozen, package them into small amounts or throw them in a large plastic bag and keep in the freezer until ready to eat.
When you need a little treat:
Take out a few cookies, place a few inches apart on a baking sheet

(paid link)

lined with parchment paper

(paid link)

.
Preheat the oven to 350°.
Let cookies thaw for about 10 minutes on baking sheet

(paid link)

, then bake for about 8 minutes (may be a bit longer if you don't have a convection oven, check between 6-8 minutes and see if set.)
I often bake 8 cookies at a time in my toaster oven. My husband and I get 2 each and the kids get the rest. We don't overeat, because we didn't bake that many in the first place and the added benefit is that they always taste fresh.
How to Make the Best Ever Chocolate Chip Cookies in Pictures
Did you see my new mixer that I used to make the cookies in the above pictures?
This Nutrimill Artiste Mixer is my favorite mixer!
This Nutrimill Artiste Mixer (paid link) is fabulous! Click on the Nutrimill Artiste Mixer (paid link) to see what's included in their package.
One of the perks of being a food blogger is getting to test out new products. I received this Nutrimill Artiste mixer last week. I had actually seen it last March at the Everything Food Conference and loved it. So imagine how excited I was when they sent me one to try! There was no pressure for a positive review but just my honest opinion. I'm still testing it out, but so far I absolutely love it! And that's saying something, since I really loved my Kitchen Aid.
Who is Nutrimill? I've never heard of them.
Before my food conference last spring, I had never heard of them. But I'm sure you know this name – Bosch. Nutrimill is the sister company to Bosch in the U.S. -the distribution arm. So it's a great quality company.
What I love better about my Nutrimill Artiste Mixer in comparison to my 6 qt. Kitchen Aid Mixer:
I absolutely love the open bowl style.  I have a 6 qt. Kitchen Aid mixer and it's hard to add ingredients because the head of the mixer is always in the way, but not with the Nutrimill Artiste Mixer

(paid link)

.
You don't need to scrape much even if you don't use the scraper attachment. I am constantly scraping the bottom of my Kitchen Aid bowl, oatmeal and flour constantly live at the bottom of it unless I really scrape it. Not with this mixer!
I love the totally covered splash ring. I have one for my Kitchen Aid but it's not completely covered so when I make a double batch of my Sea Salt Chocolate Caramel Bars, dough still flies out unless I put my hand over the opening. This splash ring totally covers the bowl.
Nutrimill Artiste

(paid link)

is more powerful!

It has a

bigger motor

than my Kitchen Aid.

It's much quieter especially when using the dough hooks in comparison to the Kitchen Aid. My Kitchen Aid drives my cats nuts when I use it for kneading pizza dough. With the Artiste, they hardly notice.
The mixing bowl is bigger with the Artiste Mixer

(paid link)

, 6.5 vs 6 qt.
The Artiste Mixer

(paid link)

is not as heavy as the Kitchen Aid mixer. I'm often moving my mixer in front of my dining room window so I can take better food pictures for you in natural light. This mixer is so much easier to move, plus it has suction cups so it actually sticks to the counter and doesn't rock as my Kitchen Aid sometimes does (when doing heavy work).
It has lots of great attachments and interchangeable with Bosch universal mixer. I haven't even begun to play with them all yet, ice cream maker, pasta attachment, so many!
I'm looking forward to really putting this mixer to the test over the next year. I am hard on mixers and food processors and have probably purchased at least 6 Kitchen Aid mixers during my cooking career. So we'll see how this one holds up, but it looks very promising and the motor is definitely more powerful.
What I love better about my Kitchen Aid Mixer:
I do love a stainless steel bowl, there is one from Bosch that you can purchase separately but it's very expensive, you can however buy extra plastic bowls from Nutrimill.
I love the color of my cobalt blue Kitchen Aid Mixer (picky I know) but it matches my Polish Pottery. However that being said,  I have moved it to the garage, another testimony of how much I love this new Artiste Mixer

(paid link)

. The Artiste Mixer

(paid link)

comes in 3 colors – red, silver or black.
If you are looking for a new mixer, this is a great one! I really love how the bowl is open. It comes with a lot of great attachments.
If you buy one, let me know! I'd really like to know what you think! I'm so in love with mine! It makes mixing so easy. Enjoy the recipe!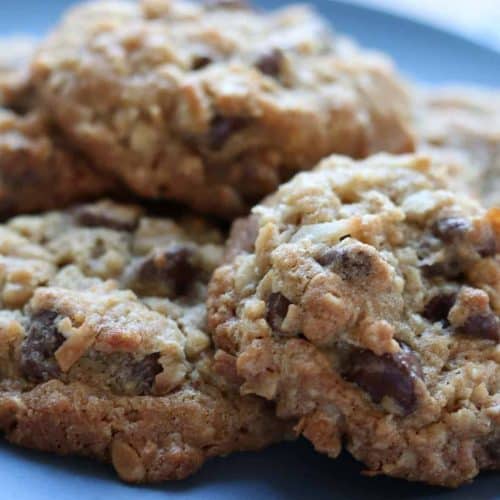 Best Ever Chocolate Chip Cookies
If you're looking for a good crispy chewy chocolate chip cookie, then this recipe is for you! Make a big batch, form into balls and
flash freeze
. Store in freezer until ready to bake. You'll always have fresh cookies on hand.
Ingredients
1

c.

butter

1/2

c.

Crisco butter shortening

2

c.

brown sugar

2

eggs

1

T.

vanilla

2

c.

flour

lightly spoon flour into measuring cup, not packed

1

t.

baking soda

1/2

t.

salt

2

c.

oatmeal

regular or instant is fine-I prefer regular

2

c.

crisp rice cereal

1

c.

shredded coconut

I like Baker's sweetened coconut

2

c.

semi-sweet chocolate chips
Instructions
Preheat oven to 350°.

In a mixing bowl, combine: butter, shortening, brown sugar, eggs, and vanilla. This recipe is done best with a stand mixer.  Check out my

Artiste Mixer

. Beat at medium speed until well blended.

In a medium bowl, combine:  flour, baking soda and salt.  Add gradually to creamed mixture at low speed.

Stir in oatmeal, rice cereal, coconut and chocolate chips. You may have to do this with a spoon if your mixer isn't powerful enough.

Use a

small scoop

(about 1 1/4 inches across) to scoop out cookies for 2 Freestyle Smart Points each or a larger scoop (about 1 1/2 inches across) for cookies 4 Freestyle Smart Points each.

Place a few inches apart on a baking sheet lined with parchment paper. If dough is pretty soft, chill in refrigerator for 15 minutes.

Bake at 350° for about 6-8 minutes (for the small ones) or until light brown and just set in the center.

Cool on baking sheet for at least 5 minutes, then remove to cooling racks.

When completely cool, store in an airtight container.
Notes
I like to make this cookie dough, ball it up and flash freeze on a cookie sheet, then transfer to a big freezer bag. When I want some cookies, I'll take out a few, thaw for 15 minutes and bake. By having them in the freezer ready to go, I always have fresh cookies available.
Nutrition
Serving:
1
small cookie
Calories:
59
kcal
Carbohydrates:
7.5
g
Protein:
0.7
g
Fat:
3
g
Saturated Fat:
1.6
g
Cholesterol:
6.1
mg
Sodium:
23.2
mg
Fiber:
0.4
g
Sugar:
4.8
g
Vitamin A:
16.5
IU
Vitamin C:
0.2
mg