This easy, healthy Chicken Madeira made in the Instant Pot is a warm comfort dish with pieces of tender chicken, luscious mushrooms, and fresh asparagus topped with a bit of parmesan and mozzarella cheese. Serve it over rice or zucchini noodles for a lower carb option.
[jump-to-recipe]
Why did I make over Chicken Madeira into a healthier dish?
One of my loyal readers, Irene, asked me to make over this recipe. To tell you the truth, I hadn't actually made Chicken Madeira before this request. I have made Chicken Marsala many times but not Madeira. I learned quite a bit about the two recipes while doing research. It was interesting to discover that Chicken Madeira is a widely popular dish at the Cheesecake Factory. After putting the dish into my ww tracker, I was horrified to find out that their recipe was 38 Freestyle WW points or 1420 calories per serving! Yikes! No thank you! There is a Chicken Madeira Cheesecake Factory copycat recipe online but that one was still high – 19 Freestyle WW points.
No wonder Irene wanted me to make this over into a more healthy dish! I have trimmed my Chicken Madeira down to 6 points per serving, 8 if you serve it with 1/3 cup of rice. My family loves it so we definitely will be eating it often.
What is the difference between Chicken Madeira and Chicken Marsala?
The main differences between Chicken Madeira and Chicken Marsala are: Chicken Madeira is made with Madeira wine and beef broth and Chicken Marsala is made with Marsala wine and chicken broth. Quite very different tastes!
Can I substitute Marsala wine? What is the difference between Madeira wine and Marsala wine?
Both Madeira and Marsala are fortified wines which means they have an alcohol content between 15-20%. Madeira is available in a range of dry to sweet styles as is Marsala. However, they are not the same at all and come from totally different regions. Madeira comes from Portugal and Marsala comes from Italy. Flavors often tasted in Madeira include caramel, walnut oil, peach, hazelnut, orange peel, and burnt sugar.
You can substitute Marsala for Madeira but it won't have the same flavor. Marsala often includes notes of vanilla, brown sugar, stewed apricot, tobacco, and tamarind. It does however create a similar taste profile meaning a good Marsala wine is complex and interesting as is Madeira so if you can't find it, then try a good quality Marsala.
What other some other uses for Madeira?
Madeira is a great wine for deglazing and reducing sauces. It pairs well with mushrooms and is also great in salad dressings.
Can I use chicken breasts instead of thighs?
Yes, you can. I purposely chose to use thighs instead of breasts, however, because I replaced the heavy cream with a small amount of half and half and I wanted to retain some richness in the chicken. Thighs are more moist and give more flavor whereas using the breasts will be drier. But it's up to you.
What if I don't have an Instant Pot? Can I still make it?
Yes, definitely! Follow all the steps but use a stainless steel pan on the stove instead. (I would not use a non-stick pan for this as you want to be able to deglaze the pan and get all of the good brown bits from the onions). After you add the beef broth, cover with a lid and simmer on low for about 30-40 minutes. Be sure and check to see that you don't run out of liquid, add more beef broth if necessary. Then follow the rest of the directions but using the stove instead of Instant Pot. You may not need to thicken it with the cornstarch. With the Instant Pot, it's consistent pressure and heat, but using the stove, it depends on how low your simmer setting is as to the thickness of the sauce, you may need to adjust with more broth or cornstarch.
Can I freeze Chicken Madeira?
Yes, you can, but do it before you add the half and half. When you freeze dishes with cream or half and half, it affects the taste and texture, so do it before you add it. When reheating the dish, wait until it is warm, then add a little half and half right before serving. Dairy products tend to separate when frozen and become grainy and unpleasant to the tongue.

This post does contain affiliate links which means that if you click on them and/or buy something I may earn a small commission -at no extra cost to you. I only recommend the things I actually use in my kitchen. By clicking and buying these items, you help keep my recipe blog running. Thank you!
[jump-to-recipe]
How to make Chicken Madeira in pictures: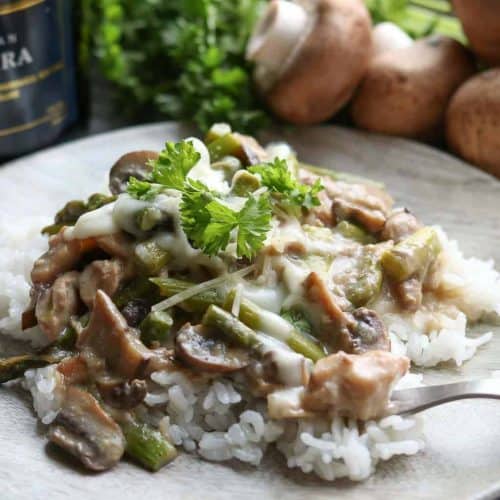 Instant Pot Healthy Gourmet Chicken Madeira
This easy healthy Chicken Madeira made in the Instant Pot is a warm comfort dish with pieces of tender chicken, luscious mushrooms, and fresh asparagus topped with a bit of parmesan and mozzarella cheese. Serve it over rice or zucchini noodles for a lower carb option.
Weight Watchers Points:
6 Smart Points per 1 cup serving for all plans
Ingredients
1 1/2

lb.

chicken thighs

trimmed and cut into small bite size pieces

1

lb.

asparagus- woody parts trimmed off and cut into 2 inch pieces. No need to peel if stalks are thin.

1/2

t.

kosher salt plus more for seasoning chicken thighs

1/4

t.

freshly ground black pepper

1

t.

unsalted butter

1

t.

olive oil

divided

2

garlic cloves

minced

1

small onion

finely chopped

3

c.

mushrooms

sliced

1/2

c.

Madeira wine

plus 1 T for later.

1/3

c.

beef broth or my beef bone broth

2

T.

cornstarch

1/3

c.

half and half

1/4

c.

mozzarella cheese

small amount of parmesan cheese for garnish if desired

fresh parsley for garnish
Instructions
Trim most of the fat off of the chicken thighs. Cut each thigh into small pieces and season with salt and pepper.

Add 1 t. olive oil.

Press "Sauté," on Instant Pot.

When Instant Pot is hot, add onions. (I like to chop my onions in the food processor with the garlic. My kids will eat them if they are finely minced). Sauté for a few minutes.

Add mushrooms and about 1 t. butter. Spray the mushrooms with a small amount of oil and sauté for a few minutes. Add chicken and cook until most of it is no longer pink on the outside. The onions will stick but don't worry, we'll deglaze them soon.

Add 1/2 c. Madeira wine and deglaze the bottom of the pot by scraping all the onion and chicken bits. Turn off Instant Pot.

Add the beef broth.

Put on the lid, make sure seal is correct and manual pressure cook for 8 minutes with vent closed.

When done, allow to sit for another 10 minutes, then release pressure. Turn off.

While chicken is cooking, cook asparagus in microwave for 2 minutes. (I like to do this by putting the asparagus in a microwave safe bowl, sprinkle a few drops of water over the top, then cover with a plate. Cook 2 minutes. Leave plate on bowl to steam and set aside).

When Instant Pot is done and pressure has been release, add salt to taste. Bring to a boil using the "Sauté," setting.  Add in cooked asparagus. (Drain off any water on asparagus first).

In a small cup, add 2 T. cornstarch. Add in about 1/8 c. of the liquid mixture (try to get just the liquid, not the mushrooms and chicken). Stir well.  Then add cornstarch mixture back into Instant Pot and cook for a few minutes until thick. (If you add the cornstarch directly to the Instant Pot mixture it will make the sauce lumpy).

Add in 1 T. of Madeira wine and half and half to the mixture and combine. Heat thoroughly. (See note at bottom).

Spoon mixture over chicken, top with 1 T. mozzarella, dash of parmesan and fresh parsley.  Serve with rice, zucchini noodles, butternut squash noodles, or pasta.
Notes
The sauce on this chicken is not as thick as a traditional Madeira as it uses half and half and not the thick whipping cream, but it doesn't have all of the calories either. If you want thicken it up more, add more cornstarch.
Nutrition
Serving:
1
cup
Calories:
243
kcal
Carbohydrates:
12
g
Protein:
27.8
g
Fat:
8.1
g
Saturated Fat:
2.9
g
Cholesterol:
113.6
mg
Sodium:
405.9
mg
Fiber:
2.9
g
Sugar:
4.7
g
Vitamin A:
56.4
IU
Vitamin C:
8.2
mg