I'm so in love with this easy stone ground whole wheat bread recipe otherwise known as "Bucket Bread". It's so versatile because you make a big batch and just pull off what you need when you're ready to bake it. Make it into bread loaves or rolls. I bake a few loaves every week because it is so easy! No kneading required! It really is the best homemade bread recipe in my opinion. Plus no dutch oven needed! I like to use a mixture of freshly milled hard white wheat (paid link) and einkorn flour (paid link). Truth be told, it's really a rustic whole wheat bread recipe with herbs, pumpkin and sunflower seeds and not just a plain Jane healthy brown bread recipe.
Check out this quick 1 min video
Bucket bread – a unique concept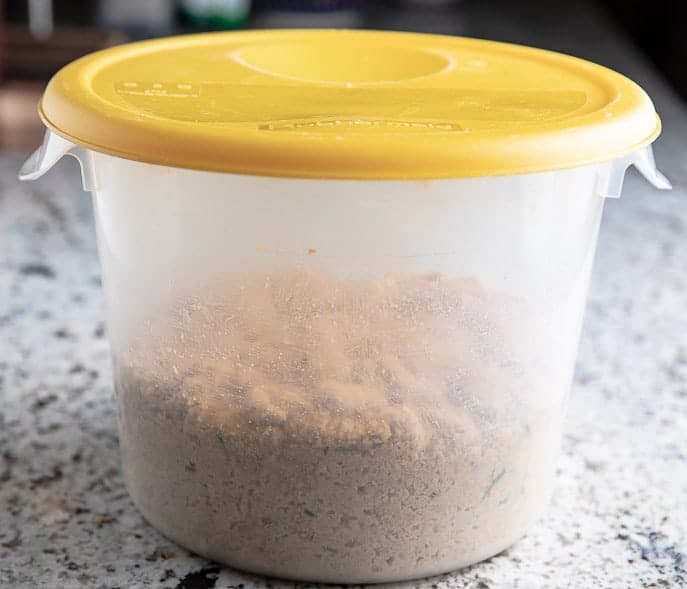 Some people call this homemade bread recipe, "Bucket Bread," because you mix the dough in a big plastic container (paid link). Then you allow it to rise 2 hours, and then stick it in the fridge. When you're ready to make bread, pull off about 1 pound of dough, let it rise and bake. Literally it is 5 minute a day bread (prep time, not rising or baking time). The dough keeps for about 2 weeks in the fridge and makes about 4 loaves or you can make it into rolls. Just bake it when you need it. It's the perfect homemade healthy brown bread recipe with an artisan twist!
Where did the Master Recipe come from?
Baking with freshly milled flour is simply the best! When I bought my Nutrimill Grain Mill (paid link) , I was so excited to use it but I had a hard time finding, "grinding your own flour," bread recipes. I ended up buying the book, The New Artisan Bread in Five Minutes a Day (paid link) . It's a fantastic book, but I didn't realize the recipes used store bought ground flour. Because I was using freshly milled flour, I had to adapt their recipe.
Later I realized the authors had published another book called, The New Healthy Bread in Five Minutes a Day (paid link) – I was happy to see that my liquid measurement adaptations were similar to their recipe. If you're new to making bread, I highly recommend both of these books. I can't even begin to give you all the tips and information that they provide. They are geniuses! Both books are absolutely fantastic! And you can easily adapt the recipes to your own tastes as I did for this recipe.
Worried about your family eating whole grain?
Since my family was new to the idea of eating whole grain, I created my recipe adding honey, herbs, and olive oil. Olive oil makes the bread softer and my family loves garlic, rosemary and honey. I also loved the idea of mixing einkorn flour (paid link) and whole wheat flour to create my own multigrain. You can also use all hard white wheat (paid link) instead of the combination. Don't worry, your family will love this bread!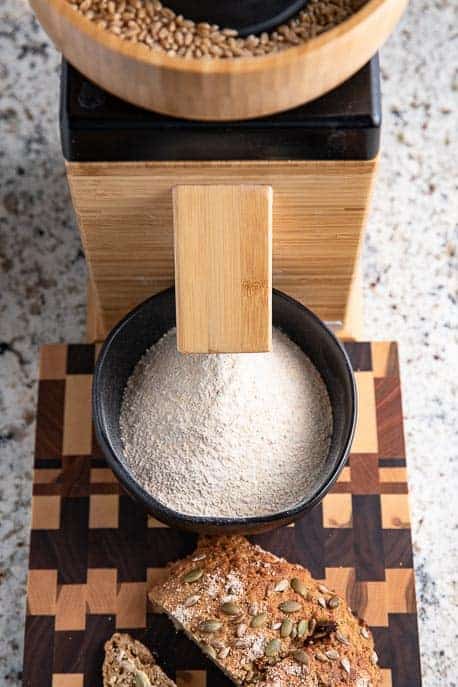 New to grinding your own flour?
Grinding your own flour isn't hard and takes no time at all. Seriously, it adds only a few minutes to your prep time. The biggest thing I learned right away is to turn on the mill before adding the wheat berries, otherwise the grinder gets stuck. Whoops! Play around with the different grinder settings until you get the one you want. I relied a lot on Melissa K. Norris and her podcast when first learning how to use my Nutrimill Grain Mill (paid link). She has many great tips – especially for beginners. I buy my Einkorn berries and wheat berries in bulk from Pleasant Hill Grain but if I want to try them out first before buying a huge quantity then I typically buy them in smaller quantities from Palouse Brand (paid link) on Amazon.
Why is it called Stone Ground?
Stone ground refers to the way the wheat berries are ground into flour – grinding the grain between two mill stones. Mass produced flours are produced using rollers. The two stones are hidden underneath the bowl in this picture.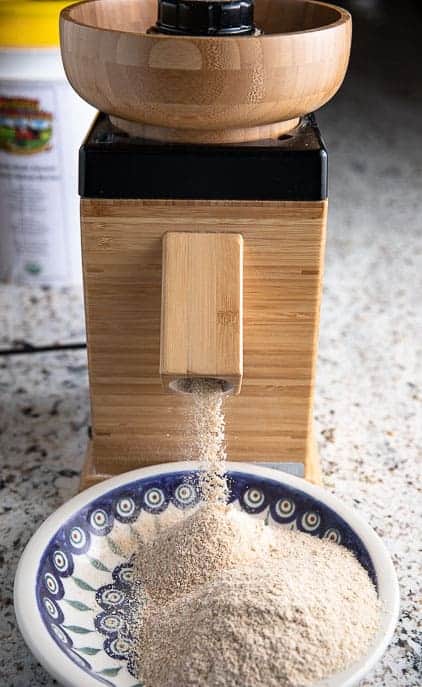 What's the difference between stone ground flour and regular whole wheat flour?
Stone ground flour is less processed than regular whole wheat flour. It contains more vitamins, minerals, fats and fiber than whole wheat flour because it contains a higher percentage of the germ and the bran. Breads made with stone ground flour are more flavorful but sometimes can be too strong for some eaters. I've added oil, honey and herbs in my recipe to make my bread appeal to more people who aren't accustomed to the strong taste of whole grain. Everyone that has tasted my bread are surprised how delicious it really is! Stone ground flour bread recipes tend to be more dense and moist, while breads made with roller milled flours are loftier and have a more open crumb structure because the flour particles are finer.
How long does fresh stone ground flour last?
I keep my freshly milled flour up to a week in the refrigerator or freeze it up to 6 months. Because it has no preservatives, it will go rancid quickly – within 3 days if left at room temperature. I highly recommend this Nutrimill Grain Mill (paid link). They have different versions, but they all are great!
What is Einkorn and why do I use it in this recipe?
Einkorn is a variety of wheat and is considered an ancient grain. I like to use it along with hard white wheat berries (paid link) in this recipe as it gives the bread a nutty and toasty taste. Einkorn has a much higher protein content than modern wheat. It is also the only wheat that's missing certain types of gluten proteins that some people are sensitive to which makes it easier for some people to digest. To read more about einkorn, check out this great article.
What is vital wheat gluten?
Should I weigh the flour and liquids?
Can you substitute just regular whole wheat flour in this recipe?
Yes, you can, use 1000 grams of store bought whole wheat flour like Gold Medal Whole Wheat Flour (paid link) but you will need to adjust the total liquid to be 965 grams (about 4 1/4 c. of liquid-includes: water, honey, oil.)
How long does the wet bread dough last in the refrigerator?
The wet bread dough that you make and keep in the refrigerator will last about two weeks. It does tend to get a little dense at the end so just be aware.
Tips for baking this stone ground whole wheat bread:
Use steam

– Whole grain breads do not have the same crackling crust that white breads have. The oil in the wheat germ softens the crust and prevents crisping. Steam helps to promote a beautiful crust. Just place a broiler pan (when you preheat the oven) in the bottom of the oven underneath the shelf where you bake the bread. After you place the bread in the oven, add 1 cup of water to the hot broiler pan.

Do not use a glass pan as it will break!
Slash the bread

before you bake it. This helps ensure a full rise. I find it's easier to use a

bread knife

(paid link)

to slash the dough or a

bread lame

(paid link)

.

Use a thermometer

(paid link)

to tell when the bread is done. I have found this is key to this recipe and check it in a few different places in the bread. For this recipe you want the bread to be about 205° F.
Use a baking stone

(paid link)

or pizza stone

(paid link)

– I feel like these stones bake the best bread. You can use a baking sheet

(paid link)

but if you don't have a baking stone

(paid link)

or pizza stone

(paid link)

, I highly suggest buying one.
Can you freeze the dough?
Yes! You can definitely freeze the dough! After the initial overnight in refrigerator step, pull off 1 pound of dough. Place in a vacuum sealed bag (paid link) and freeze. The night before you want to bake it, place the bag in the refrigerator to thaw. The next day pull it out, shape into a loaf, allow to rise as normal (90 min) and bake it according to directions.
How to make dinner rolls or sandwich rolls from this recipe:
This recipe is so versatile! You can also make rolls from this master recipe.
Preheat oven to 450°.
Pull off about 3 oz of dough per roll, shape into rolls by pulling the top of the dough around to the bottom. Place on a baking sheet

(paid link)

lined with parchment paper

(paid link)

, and allow to rise for about 20 minutes.
Slash the roll a few times or make a cross with a serrated knife.  Brush the tops with egg white or butter if desired, top with pumpkin seeds and sunflower seeds if desired and bake for about 25 minutes.
How to make Homemade No Knead Stone Ground Flour Bread Recipe in pictures: