These Healthy Jalapeño Adobo Turkey Sliders are a variation of my Scrumptious Turkey Sliders and use my Homemade Chipotle seasoning. They are on the spicy side but not too hot. (You can always adjust the heat by using less chipotle seasoning, jalapeños and chipotle peppers). Serve with my Slider Bun, a dollop of my Jalapeño Cream and a nice salad on the side. If you have the chipotle turkey sliders and buns in the freezer, you can reheat them in a jiffy for a quick lunch or dinner. Turkey sliders on Hawaiian rolls are also a great quick idea if you don't have the slider buns already made. (Updated June 3, 2021)
I recently served them at a neighborhood party I hosted. Everyone was so amazed that this ground turkey burger recipe was so moist! They asked me what the ingredients were. I told them the secret to these moist spicy turkey burgers was the addition of shredded zucchini. Of course I had to tell them in a hushed tone as my kids were present and they hate zucchini, but love my spicy turkey burgers!
This post does contain affiliate links which means that if you click on them and/or buy something I may earn a small commission -at no extra cost to you. I only recommend the things I actually use in my kitchen. By clicking and buying these items, you help keep my recipe blog running. Thank you!
Tips for Making the Perfect Healthy Turkey Slider
Use a scoop and chill – After you mix the ingredients, use a 1/4 c. measuring cup

(paid link)

to scoop out the mixture. Place on parchment paper

(paid link)

and chill for at least 20 minutes.
Lightly dust slider with flour – After shaping them into sliders, lightly dip both sides in flour (this makes a "crust" so they don't stick)
Spray the grill with oil before placing sliders on the grill.
Don't move them!

– When you place them on the grill, don't move them! Allow to cook for 5 minutes, then spray tops with oil and flip and cook 5 minutes more.

Use a thermometer

(paid link)

–  Check for doneness with a thermometer. They should be about 165°.  You don't want them overdone or they will be dry.
How to make Healthy Jalapeño Adobo Turkey Sliders in pictures: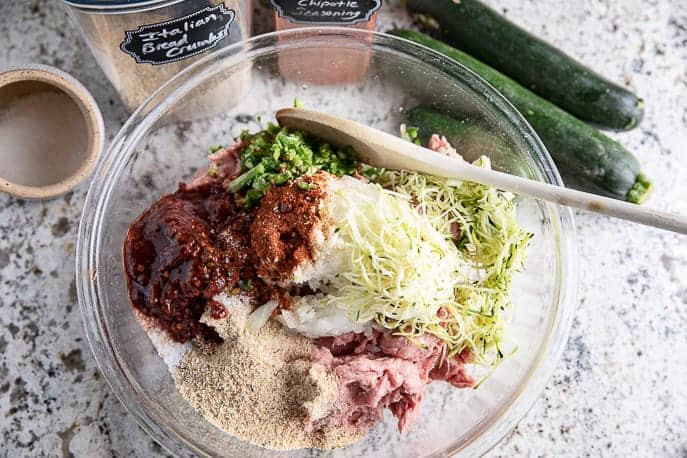 Place all ingredients except flour and olive oil spray (paid link) into a large mixing bowl.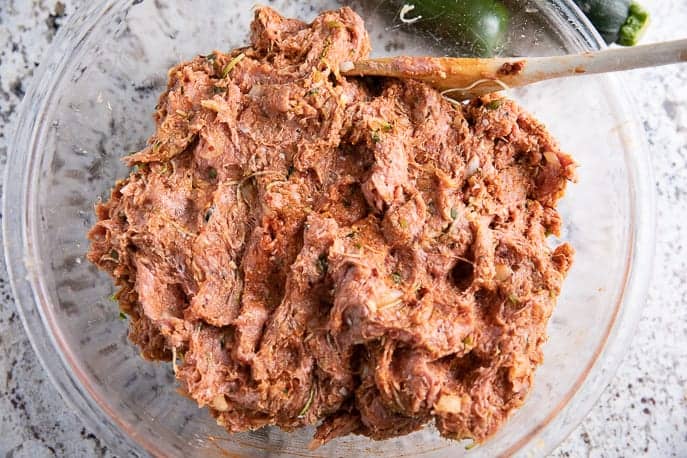 Mix together with a spoon, or use your hands. Mixture will be very mushy. Chill for at least 20 minutes otherwise you'll have a big mess!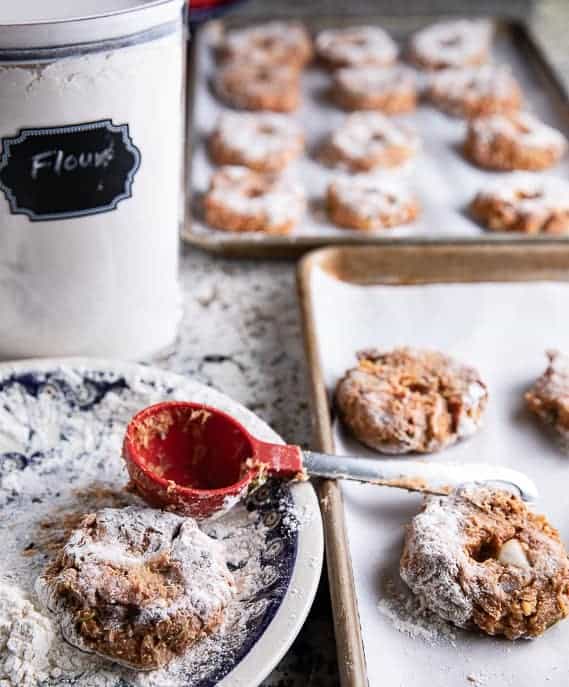 Use a 1/4 measuring cup (paid link) to make the patties equal size. Scoop out mixture and form into a patty. Dip both sides lightly in flour. This helps the slider form a slight crust when cooking. Make a small indention in the patty. This prevents them from puffing up. Chill again for at least 20 minutes.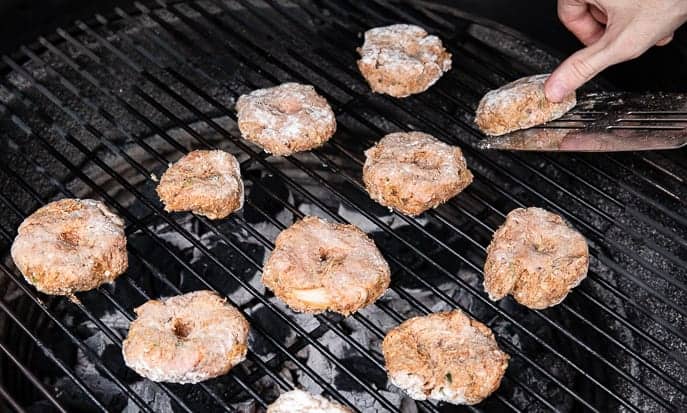 Preheat grill to medium high heat (about 400°). Brush grates with oil or use olive oil spray (paid link) so they don't stick. Place sliders on grill and cook for about 5 minutes. Do not move them until 5 minutes is up, otherwise it's a mess.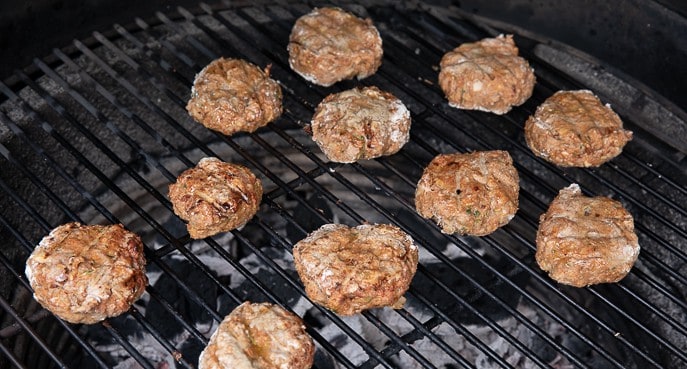 Flip sliders over and cook until temperature reaches at least 165°.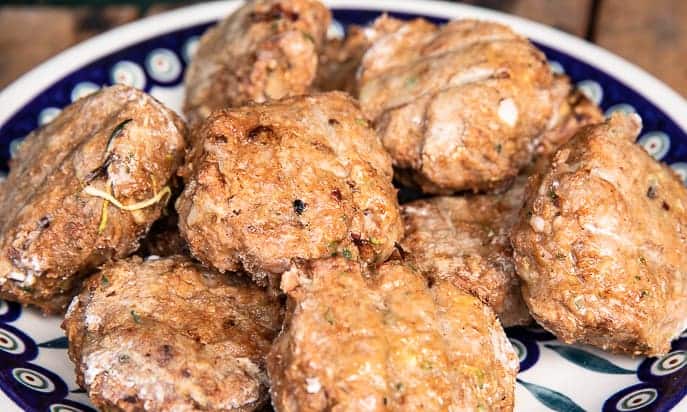 Serve immediately or cool and freeze for later.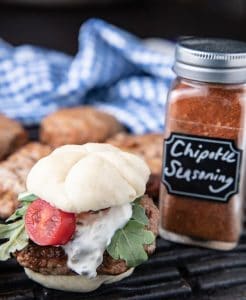 To see my other turkey sliders, check out Scrumptious Turkey Sliders.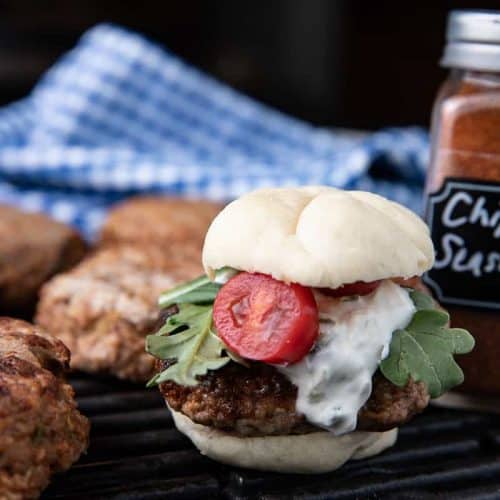 Healthy Jalapeño Adobo Turkey Sliders with Jalapeño Cream
Healthy Jalapeño Adobo Turkey Burgers with Jalapeño Cream are super simple to make and a crowd pleaser. You can make them up ahead of time, grill and freeze for a quick meal later!
Weight Watchers Points:
Blue: 0 Smart Point ; Green: 2 Smart Points; Purple: 0 Smart Point (add 2 points when paired with my slider bun)
Ingredients
3

lbs

ground turkey 99%

if you use 93%, then sliders will be 2 points each

1

c.

onion

finely chopped

2

oz

zucchini

(about 1 small) finely grated and squeezed dry in between paper towels about 1/2 c. after squeezed

1

T.

chipotle seasoning

1/2

c.

Italian bread crumbs

1

t.

kosher salt

4

cloves

garlic

minced

1

jalapeño

finely diced

2

chipotle peppers in adobo sauce

finely diced

3

T.

adobo sauce

the sauce in chipotle peppers can

flour

olive oil spray I like to use my Olive Oil Mister
Slider buns or you can put the turkey sliders on Hawaiian Rolls
Instructions
In a large mixing bowl combine all ingredients, except the flour and Jalapeño cream. Mix well with spoon or hands.

To make them uniform in size, use a 1/4 c. dry measuring cup to scoop out the turkey mixture.  Tap gently in your hand and transfer the mound to a cookie sheet with parchment paper. Do this for all turkey mounds. You should get about 24 mounds.

Allow them to chill for about 20 minutes. This is a very important step, otherwise you will have a big mess on your hands. Literally! After chilling shape gently into patties. Dip them lightly in flour. This helps to form a light crust on the burger. Lightly press an indentation in the middle of each slider. This helps to prevent them from "puffing up," when grilled. If you want to see a picture,

see my other turkey slider recipe

.

Preheat the grill to medium high heat. Spray the grill (heavily) with oil from your mister so the burgers will not stick.  Cook for about 5 min, (don't move them until 5 minutes is up) then lightly spray the top of each burger with oil before you flip them over. Carefully flip the burger and continue cooking until done (about 5 more min).  It's important to cook the burgers to at least 165 degrees.  You want them done, but you don't want the temperature much more than that or they will be dry.

These freeze extremely well raw or grilled.

To Freeze Them Raw:  Flash freeze first raw on a cookie sheet with parchment paper until solid (about 30 min).  Then transfer to freezer seal bags.  When ready to use, thaw completely in refrigerator or defrost them slowly in microwave.  If they seem too sticky, lightly dust with flour before cooking.

To Freeze Them Already Grilled:  This is my favorite way to freeze them because they are ready to eat. Flash freeze on a cookie sheet for about 30 minutes, then transfer to freezer seal bags.  When ready to use, microwave about 1 minute or until hot.
Notes
Tips for leftover Chipotle Peppers in Adobo sauce - Plop each pepper out on cookie sheet lined with a piece of parchment. Flash freeze for about 20 minutes, then transfer peppers to ziplock or food saver bag. Use as needed. They add zip to dips, eggs, veggies and more!
Nutrition
Serving:
1
g
Calories:
107
kcal
Carbohydrates:
4.1
g
Protein:
11.9
g
Fat:
4.5
g
Saturated Fat:
1.2
g
Cholesterol:
39.1
mg
Sodium:
183.4
mg
Sugar:
0.4
g
Vitamin A:
19.3
IU
Vitamin C:
1.4
mg